Manchester City: Robbie Savage on their unlikely title heroes
Last updated on .From the section Football

In his regular BBC Sport column on football tactics, Robbie Savage takes a closer look at the way Manchester City pipped Liverpool to the Premier League title.
If I had to pick out a star man for City this season then Yaya Toure is the obvious candidate, as their top league scorer with 20 goals from midfield - some of them spectacular. He has had a superb season.
But, as good as he has been, Toure is not the only reason City are champions. Players like Martin Demichelis, Edin Dzeko and Joe Hart, who were unpopular, out of favour or out of form earlier in the campaign, have emerged to make the difference.

City's success is partly down to the strength of their squad, which gave manager Manuel Pellegrini the attacking options he needed, but they also improved defensively as the campaign went on too.
Pellegrini is right when he says City have won it playing the "right way" because, with their attack-minded football, they reached a century of league goals and were great to watch.
But what we have also seen, especially in the final fortnight of the season when Liverpool fell away, is that to take the title you need a solid defence to back that up.
Demichelis emerges as an unlikely rock
The first few weeks of the season were chaotic for City as Pellegrini learned about life in the Premier League.
His side were brilliant going forward but often all over the place at the back, and the difference was best shown by their home and away form in their opening 12 matches.
At Etihad Stadium, where they were dominating teams, City won their first six league games, scoring 26 goals and conceding two.
On the road, where the games were closer and teams attacked them more, they lost four out of six matches, scoring eight goals and letting in 10, including some horrible individual errors that cost them points against Aston Villa and Chelsea.

Martin Demichelis did not appear to be the answer when he arrived at the club in September and he took a long time to win the fans over.
Pellegrini used seven different partnerships at the back before he played Demichelis alongside a fit-again Vincent Kompany for the first time, in the 14th game of the season against West Brom on 4 December, and the pair have gone on to form a partnership that has been the basis of City's title bid. Only Chelsea have conceded fewer goals than them this season, and no team has allowed the opposition fewer shots.
In the 20 league games Kompany and Demichelis have played together in defence since then, City have lost only one, against Liverpool.
Man City with/without Demichelis and Kompany

Premier League 2013-14

With D & K

Without D & K

Games

20

18

Wins/defeats

15/1

12/5

Points per game

2.45

2.05

Stats: Opta (for games where they have both started at centre-back)
Yes, Demichelis has still had his moments - like that red card against Barcelona - where his lack of pace has been exposed. Putting him in midfield against Chelsea in February was clearly a mistake too.
But when he has played in his correct position, alongside a player he knows, he has shown what a good player he really is.
The best example of how he has adjusted to English football and grown into his role over the last eight months actually came without Kompany, against Hull on 15 March, when City's skipper was sent off in the 10th minute.
Demichelis was immense that day, and brilliantly organised City's defence as their 10 men won 2-0. Looking back, that was a win which saw them take a huge step towards the title.
Dzeko steps up to score more vital goals
Dzeko has also enjoyed a huge turnaround in his fortunes over the last few months.
Like Demichelis, he has gone from a player being criticised by supporters to a hero of their title win.
He started the season in the team alongside Sergio Aguero for the first three games, but soon lost his place to Alvaro Negredo who made an immediate impact.

When City thrashed Tottenham 6-0 on 24 November, I was talking about Aguero and Negredo being the best strike partnership in the world.
Dzeko stayed on the bench that day and looked even more out of the picture than he was under Roberto Mancini, when he struggled to get a start and earned a reputation as a super-sub for coming on to score vital goals.
At the end of December he scored the winner against Crystal Palace but that was only his fourth start in 16 league matches since the end of August and only his fourth league goal in total.
Man City's strikers: 19 Aug to 1 Feb

Premier League 2013-14

Negredo

Aguero

Dzeko

Jovetic

Games

21/23

17/23

17/23

4/23

Starts

16

15

11

1

Minutes

1,325

1,199

952

132

Shots

45

58

43

6

On target

24

35

20

3

Accuracy

53.33%

60.34%

46.51%

50%

Goals

9

15

7

1

Assists

3

5

1

0

Chances created

22

28

11

2

Stats: Opta
It has been a completely different story in 2014, though. He has started 16 out of 19 league games, scoring 11 times.
I am not surprised that he has got better and better after getting a run in the side. He is the sort of player who gains confidence through knowing he is important - and he has certainly been that for City.
Dzeko is not as good a finisher as Sergio Aguero and does not hold the ball up as well as Alvaro Negredo, but he gets on the end of high or low balls into the box and does not let misses bother him.
His contribution has been massive since the start of February, scoring nine goals during a spell when Aguero has mostly been injured and Negredo has been out of form.
Man City's strikers: 1 Feb to 11 May

Premier League 2013-14

Negredo

Aguero

Dzeko

Jovetic

Games

11/15

6/15

14/15

9/15

Starts

5

5

12

1

Minutes

400

340

1,039

228

Shots

9

16

40

14

On target

2

8

18

8

Accuracy

22.22%

50%

45%

57.14%

Goals

0

2

9

2

Assists

0

1

0

1

Chances created

10

7

7

5

Stats: Opta
Dzeko has effectively gone from being third-choice striker to City's number one frontman, something he has underlined by scoring more crucial goals - only now they are not from the bench.
Five goals in three games against Palace, Everton and Aston Villa in April and May put City in touching distance of the Premier League trophy.
When he netted the opener against Villa on Wednesday, it was the fifth time he had netted City's first goal of a game in 2014.
In a title run-in against stubborn defensively-minded opposition, those are the most valuable strikes of all.
Pellegrini makes progress too
Demichelis and Dzeko have developed as the season has gone on, and so has their manager. He had to, because this title race was decided by some very tight margins.

Pellegrini has learned what it takes to pick up points in tight games, especially away from home, and without having his best players available.
He has had to play most of the season without fielding Vincent Kompany, Yaya Toure, David Silva and Sergio Aguero together.
City's four biggest stars have started just five games together out of 38, and briefly featured together in a sixth, giving them a total of 285 minutes on the field together out of 3,420. The 76 minutes they shared on the pitch in the final game of the season against West Ham was the longest they played together.
City with Kompany, Toure, Silva and Aguero together in the Premier League 2013-14

Date

Opposition

Score

All started

Mins together

19 Aug

Newcastle

W 4-0

Yes

62

5 Oct

Everton

W 3-1

Yes

34

14 Dec

Arsenal

W 6-3

Yes

50

18 Jan

Cardiff

W 4-2

No

18

29 Jan

Tottenham

W 5-1

Yes

45

11 May

West Ham

W 2-0

Yes

76
For a couple of months, he was without Joe Hart too, and history has shown he was right to drop England's first-choice keeper because of his loss of form.
Hart had made a series of costly errors before Pellegrini chose to give him a break at the end of October. Since returning before Christmas, he has been back to his best.
Joe Hart in the Premier League

2013-14

19 Aug to 27 Oct

21 Dec to 11 May

Games

9

22

Goals conceded

11

19

Clean sheets

3

10

Saves

19

52

Errors leading to goals

3

1

Stats: Opta
The save he made from Steven Naismith at the start of the second half in City's win over Everton on 3 May was incredible. It came at a pivotal moment in not just the game, but the whole season.
In terms of his tactics, Pellegrini is not as flexible with his favoured formation as, say, Liverpool manager Brendan Rodgers, who mixed up his team's shape depending on the opposition.
Pellegrini played his preferred 4-2-3-1 for most of the campaign, but what he did change for different matches was the type of player he used within it.
Most of the reasons you make it into his team are about what you can offer going forward - even Fernandinho is far more than just a holding midfielder - and just about the only defensive-minded selection he made was when he chose Gael Clichy over Aleksandar Kolarov for certain games at left-back.
Kolarov on the left and Pablo Zabaleta down the right do have defensive work to do when they are in the team but they are expected to attack as well and they have been extremely effective, especially against Aston Villa in midweek.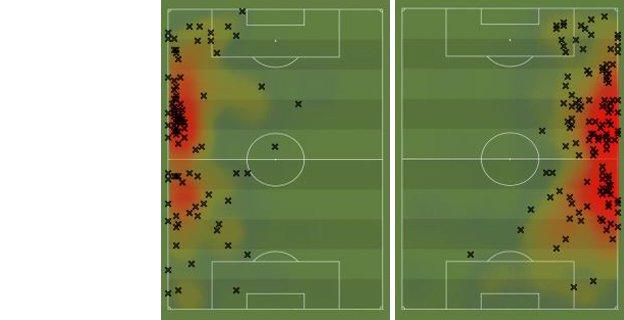 With seven (Kolarov) and six (Zabaleta) assists this season respectively, they have made more goals than any other full-backs in the Premier League.
They add a different dimension to City's attacks because they can go wide if teams pack the middle of the pitch to try to hold them up.
City ended up out-scoring a prolific Liverpool team in the league and they hit more than 150 goals in all competitions, but they have defended well too.
Are City worthy winners? Yes. Liverpool have been outstanding but their players over-achieved. City are definitely the best team, with the strongest squad. They have played some brilliant football too.
What next for City?
The last time City won the Premier League, in 2012, they failed to build on it. Arguably, they actually went backwards with some of the signings they made the following summer.
They will not make the same mistake twice.
For me, Pellegrini needs a centre-half, another defensive midfielder and another creative midfielder.
This is not a team that needs major surgery to challenge for more trophies but it is important that Pellegrini gets to build on what he has achieved in his first season in English football, because all of City's rivals will be stronger next time too.