Jean-Armel Kana-Biyik suspended by Rennes after fracas
Last updated on .From the section Football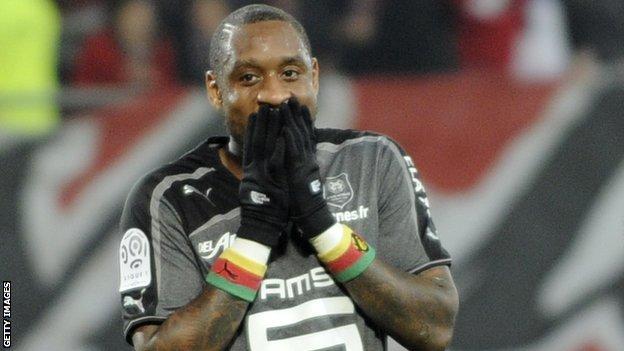 Cameroon international Jean-Armel Kana-Biyik has been suspended until further notice by his club Rennes after he was involved in confrontations with fans.
The French Ligue 1 side said the 24-year-old defender would would train apart from the first-team squad and the reserves until the end of the season and has also been fined.
Kana-Biyik exchanged insults with some of the club's supporters on Monday.
And he was involved in another altercation after training on Thursday.
It is alleged that Kana-Biyik - whose father Andre and uncle Francois Omam-Biyik played were also Cameroon internationals - stepped out of his vehicle and tried to come to blows with members of Rennes' most prominent ultra group before being held back by security guards.
Kana-Biyik has hopes of going to the World Cup in Brazil after playing in his country's final qualifying play-offs against Tunisia.