Manuel Pellegrini: Man City boss has 'changed' his character
Last updated on .From the section Man City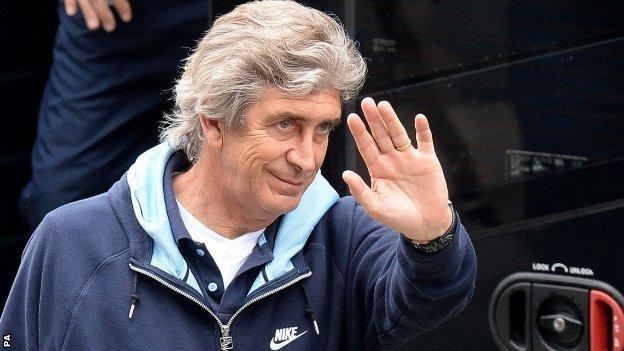 Manchester City boss Manuel Pellegrini says he has changed his character to make a success of management.
He will do so by avoiding most of the controversies that were such a feature under predecessor Roberto Mancini.
"As a player I was a different character to the one I am today. To prepare to be a manager you must change a lot of things," he said.
During Mancini's time in charge, the Italian was involved in high-profile clashes with both Carlos Tevez and Mario Balotelli.
Pellegrini, who began his managerial career in 1988 in his native Chile, added: "You have to understand you are not a player and have another attitude with the players."
With a two-point advantage over Liverpool and a much superior goal difference, Pellegrini's men realistically need just a draw to win their second title in three years.
The potential for a nervy finish does still exist, but any jitters are not being portrayed by City's unflappable manager.
Asked if he suffers from nerves, the former Malaga coach, 60, said: "I know how to control (them) - it is different.
"After so many years, it is very important to control your emotions because when you have to take decisions under emotion normally you do it the wrong way."