Man City's Edin Dzeko deserves player award, says Jose Mourinho
Last updated on .From the section Football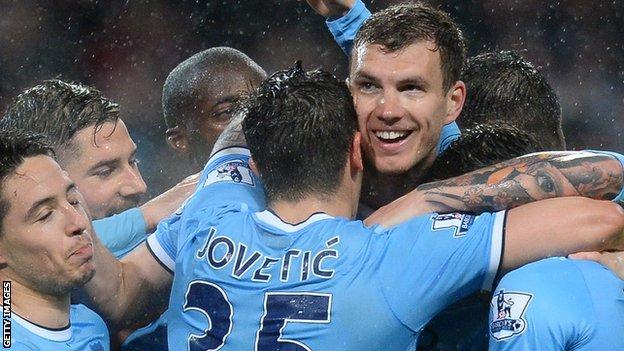 Chelsea boss Jose Mourinho has claimed that Manchester City's Edin Dzeko would be a more deserving choice as player of the year than Liverpool's Luis Suarez.
"If the champion is City, then I would say a Man City player and if I have to choose, I choose Dzeko," said Mourinho.
The Portuguese would vote for Steven Gerrard if Liverpool are champions.
City need just a point at home to West Ham on Sunday to secure their second title in three seasons, but if they slip up, Liverpool can take the title if they beat Newcastle at Anfield.
Uruguay forward Suarez has scored 31 Premier League goals for Liverpool this season as the club look to win their first title since 1990.
Mourinho added: "Suarez is a very good player. They're not voting for a player who has no quality.
"But the profile of a player who wins the player of the year is not the profile of player who used to win in English football 10, eight or six years ago."
Mourinho has already been critical of Suarez this season, describing him as an "acrobatic swimming pool" diver and, prior to Chelsea's win at Anfield last month, suggested the striker goes in search of contact in the box.
Referring to Dzeko, Mourinho said: "The kind of player he is, he's not just a goal-scorer. He assists, he plays, he behaves, he's fair, doesn't dive, doesn't try to put opponents in the stands with an accumulation of cards.
"He was the third choice striker at the beginning of the season. He was hidden behind his manager's first choices and when the team needed him in crucial moments of the season, I think he made the difference.
"In this moment I think he has 16 goals. Sixteen goals for the third striker is something spectacular."
In appraising Gerrard, Mourinho described him as having "tremendous cold blood as a penalty taker".
"He had lots of them but with every penalty he was there for the team too and some of them were crucial," he added.