Spurs boss Tim Sherwood: I would have got Champions League place
Last updated on .From the section Football
Tottenham boss Tim Sherwood says his team would have earned a Champions League spot if he had been in charge all season.
The ex-Spurs midfielder, who replaced Andre Villas-Boas in December, guided his side to a Europa League place, but his future as manager is uncertain.
Tottenham finished sixth, 10 points behind fourth-placed Arsenal.
Sherwood, 45, said: "If I had started the season, we would have been in the Champions League."
The 3-0 final-day defeat of Aston Villa meant Sherwood finished the season with a win percentage of 59% - the best of any Spurs boss in Premier League history but lower than the top four finishers.
Sherwood's position has been the subject of much speculation, and quotes attributed to Brazilian midfielder Sandro suggested the Spurs boss would be leaving at the end of the season.
That left Sherwood saying he felt like a "supply teacher", though he was bullish after the win against Villa.
Sherwood now faces a meeting with chairman Daniel Levy, at which he will seek clarification about next season.
He said: "If I knew it was only five months, I wouldn't have done it to be perfectly honest.
"I need to speak to the chairman - we are not sure whether we could have done much more. It would be nice to get it clarified; we have looked at pre-season a little bit and we need to get to work on those [transfer] targets.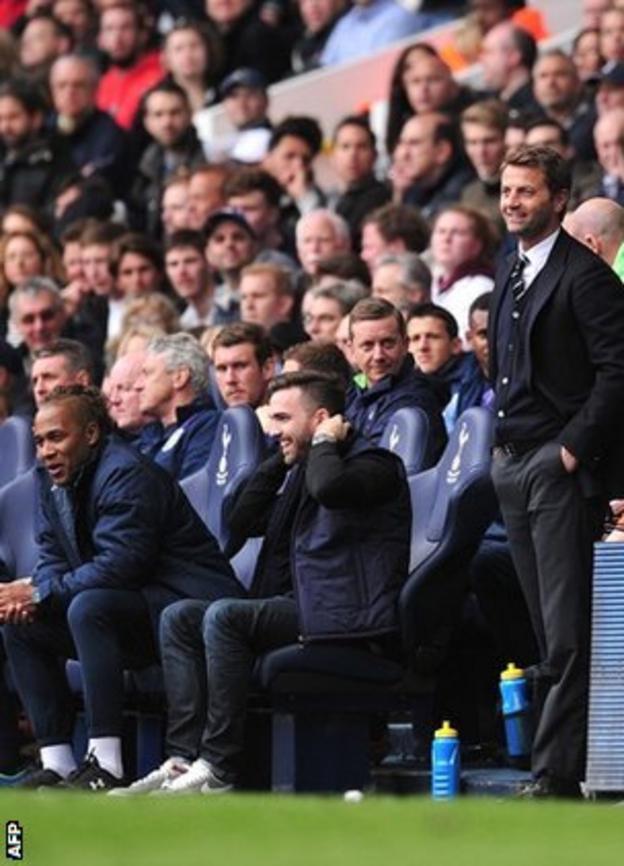 "It will be interesting to see how I am judged; if I am to leave, it can't be on results. I can only be judged for the season when I've taken over. A 59% win ratio is second to none. I'm happy with how I have done.
"I love doing this job. My life would be a lot easier if I wasn't a manager but I want to do it. It's my life; it's what I want to be involved in and I want to continue doing it."
With Sunday's game safe in the second half, Sherwood invited a Spurs fan into the dugout.
He said: "This guy sits up there every week, shouting 'get him off Tim, get him on Tim'. He is the proper manager, so it was his chance to have a go. Football is about the fans. It's only friendly banter and we should have more in the game."
The season ticket holder, Danny, from Winchmore Hill in north London, told BBC Radio 5 live: "It was a great moment and something I will never forget.
"During the game I called a couple of substitutions and he just so happened to make them. I also called him to put young Alex Pritchard on, which he did, and he said 'you know what, you might as well come and sit in the hot seat'.
"It was just surreal. I'm a lifelong Spurs fan and not many people can say they have sat in the manager's seat while a Premier League match is going on."
Asked if the fan was in the running for the job, Sherwood joked: "No, he's English."