Manchester City: Pellegrini's side 'deserve Premier League title'

By Phil McNulty
Chief football writer
Last updated on .From the section Football1267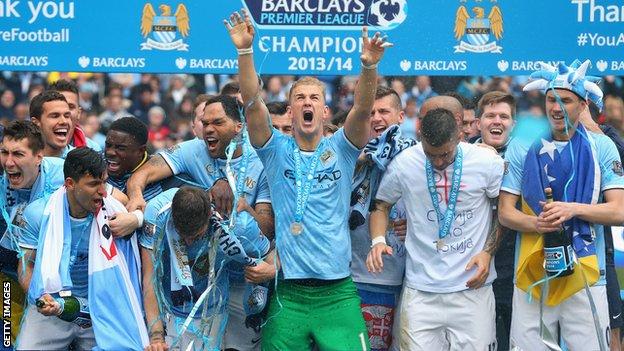 The Manuel Pellegrini way is a simple one. He regards football as "an entertainment business" and there is nothing Manchester City supporters will find more entertaining than winning Premier League titles.
Football Association chairman Greg Dyke considered the prospect of City claiming their second championship in three seasons as "pretty depressing" based on the lack of English-born players in their team.
England goalkeeper Joe Hart was the only member of the starting line-up to fit into that category in the 2-0 win over a lame West Ham United that secured the title - but Dyke's depression was conspicuous by its absence.
Thousands of City fans cavorted on the pitch after referee Martin Atkinson sounded the final whistle, Pellegrini's trademark sharp suit was soaked in champagne before he was tossed high into the air in celebration by a squad who admire this gracious, dignified Chilean.
If there were any examples of those depressed by City deservedly regaining the title, they were not to be found at The Etihad as fireworks and tickertape flew into blue skies.
Liverpool's slips against Chelsea and Crystal Palace shattered their dreams but huge credit must go to manager Brendan Rodgers and his players for coming so close. It was a gallant effort and one which ensures huge optimism for next season.
The truth remains, however, that the title is always won by the best team in the country and this season was no different. City had the best team, the best squad and are rightful champions.
City had four players who scored more than 20 goals this season in Sergio Aguero, Edin Dzeko, Yaya Toure and Alvaro Negredo. They had an inspirational captain in Vincent Kompany and a belief that comes with experience and maturity.
When they won the title on that memorable day against QPR in 2012, the whole experience was cloaked in a feeling of almost blind panic that was only relieved by the goal from Aguero, with virtually the last kick of the season, that gave them the title ahead of Manchester United on goal difference.
City only needed a point here but victory was achieved with a performance that combined patience with class and quality. Panic was nowhere to be seen, the conclusion was inevitable and a notoriously fatalistic fanbase had barely an anxious moment. It was in total contrast to the QPR chaos.
At the centre of this was the calming figure of 60-year-old Pellegrini, last summer's "holistic" appointment that was the antidote to the angst of Roberto Mancini's closing months, although the Italian's contribution to the City story should not be forgotten.
City were a team without doubts controlled by a manager without doubts. When Dzeko shot wildly over the bar in the first half with the scoreline goalless, Pellegrini advanced towards the touchline with his palms facing down in a "calm down" gesture.
And while Mancini's success made him a popular figure - remember, Pellegrini's arrival was not unanimously well received - the new man has won over any sceptics.
Pellegrini's popularity was everywhere at The Etihad. The familiar "This Charming Man" banner - using the famous song by The Smiths as its reference point - was on display along with "The Quiet One", pointing out his contrast to Jose Mourinho, and "Muchas Gracias Manuel".

This was a team performing in the image and likeness of its manager, focused on what needed to be done and doing it without fuss and fanfare.
Of course, and there is justification for this, there will be the usual pronouncements that the title should only be base camp for a club that has spent such huge funds. This is true but plenty of clubs have spent lavishly with nothing in return.
Pellegrini announced he would celebrate this season before talking about the next, but he is well on the way to fulfilling the demands of City's hierarchy, who wanted five trophies from his five years. The title and the Capital One Cup represent a healthy opening shot.
The question will soon come though - can City now take the next step and make the impact on the Champions League that has so far eluded them?
After failing to get out of the group stage under Mancini last season, there was an undoubted improvement before they went out in the last 16 to Barcelona this time around.
City will be better for that experience and winning another Premier League title will surely significantly increase reserves of confidence and self-belief.
Pellegrini has quality in all areas and his handling of keeper Hart has been a masterclass of man-management. He dropped Hart in November but carefully handled his rehabilitation and rebuilt his confidence. His magnificent save from Steven Naismith in the pivotal win at Everton was payback.
The Chilean will surely want to strengthen at left-back, where Gael Clichy and Aleksandar Kolarov have alternated, but the big money must be spent on a partner for Kompany in central defence.
It is only right to point out that Martin Demichelis, derided for so long, has been solidity itself when it mattered in the closing weeks, an outstanding ally for his captain, delivering the perfect answer to those who made the suggestion (and plenty of us made it on his dark days) that he was a Pellegrini vanity pick.
At 33, however, he is not the long-term answer and it may well be that £35m will be sent in the direction of Porto for Eliaquim Mangala.
This is for another day but Europe can surely expect a better City, a squad more comfortable in its own skin, in next season's Champions League.
For now, the first non-European manager to win the title deserves great credit, along with his players. After a long, turbulent season the Premier League has the right champions.