Liverpool: Premier League near-miss offers hope for the future

By David Ornstein
BBC Sport at Anfield
Last updated on .From the section Football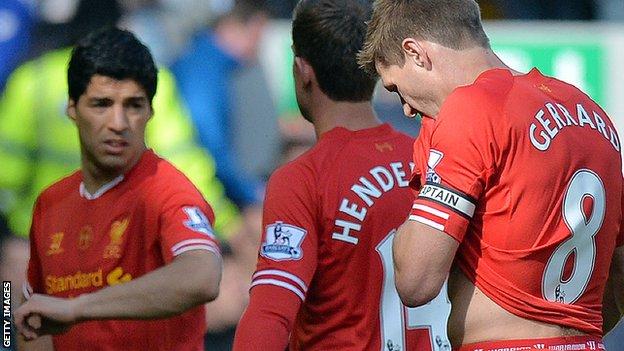 It was not until the players and staff embarked upon their lap of appreciation - excited children and partners in tow, smiles and embraces all round, applause from every corner of a stadium still full of their fans - that it really hit home how far Liverpool have come.
They had every reason to be miserable and downcast; a first league title in 24 years slipping so painfully from their grasp in the final two weeks of the campaign, and confirmed when a final-day victory over Newcastle was rendered irrelevant by Manchester City beating West Ham.
As City were crowned champions for the second time in three seasons to scenes of wild celebration, everyone connected with Liverpool must have wondered what might have been.
But if so, they did a good job of hiding it and any gloom was conspicuous by its absence as an overwhelming sense of pride engulfed this famous old ground, the reality dawning that the Reds have returned to the top table of English football and look well equipped to stay there.
Just 12 months ago they were seventh, 28 points behind champions Manchester United, having finished eighth, sixth and seventh in the preceding three years.
Fast forward to Sunday and they were just two points adrift of a team whose level of talent and wealth is greater than almost any other in global sport.
Not since 1989 had Liverpool entered the final day vying to win the league (they triumphed in 1990 with games to spare), and before kick-off one fan told me she was on the verge of tears - tears of joy her side were in contention, that they got there with an attacking style befitting of the club's tradition, and had done so 25 years on from the Hillsborough disaster.
In Luis Suarez and Daniel Sturridge they have the division's top two scorers. Suarez refused the move he wanted last summer, later signing a new contract and recently collecting both the Professional Footballers' Association and Football Writers' Association player of the year awards.
Captain Steven Gerrard has found a new lease of life at 33, and his midfield partner Jordan Henderson is one of the top flight's most improved performers, while Raheem Sterling and Philippe Coutinho have regularly enthralled with their combination of speed and trickery.
The positive statistics are many and varied, but one of the most pertinent is that in 2011-12, the season before Brendan Rodgers took over as manager, Liverpool scored just 47 league goals. This term they netted 101, hitting three figures for the first time since 1895-96.
It was a backdrop that made for another ebullient pre-match atmosphere, thousands lining Anfield Road to welcome the team bus - red flags, scarves and flares wherever you looked - before a spine-tingling rendition of You'll Never Walk Alone that continued beyond kick-off.
Few were backing West Ham to upset City at Etihad Stadium, which Liverpool needed alongside three points of their own, but the fans have proudly displayed a banner reading "Make Us Dream" and they were not about to stop believing the unlikely could become a reality.
The knowledge that a Premier League trophy and set of winners medals were on site merely added to the buzz.
Liverpool seemed gripped by nerves throughout the first half, though, and most of the optimism was crushed when Martin Skrtel put through his own net and news of City taking the lead arrived.
Still the locals willed their team forward, but with every careless mistake came more frustration from the stands and although Liverpool showed spirit to complete a comeback, City had extended their lead and were preparing to get their hands on the silverware.
The final whistle marked a 16th win in 19 home league games and was greeted with deserving applause, yet this was a performance that highlighted the issue that has probably cost Liverpool the glory.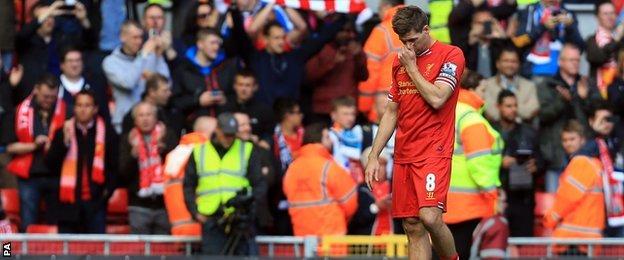 Their defensive record was only the eighth best in the table, just twice in the Premier League era have they conceded more goals in a season and no other team made more errors leading to attempts and goals.
They conceded 29 goals to teams in the bottom half (only Fulham and Cardiff let in more), took six points from 18 against top-four opposition, goalkeeper Simon Mignolet made more errors leading to goals than any other player, and Skrtel scored the most own goals.
Rodgers acknowledged before and after the Newcastle game that Liverpool needed to improve their defensive "concentration" and "organisation", with the assertion that "sometimes you can't teach people what they don't have" surely an indicator he will look to strengthen this area in the coming months. Cardiff City centre-back Steven Caulker is among those already linked with the Reds.
For all the promise of a squad containing an exciting blend of youth and experience, recruitment will be key for a manager who only gave league starts to 20 players during the campaign.
Liverpool contested just 43 games in all competitions (Manchester City and Chelsea played 57, Arsenal 54 with the FA Cup final to come and Manchester United 53) and their return to Champions League football for the first time since 2009 is sure to present an added challenge, in terms of quality and quantity.
Rodgers conceded he has "a really thin squad" and needs players able to "physically cope" with the "arduous" schedule.
The 41-year-old said Liverpool "will definitely strengthen" but added there will be no compromise on the style of play: "That will only be enhanced and improved."
He promised to tackle the continent's elite club competition "without fear", but it will be a completely new experience for the Northern Irishman and many of his players.
One man Rodgers will be desperate to count on is Suarez - rumoured to be an ongoing target for Real Madrid - and, as the Uruguayan left the field with his wife, children and a golden boot, he looked happy enough.
Rodgers went on to talk about the "total restoration of the club" he is helping oversee, and the challenge of confounding those who were "quite rightly sceptical at the start", when a 39-year-old was appointed to one of the more high-profile jobs in British football.
As I walked out through the Shankly Gates, a steward said "the good times are coming back", but the real test lies ahead, because expectations will now shift dramatically, and Liverpool must satisfy them if they are to re-establish themselves as a European superpower.
This was the day one dream died, but the Reds will hope another is about to be born.