Wales still hopeful over Hull City defender James Chester's fitness
Last updated on .From the section Football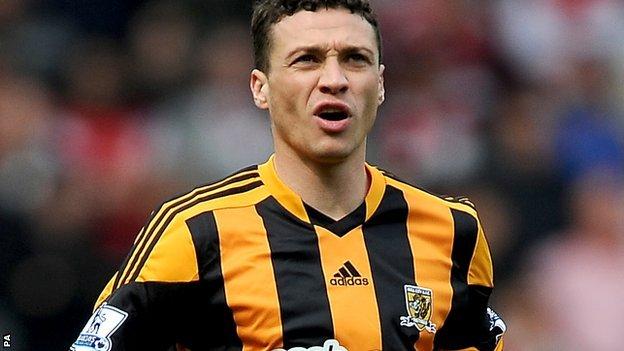 Wales assistant coach Osian Roberts has not given up on Hull City's James Chester being available for the friendly in the Netherlands on 4 June.
Hull boss Steve Bruce wants Chester to rest in pre season but Roberts said Wales have not yet ruled out him out.
"We know that James Chester has got this problem with his hamstring," Roberts said.
"He's missed the last couple of games and it's a recurring injury.
"He has got a problem with it so we'll have to have that appropriate discussion at the appropriate time before the squad is named to see what's best for him over the summer.
"Is it rest to recover and make sure he's ok for pre-season or is he going to be able to be involved in the squad?"
Warrington-born Chester, whose mother was born in Rhyl, has pledged his international future to Wales.
Bruce insists Chester will not be available to make his Wales debut this summer even if he is fit for the FA Cup final.
The 25-year-old is a doubt for Saturday's FA Cup final against Arsenal because of a hamstring injury and Bruce wants him to rest in the close season.
"He won't be playing international football this summer. That's for certain, even if he is eligible for the cup final next week," Bruce said.
"It's a big, important summer for Chessy. He had a horrific injury against Newcastle last September, one where he badly tore his hamstring.
"Unfortunately he's had recurrences of that twice this year. I don't think he'll be playing any games this summer."
Wales, who will be without injured Burnley striker Sam Vokes for the game against the Dutch, could also be missing Swansea defender Ben Davies.
Davies, 21, saw out Swansea's Premier League season with a toe fractured in their 2-2 draw against Arsenal in March.
"I've had the problem since we played Arsenal in the season and it's causing me a bit of bother," Davies said.
"I've been playing with painkillers throughout the remaining games.
"It's just something we'll have to have a look at it... and decide what to do with it.
"It'll be disappointing if I miss that that game, but players' fitness is the most important thing."