Richard Scudamore: Premier League panel to meet next week
Last updated on .From the section Football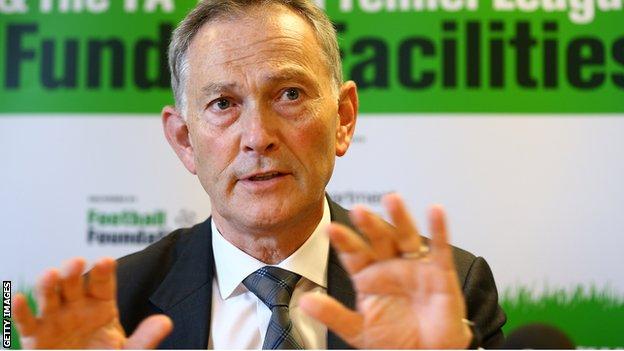 A Premier League panel will meet next week to decide whether chief executive Richard Scudamore should face action for sending sexist emails.
He apologised, saying: "It was an error of judgment I will not make again."
Football Association chairman Greg Dyke described the emails as "totally inappropriate", but said the FA will not take disciplinary action as the comments were made privately.
The Premier League's audit and remuneration committee, led by Chelsea chairman Bruce Buck, will meet next week to discuss the issue.
Piara Powar, executive director of leading anti-discrimination group Football Against Racism in Europe (Fare), tweeted: "The Scudamore saga highlights flimsy regulation.
"With government and opposition joining a Fifa member to raise concerns, the FA position looks like cowardice."
Edward Lord, a member of the FA's Inclusion Advisory Board (IAB), wrote an open letter to the FA and Premier League asking "what action they are going to take".
A member of the IAB, which was set up to help tackle discrimination, told BBC Sport the FA's decision not to reprimand Scudamore was "worse than weak".
In response to Lord, Dyke wrote: "In terms of FA disciplinary policy we, as the FA, could have considered taking action had Mr Scudamore's statements been made in the public arena.
"However, our policy has always been that we do not consider something stated in a private email communication to amount to professional misconduct."
Helen Grant, Minister for Sport, Tourism and Equalities, described the emails as "unacceptable and very disappointing".
Shadow Minister for Sport Clive Efford wrote to the Premier League asking why no action had been taken against Scudamore, who has been in his post since 1999.
Moya Dodd, a Fifa executive committee member and vice-president of the Asian Football Confederation, told BBC Sport: "It's important for football to take sexism as seriously as it is taking racism.
"If this can happen at the highest levels of football in a country that prides itself on gender issues and is bidding for the women's World Cup in 2019, then that's bad enough.
"But it also makes you contemplate how much more difficult it is elsewhere in the world, trying to gain the respect and credibility they need to make a contribution to the game."
Heather Rabbatts, the independent FA board member who chairs the IAB, said Scudamore's comments were "totally inappropriate and unacceptable".
She said the IAB will hold a special meeting on Tuesday 20 May to discuss the issue, and had asked for a response from the Premier League before then.
Ruth Holdaway, chief executive of the Women's Sport and Fitness Foundation, described the Premier League's intervention as "a positive step".
"We hope the Premier League demonstrates unequivocally that this instance of sexism was a one-off and is not emblematic of a wider sexist culture," she said.
Former basketball player John Amaechi likened Scudamore's remarks to the racist comments of LA Clippers owner Donald Sterling.
Sterling was banned for life by NBA commissioner Adam Silver and has since apologised after he was recorded asking a woman not to associate in public with black people or bring them to games.
Amaechi, who played for NBA teams Orlando Magic and Utah Jazz and has been an outspoken critic of football's lack of equality, said the differences between the NBA and Premier League are "radical".
He added: "The Premier League and football has been out of touch for a long time. I don't call them dinosaurs by accident - they are removed from contemporary society."