Atalanta fined over banana incident in Italy's Serie A
Last updated on .From the section European Football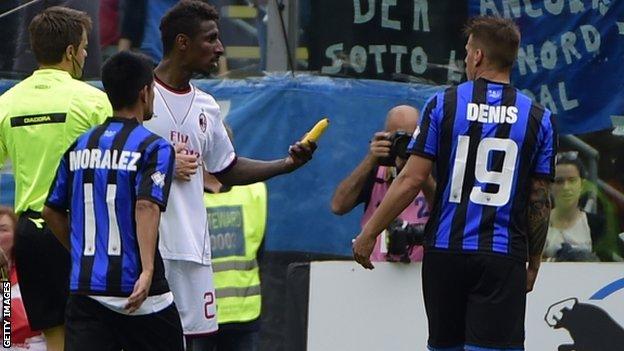 Serie A club Atalanta were fined 40,000 euros (£32,000) after bananas were thrown at AC Milan players by fans.
The Italian league's disciplinary tribunal also ordered that their Curva Nord stand be closed for one game but suspended the sanction for one year.
The incident is the third racist act in three weeks at top European matches.
Barcelona's Dani Alves took a bite from a banana thrown at him, while Levante's Papakouli Diop was subjected to racist gestures on 4 May.
The banana at Atalanta landed near Milan's Guinean defender Kevin Constant who picked it up and showed it to the referee before team-mate Nigel de Jong threw it off the pitch. Milan players appeared to sarcastically applaud the home supporters.
Atalanta said in a statement their president Antonio Percassi telephoned AC Milan chief executive Adriano Galliani to apologise.
"The conversation was very friendly and Galliani, in accepting the apology, said he accepted it was an isolated incident. Percassi will call Constant to personally offer him the club's official apology," said the club.
Atalanta are talking to the authorities and carrying out an investigation into finding "the culprit behind such an unspeakable gesture".
Fifa president Sepp Blatter also demanded a response from the Russian federation after a Zenit St Petersburg fan punched Dinamo captain Vladimir Granat during a pitch invasion which caused the game to be abandoned.
"Racism, and games stopped/abandoned due to acts of hooliganism. Each Federation needs to act. Sanctions are available & HAVE to be applied," Blatter said on Twitter.
A Zenit statement read: "The behaviour of the fans is affecting in the most serious way their own club, the players and our many millions of supporters.
"At present the police and the club are trying to find the fan and we are preparing evidence for a criminal case."