Gary Locke and Danny Lennon dethroned by Hearts and St Mirren

By Tom English
BBC Scotland
Last updated on .From the section Scottish Premiership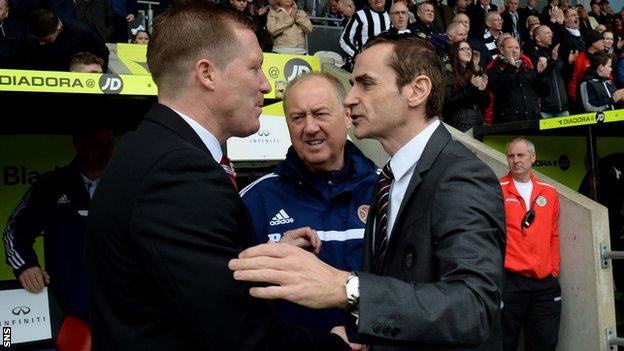 At various points in the season, as English clubs bulleted their managers with a hair-raising rapidity, the Scottish game sat back and congratulated itself for its decorum and understanding for the guy in the hot-seat.
Managerial blood-letting was a thing they did down south. There is a bit more patience up here.
Of the top-flight clubs, only Hibs made a change. Pat Fenlon exited and he did so at his own behest, walking out instead of being turfed out screaming and kicking and waving lawyer's letters in the air.
Now we have reminders that culls are a cross-border thing, lest there was any doubt.
Gary Locke and Danny Lennon have spent recent months stating quietly why they should be allowed to continue their work at Hearts and St Mirren respectively, but they did their bidding while hanging by their fingernails from the edge of a cliff.
On Monday morning, Locke felt Ann Budge's high-heel pressing down on his digits - and he fell. The last he saw before he tumbled was the new owner with her new director of football at her side.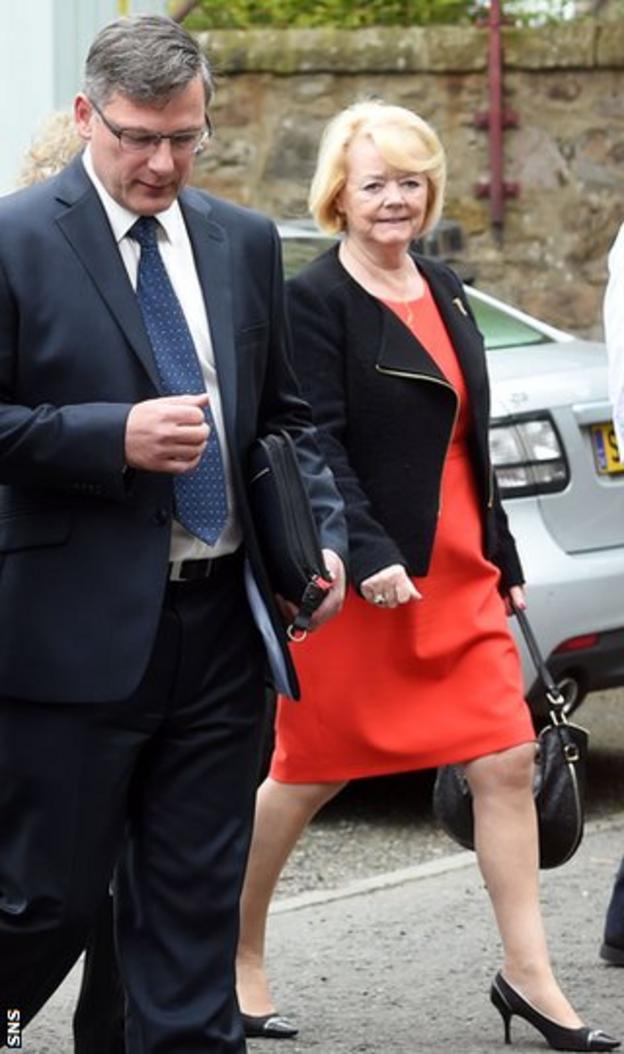 Craig Levein returns to Tynecastle, taking charge of all football affairs, but the truth is that he has been hovering for some time. As soon as Budge made her play to take over the club, the smart money told you that Levein was coming with her and that those in his way would have to move.
Then it was Lennon's turn. The writing was on the wall there, too.
Last Wednesday night, before St Mirren's defeat at Kilmarnock, Stewart Gilmour, Saints' chairman, did an interview with BBC Radio Scotland and told us everything by telling us nothing.
When asked repeatedly if he was backing his manager, Gilmour found a way of wriggling out of giving an answer. You read the tea-leaves and concluded that Lennon, regardless of how well his team have finished the season, was not long for the job.
Lennon has shown great strength this season. He has been pelted with flak for much of it.
Some of it he has deserved, but credit to him, he has never once responded to it. Never once shown anger or resentment. He has been dignified amid a maelstrom and part of the maelstrom was set in motion by folk from within his own club.
This is where you have sympathy for Lennon. Earlier in the season, people in power at St Mirren let it be known to journalists that Lennon was finished - or as good as finished.
The information was that he might not last another game. Lennon had to put up with leaks and reading and hearing about how he was a dead man walking.
He never griped at the disloyalty from within. He kept at it and got St Mirren safe. He has a right to leave the club with his head held high.
His remit was to keep St Mirren in the Premiership and to keep producing young talent. He succeeded. But the goalposts in football management change all the time. That is the reality of this world.
In 2011-12, St Mirren finished the season on 43 points. In 2012-13, that total slipped to 41 points. This season, it fell again, to 39 points. To a board, that is scary slide.
The conclusion was that the team is good enough to do better. And there is a logic in that. St Mirren put themselves through an amount of torment that they could have been spared had the team clicked earlier.
It didn't. And Lennon has paid the price. It is a brutal game at times.
At Hearts, the brutality is even more acute.
In her state of the nation address, Budge more than once referred to how the Tynecastle club have to live within their means if they are to stave off the threat of liquidation that has hung above them like a dirty cloud for so long.
She was direct and to-the-point. The logic of what she said in her statement about the need for fiscal responsibility was unarguable. You read her commonsense words and you thought, "Yes, the club is now in the hands of somebody who will protect it".
There have been casualties. Experienced players have been let go. It is not nice, but it is the finances talking.
Locke has gone, too. His departure sticks in the craw somewhat.
Levein has an all-powerful role to "revitalise and refocus" the football side of the business, to implement a "youth-driven playing policy". To that, Locke would be within his rights to ask, "What the hell do you think I've been doing these past months?" If he wasn't driving youth, what was he doing?
No manager has had to put up with the grief Locke has endured this season. The points deduction, the threadbare squad, the constant gloom hanging over the future of the place.
Locke had to galvanise his dressing-room through all of this. And he had to keep a smile on his face for the cameras, which he did. He showed tremendous strength of character through the worst of times and got his team playing winning football before the season's end.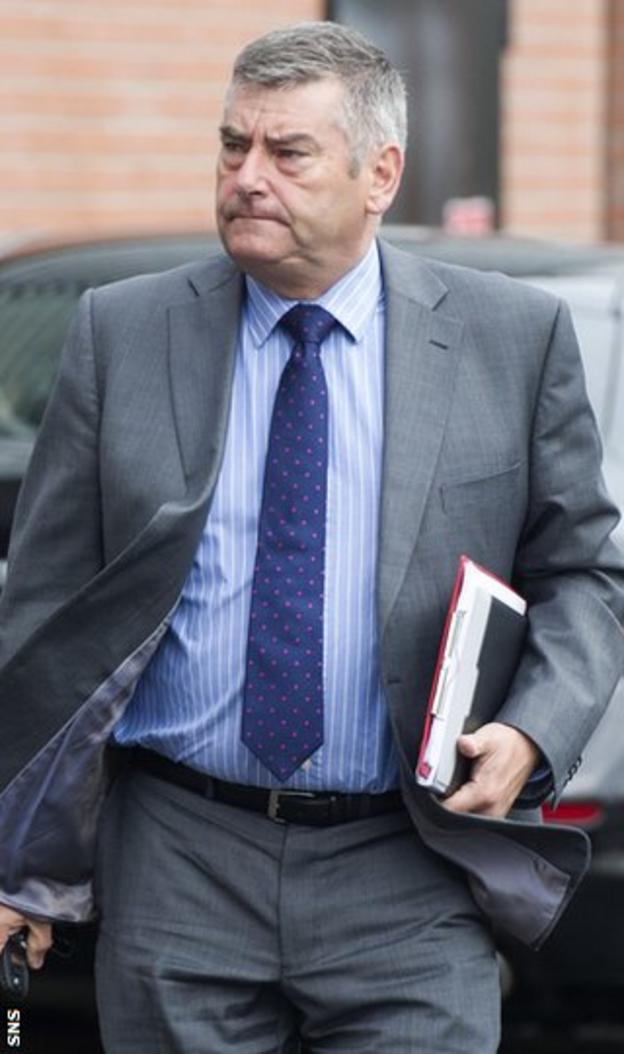 It was too late to avoid relegation. Way too late. Among the supporters there will be appreciation and admiration for what Locke did in the hardest season in the club's history, but plenty will feel that change was needed.
Those who made the case for change did not do so out of disregard for Locke; that is obvious.
But they pointed to the improved results only coming after relegation was guaranteed and the pressure was off. They argued that, in the Championship next season, Hearts will need an experienced and gnarled operator to go toe-to-toe with Ally McCoist's Rangers.
Budge wanted experience at the helm. She needs a coach, yes. But more than anything, she says, she needs somebody to build the club from the bottom up after years of neglect.
Maybe the ideal scenario would have been Levein as director of football and Locke as first-team coach, but that is not the way it has panned out. The two are said to have a lukewarm relationship.
Could they have worked together? It would have been difficult. So Locke is jettisoned. Budge made an enormous amount of sense in her statement, but the abrupt departure of Locke leaves a bad taste.
The former Scotland manager is Budge's go-to man. Finally, he is back in football after what must have seemed like an eternity away from it.
Luckily for Levein, Budge has a long memory. She can think beyond the calamity that was his spell as national team coach - a manager with the worst competitive record of anybody who held the post.
At Dundee United, Levein was decent. He put some foundations in place and that is what Budge wants him to repeat.
He left them in a stronger position. Clearly, she trusts him implicitly. She has shown already that she has a vision and a purpose and a toughness to go with it.
Budge is a pragmatist. She has a rational plan for Hearts to consolidate and then to rise again.
You wish the same for the people who lost their jobs on Scottish football's manic Monday.