World Cup 2014: England boss Roy Hodgson's brave Brazil blend

By Phil McNulty
Chief football writer
Last updated on .From the section Football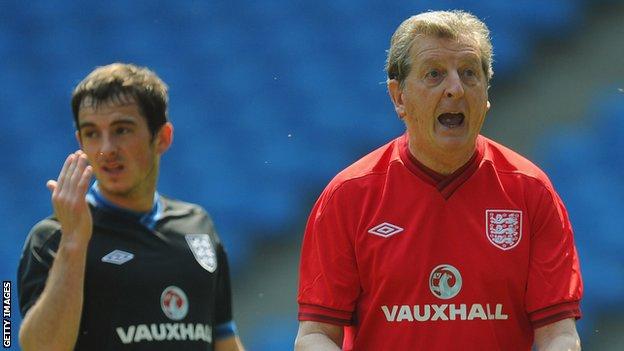 While Sven-Goran Eriksson offered a touch of showbiz by announcing his World Cup squads at The Cafe Royal in London's Piccadilly, Roy Hodgson went for a car factory in the heart of Luton.
As much a nod to sponsors as to the tastes of two contrasting men, Hodgson was able to showcase some of the more attractive commodities currently rolling off England's football production line to take to the World Cup in Brazil next month.
Hodgson is a manager who comes with labels such as caution and conservatism attached, but England's 23-man squad and group of seven stand-by players is laced with the sort of youth, energy, enthusiasm and raw talent that may serve him well in South America.
England managers are often caught between the devil and the deep blue sea, with calls for the ditching of the old guard on one side being contradicted on the other by suggestions you win nothing with kids.
This is only the starting point on England's road to Rio but, at first glance, Hodgson, who gave an assured and confident performance, looks to have managed this delicate balancing act well.
Only time - and the heat of World Cup combat up the Amazon in Manaus, then in Sao Paulo and Belo Horizonte - will tell whether Hodgson is right but his initial boldness is to be commended. Conditions will be testing and the natural fitness of youth could be a valuable ally.
The 66-year-old has been around long enough to know that trusting youngsters will not spare him should the campaign go wrong, but there was freshness about England's squad that will meet with plenty of approval.
Ashley Cole's exclusion after a wonderful England career stretching over 107 caps was the most potent symbol of Hodgson's switch in emphasis.
The decision to select Southampton's 18-year-old Luke Shaw is not without risk, especially should first choice Leighton Baines suffer an injury, but this is a squad designed to serve the present as well as the future.
Everton youngster Ross Barkley is arguably the most exciting selection. An explosive game-changer, he has shown enough to convince Hodgson that his occasional quiet games and sometimes suspect decision-making - understandable at such a young age and improving all the time - will be compensated for by a genuine match-winning talent.
If games are played at a more sedate tempo, Barkley's ability to run past opponents at pace and with power - as well as execute the sort of finishes he produced against Manchester City recently - means the wisdom of his selection cannot be questioned.
Manchester United's Michael Carrick is another casualty, of both his club's poor season and his own failure to truly influence the biggest matches.
Steven Gerrard was, of course, an automatic pick as captain and, once Hodgson plumped for Frank Lampard, there was no way a trio of elder statesman could pack for Brazil.
And in a squad with a heavy Merseyside influence, Liverpool's Raheem Sterling is rewarded for his stunning progress since the start of the season with a deserved place.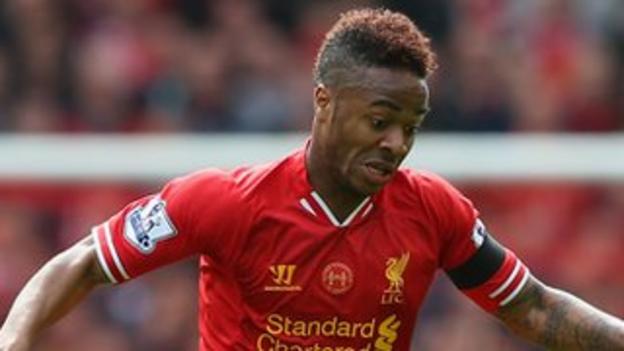 His speed, imaginative running, natural understanding with Liverpool team-mates Gerrard, Jordan Henderson and Daniel Sturridge, as well as his improving finishing, could make him a potent weapon.
If there is a worry about the squad, then it clearly comes in defence. England's established central pairing is Gary Cahill and Phil Jagielka but Everton's captain has suffered worrying hamstring problems and the Manchester United duo of Chris Smalling and Phil Jones have been unconvincing this season.
Jones is the major injury worry with a shoulder problem and it is another of the emerging youngsters, Everton's graceful 19-year-old John Stones, who will be summoned from the stand-by list should he fail to recover.
If England's opponents scan the squad for a soft underbelly, then it will not take them long to alight on their defence, although Hodgson will point to only four goals conceded in 10 unbeaten qualifying games.
Wayne Rooney, who has taken a fitness trainer with him on a break to Portugal to ensure his groin injury does not create the sideshow that has surrounded him so often before major tournaments, will once again carry England's attacking hopes.
Hodgson praised the Manchester United striker's determination to put himself in the perfect place to succeed and Portugal with a fitness guru in tow certainly has a better look than a trip to the gaming tables of Las Vegas, a pursuit that took up some of his preparation time for Euro 2012.
Southampton's Rickie Lambert is a selection that will be well-received by those warmed by rewards for a long-serving model professional. The 32-year-old's time working in a beetroot factory is well-chronicled but now he is on his way to football's biggest showpiece.
He has deservedly taken the role reserved for a powerful striker ahead of West Ham United's Andy Carroll. Anyone who saw Carroll in action at Manchester City on Sunday saw a performance that looked more like a man ensuring nothing interfered with his summer holiday plans rather than someone fighting for a World Cup place.
Huge expectation will not accompany England on their flight to Miami to prepare for the World Cup - but Hodgson has at least offered up an imaginative, vibrant selection that, at the very least, offers some signposts towards a bright future.