Tim Sherwood: Focus on Daniel Levy after latest Spurs sacking

By Phil McNulty
Chief football writer
Last updated on .From the section Football1191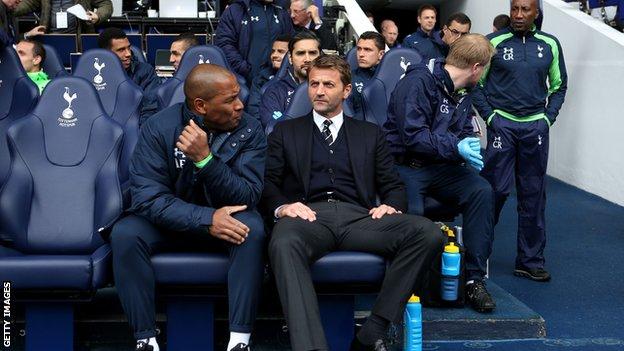 White Hart Lane's revolving door spins once more and the latest manager to find himself on the outside looking in is Tim Sherwood, sacked after only five months in charge.
He certainly made an impression in his short time at the helm, from his blistering public attack on his players after a 4-0 defeat at Chelsea to his animated touchline antics, concluding with an invite to a critical fan to take his seat in the technical area during his final win against Aston Villa on Sunday.
And after leaving Spurs in the Europa League with a 59% win ratio, Sherwood has made enough of an impression to guarantee he will not be out of managerial work for long.
Now the spotlight must turn to the man responsible for his sacking, a chairman seeking his ninth manager since he took over in 2001.
As managers come and go with alarming regularity at Spurs, Daniel Levy remains untouched and almost silent. He is usually only heard through the medium of all too regular statements thanking the latest victim for his services and announcing the search is on for someone who would give the club the results he believes they deserve.
Rather like on Tuesday. Again.
The flaw in this argument is that one man who gave Spurs such results, namely Harry Redknapp, was also sacked despite taking them into the Champions League once and finishing fourth in 2012, when they were only denied another crack at the tournament by Chelsea's win against Bayern Munich in The Allianz Arena.
There was a change in mood after Sherwood's departure, however, with a sense that Levy simply must get his next appointment right or the buck might finally stop with him.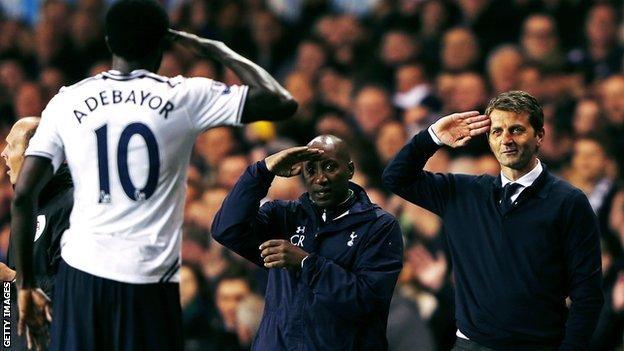 With each change of manager, another layer of credibility is removed from Levy's reputation. And after another season of instability it has now worn very thin.
No-one doubts Levy wants the best for Spurs but eventually there must be a time of reckoning for the man responsible for a succession of failed appointments and an apparent level of impatience that creates such uncertainty.
Eventually, as the list of those who have been tried and moved on lengthens, the question will be asked more often - is Daniel Levy actually the problem at Tottenham Hotspur?
Levy cannot be criticised for the sale of Gareth Bale last summer. He had an £86m offer for a player who wanted to fulfil his dream to play for Real Madrid. All he could do was negotiate the best price - which he did.
Initially the influx of fresh talent looked a fair exchange, but such a transition is made even more difficult at a club where the manager does not get too long before the chairman's laptop is drawing up the farewell statement on another departure.
Southampton's Mauricio Pochettini is the current favourite to succeed Sherwood, followed by Ajax's Frank de Boer - but Levy needs to change himself as well as his manager.
This time he must get the right man, give him an atmosphere of stability to work within and not be too hasty should results not meet his standards.
To lose the odd manager is understandable, to lose so many smacks of very poor decision-making. And eventually the decision-maker will be the man made accountable to the supporters and those who hold power at Spurs.