Nemanja Vidic: Man Utd players did not stop trying for David Moyes
Last updated on .From the section Football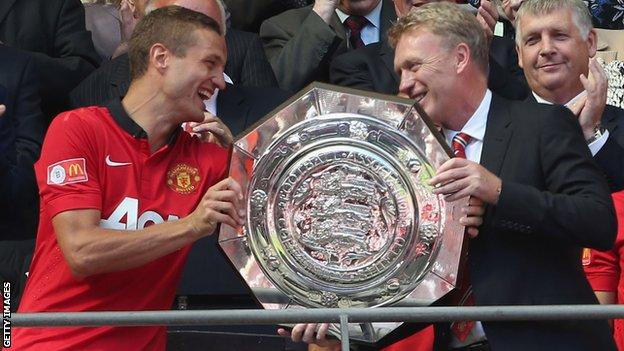 Nemanja Vidic has rejected the allegation Manchester United's players stopped trying for ex-boss David Moyes.
In an in-depth interview with BBC Sport, Vidic has underlined the hurt felt within the United dressing room at a disastrous season, admitting there were arguments between the players.
But the Serb denies that spilled over into a lack of respect for Moyes.
"There is no question over any of the players. They did everything that was asked of them," said Vidic.
"Sometimes you do things well, sometimes you don't. But the desire was there. They tried really hard.
"From the first day until the last you didn't hear any player say anything bad about the training. That shows the players have respect for the manager."
Moyes was sacked last month, less than a year after being confirmed as Sir Alex Ferguson's successor, as United headed for a seventh-place finish in the Premier League, their worst campaign in 24 years.
It is anticipated Netherlands coach Louis van Gaal will be appointed in his place within the next 48 hours.
Vidic made his 300th and last appearance for the club in Sunday's draw at Southampton, having already confirmed he will join Inter Milan.
However, he could not have imagined his glittering stay in England would reach such an unsatisfactory conclusion, with United failing to secure a European qualification place for the first time since 1981.
"I don't want to point at any one thing," said the 32-year-old, trying to explain what went wrong.
"It did not all happen in one week. There was a transition. Everyone has their own ideas and their own vision. We didn't adapt quickly enough.
"We thought it might be difficult to win the title this year, so the start of the season was so important for us. We had tough matches and we lost them. After six games we were already six or seven points behind the other teams. The pressure builds and it all rolls up."
By the time United faced Bayern Munich in the Champions League quarter-finals in April, a 4-2 aggregate defeat was viewed as some kind of success.
"That is the pressure the media creates," said Vidic. "The players were being questioned, the manager was being questioned, the club was being questioned. People end up saying the players are not good enough and we need to buy better ones.
"I am not saying we have had a good season. It was a bad time and the players could have done better. But everyone lost belief in the team."
Yet Vidic stressed repeatedly that at no point did the players turn their back on Moyes or his methods, even though recriminations inside the dressing room were fierce.
"The players did argue among ourselves," he said. "But we were arguing to get better. When you have bad times, people show they care. It hurts but we could say those things to each other because we have been together for so long.
"We had some hard moments in the dressing room but we never argued with the manager or his assistants. Never."
Vidic has his own managerial ambitions. Yet while opinions were offered by the senior players when requested by Moyes, the Serb insists there is a line that should not be crossed.
"Sometimes you need to have honest conversations," he said.
"But only when he asked me what I thought and only about something which could help him improve, maybe in his relations with the players. Never about tactics.
"It is not the players' job - not even the captain - to tell the manager he should play this way or that."
It is a point Vidic returns to repeatedly over the course of an hour, stressing all the time he has no axe to grind against Moyes.
"People said we lost faith in David Moyes," said Vidic. "We didn't.
"We knew he was trying to find new players. We knew he was trying to build something.
"Once we lost the chance to win the title we knew this season was lost. Then it is like resetting a computer and starting again. You want to see lights for the next season."
In the end, those lights went out on Moyes. But Vidic refused to take aim at an easy target.
Not when asked if he would still be leaving if he knew there was going to be a new manager taking charge: "I know you would like me to say the exact thing but I cannot. You don't make a decision like that all of a sudden. I made it because of circumstances."
And not when asked if United's players were asked to defend like [Everton defender] Phil Jagielka: "The captain has to respect the club. You will never hear from me that he [Moyes] did this badly or that badly."
On other matters, Vidic was precise and to the point.
Is he fully fit? "Totally, and capable of playing two games a week."

Those managerial ambitions "probably stem from working so closely with Sir Alex Ferguson".

His memory of the club: "Wondering where all the players went immediately after training, then realising they were all practising to make themselves even better."

Whether United can still sign top players: "It is one bad season, not 10."

Whether he would still join them ahead of Liverpool, even now: "Of course."
Vidic admits he is not leaving a happy club, but he departs knowing he has made a significant impression.
The book presented to him by Sir Bobby Charlton chronicling his time at United is, chiefly, full of happy memories. "Three hundred games, 20 goals, 15 trophies. They are good numbers," he said.