Zimbabwe and Botswana hit by club refusals to release players
By Steve Vickers & Mtokozisi Dube
BBC Sport
Last updated on .From the section Football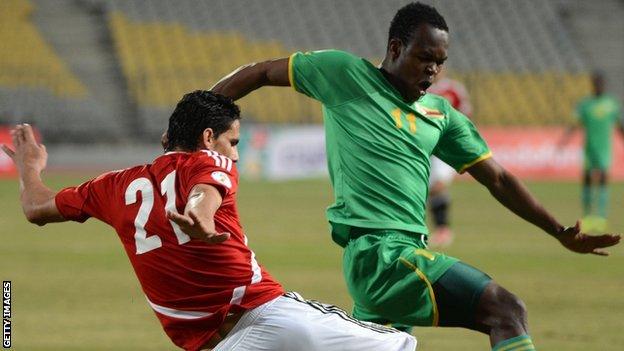 Zimbabwe and Botswana will not be able to select full-strength squads for their upcoming 2015 Africa Cup of Nations qualifiers because some clubs have refused to release players.
The countries are involved in preliminary matches, with the 27 teams ranked lowest by the Confederation of African Football (Caf) going through two rounds of games as they contest for seven places in the main group qualifying phase.
These games fall outside of the Fifa international dates, so clubs in Europe and elsewhere are not obliged to release their players.
It means Zimbabwe will be without the services of striker Edward Sadomba, who has scored five goals in the knockout rounds of the Champions League with Libyan side Al Ahli Benghazi, for Sunday's first-round, first-leg match away to Tanzania in Dar es Salaam.
Sadomba was much-needed as Zimbabwe's strike force has been weakened with Simba Sithole injured and another South Africa-based player, Kingstone Nkatha, failing to arrive for the training camp.
Zimbabwe coach Ian Gororwa says it is a blow but does not blame Caf for the situation that will see many of the teams playing this weekend without some of their overseas-based stars.
"Sadomba has got so much experience in Africa and we could have done well with him, but the club withheld him," Gorowa told BBC Sport.
"We also wanted Belgiuim-based Ovidy Karuru to have a look at, and we had others in Europe and South Africa, but those two were very critical for me
"But I wouldn't say that it was Caf's fault, it's more like Caf is saying that we should do better and be ranked in the top 20 to avoid going through this in the future."
Botswana's task to overcome Burundi has been made harder by Polokwane's refusal to release Galabgwe Moyana because the game clashed with their relegation play-off.
Coach Peter Butler, who took the job in February, has also found himself in a tricky situation regarding the country's most-capped player Mogogi Gabonamong.
The 32-year-old midfielder, who has played 65 times for the Zebras, has refused to join up with the squad in anger at being omitted from Bulter's original selection two weeks ago.
Mogogi said: "When he first picked his team it was clear I wasn't in his plans, which I respected. It's football and no player is bigger than the game. If he felt I wasn't good enough two weeks ago when he named the squad, what's changed now?"
Butler will also be without Democratic Republic of Congo-based striker Jerome Ramatlhakwana.
The FC Don Bosco striker, who scored five goals when Botswana qualified for the 2012 Nations Cup. was initially left out of Butler's plans and Botswana have been unable to contact him after the coach reconsidered.