Who would you pick in your all-time World Cup XI?
By Paul Fletcher
BBC Sport
Last updated on .From the section 2014 Fifa World Cup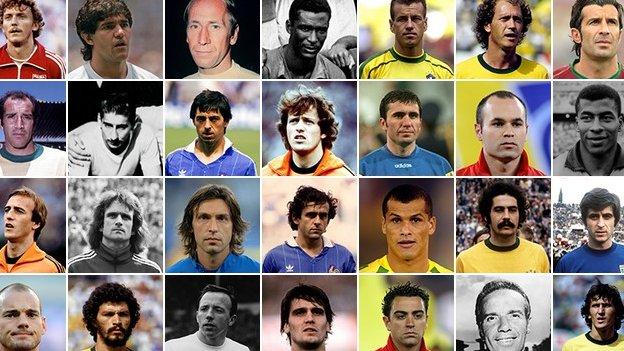 Go to our new World Cup features and video page for more in-depth content and analysis.
Who would make your all-time World Cup XI?
We have released our new World Cup squad selector, giving you the chance to pick your all-time XI from a shortlist of 110 players.
You can compare your choices against those from numerous BBC Sport experts, including pundits Mark Lawrenson and Pat Nevin, chief football writer Phil McNulty and Match of the Day commentator Guy Mowbray.
But picking your team won't be easy.
Mowbray said his selection took him hours and helped fill a void one night when he woke early and could not get back to sleep - although, like many others, he found himself facing near-impossible choices.
"To preserve sanity, I decided to streamline the selection task by picking only players who've been a part of World Cup-winning teams. In some cases it was the only way of going for one great name over another," he explained.
Or as McNulty observed of his XI: "There is an absence of so-called ball winners in my selection because I believe once these players got it the opposition would never get it back."
Compiling a shortlist of 110 players - comprising 10 goalkeepers, 40 defenders, 40 midfielders and 20 strikers - was in itself no easy task.
It started with the decision that only performances at World Cups would count when deciding on a player's suitability for inclusion, not their exploits elsewhere in their career.
This, for example, ultimately counted against someone like Argentina's Lionel Messi, who at 26 has won the Ballon d'Or four times but has yet to really shine at a World Cup.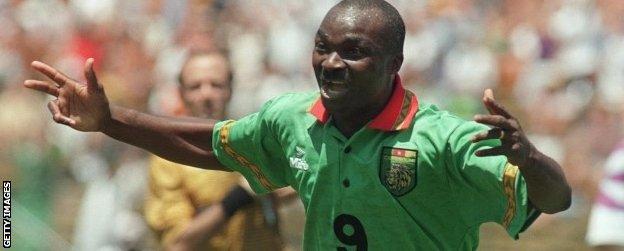 A longlist of 220 was painstakingly compiled and sent out to BBC experts, who were asked (sometimes repeatedly) to slice this in half.
Respondents included former England manager Graham Taylor and defender Danny Mills, veteran commentator John Motson, former Wales international John Hartson, Match of the Day commentator Steve Wilson, Radio 5 live's Ian Dennis and numerous World Service experts across the globe.
In total, 25 responded and their votes were added up to create the shortlist.
There were 20 players who were voted for by everybody, while the cut-off point for making the shortlist of 110 names proved to be 11 votes.
In the end 18 nations were represented - 13 from Europe, three from South America and one each from Africa and Asia.
Cameroon veteran Roger Milla, who in 1994 at the age of 42 became the oldest player to score at a World Cup, was the sole African representative. South Korea defender Hong Myung-Bo, who played at four tournaments, was the only player from the Asian Football Confederation.
There were 75 players from Europe and 33 from South America.
Perhaps not surprisingly, Brazil has the most players on the list with 25, followed by Italy with 20 and Germany (including West Germany) with 18.
No other nation reached double figures, France being the next highest with nine players, while England have eight.
Of those who failed to make the list, Bulgaria midfielder Yordan Letchkov was closest to inclusion.
He scored the winner against Germany in 1994 that sent his nation into the last four for the first and, to date, only time.
Letchkov found himself tied on 11 votes along with France midfielder Raymond Kopa and Uruguay's 1950 World Cup winner Alcides Ghiggia.
There were only two remaining places and the casting vote was given to BBC Radio 5 live chief football correspondent Mike Ingham.
Ingham had already voted for Kopa when he halved the longlist of 220 and so for him the choice was between Letchkov and Ghiggia.
"On the basis that Bulgaria were beaten semi-finalists and Uruguay won the World Cup in Brazil it must be Ghiggia, especially as he scored the winning goal and ran the game," explained Ingham.
There will be a 5 live special to debate selections on 9 June, with Jimmy Armfield, John Motson and Gabriele Marcotti on the panel.