Ryan Giggs will 'benefit Louis van Gaal' at Manchester United
Last updated on .From the section Football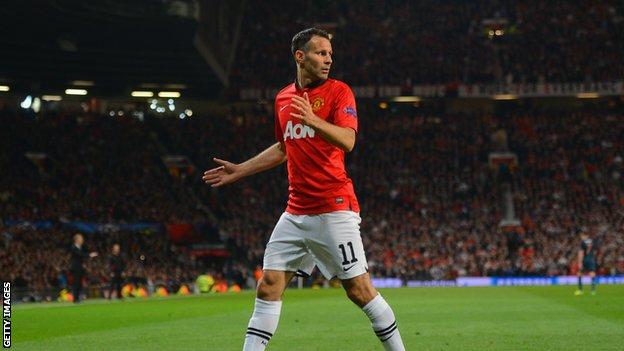 Ryan Giggs will be an asset to new Manchester United manager Louis van Gaal, according to former Wales coach Raymond Verheijen.
Verheijen, who was Gary Speed's assistant at Wales, says Van Gaal will benefit from the Welshman's experience.
"It will be a smart move to have Ryan Giggs as an assistant," Verheijen said.
"He knows the club so well and he can give Louis van Gaal all the information he needs to make a good start at the club."
Giggs met with Van Gaal in the Netherlands last week to discuss the possibility of a coaching role at Old Trafford and will now be Van Gaal's right-hand man after retiring from playing.
Frans Hoek and Marcel Bout will be joining as assistant coaches.
Fellow Dutchman Verheijen said he learned from his mentor Guus Hiddink that it is "very important" to have people in the manager's staff who are connected with the club they work for.
Verheijen, a coach at the World Football Academy, believes Giggs, who made 963 appearances for United and was caretaker manager for four games following the sacking of David Moyes, is a good man to have on board.
"I think Louis van Gaal will benefit from Ryan Giggs, but I think Giggs will benefit even more from Louis van Gaal," Verheijen added.
As well as being an ally in the dugout for Van Gaal, Verheijen believes Giggs has the makings of a good manager in his own right as long as he has the skills to pass his knowledge on to other players.
"He has played the game at the highest level, so he knows the game," said Verheijen, speaking before Giggs was announced as assistant manager.
"He played it for a very long time and he has worked with one of the best managers in the history of the game, Alex Ferguson, so these are extremely big plusses for Ryan Giggs.
"Now the questions is - will he be able to transfer all that knowledge and experience onto other people?
"That is the biggest problem for most of these former top players, that they have all the knowledge and experience inside them but they don't have the skills to transfer it to their players.
"Obviously, it's a guess from a distance, but I think he will have that ability and I make that judgement based on his personality."