Luke Chadwick: Manchester United to Cambridge United
By Chris Osborne
BBC Sport
Last updated on .From the section Football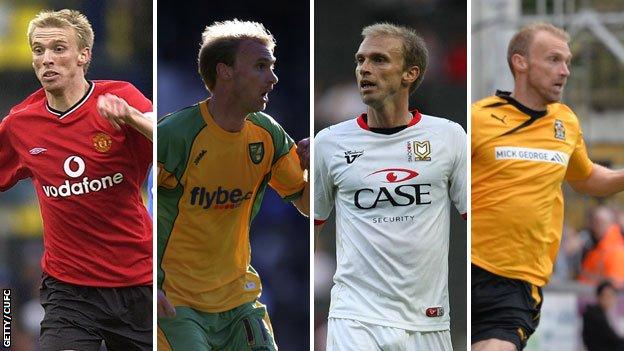 Premier League titles? Champions League quarter-finals in Munich? Old Trafford in front of 65,000?
Thirteen years ago, Chadwick was receiving a Premier League winners' medal with United. Now, the more important business of a Conference Premier promotion play-off final against Gateshead with his boyhood club looms on Sunday.
"A promotion medal would top the lot," the 33-year-old told BBC Sport.
"Manchester United won the league most years back then. But to be part of a squad that gets Cambridge back into the Football League, where I used to watch them as a kid, would be a dream come true."
Scouted as a 15-year-old on the school pitches of Cambridge, Chadwick's Manchester United career started with a trial in the north west.
By the time he was dropped back home to Meldreth, just outside Cambridge, mum was waiting, anxiously. One of the greatest football managers of all time had just been on the phone.
"She said that Alex Ferguson had called up saying that they wanted me to sign," he recalled.
"He had watched the trial game at Littleton Road in Salford and he called her up.
"After that there was only one place I was going to go. My mum wasn't as excited as me when she told me. I couldn't believe it."
Old Trafford was rarely a Theatre of Dreams for Chadwick, though.
In five years, between 1999 and 2004, he made 39 appearances, 21 of which came from the bench, and scored two goals.
There was a five-minute cameo at the Olympic Stadium in a Champions League quarter-final defeat by Bayern Munich in April 2001.
And, despite being present for three Premier League titles, he only played enough games to collect one winners' medal, in 2000-01.

Beneath the numbers there was something more pertinent. A question mark over whether he really belonged in the same dressing room as players who had won the league, FA Cup and European treble only five months before his debut.
"It was a strange situation. When I signed for United I never dreamt I would play for the first team," he said.
"I figured I'd be there a couple of years and end up somewhere else a bit lower down.
"It happened so quickly. I'm not sure I was 100% comfortable with it. It started to get less fun the higher you went up.
"When you're playing in the youth team with your mates you'd love going in all the time. But when things weren't going great you felt like the whole world was on your shoulders."
Maybe it was coming from a small Cambridgeshire village. Maybe it was all just about mentality.
But, for some reason, being at one of the most famous clubs on the planet was a bit of a drag.
"From the moment I went there I don't think I truly believed I would be a regular Manchester United player," Chadwick said.
"I just wanted to play football. I didn't want the fame and stuff that came with it. And at the biggest club in the world you're never going to get away with that.
"In the end I think I was happy to get away from United. It's a fantastic club and I wouldn't say a bad word against it.
"But I don't think I was really cut out for it. I wouldn't have enjoyed staying there. You've got to be something special to play at the club for a long period of time."
A groin injury and subsequent operation pretty much ended his United days, and also knocked off a few yards of the pace that was such a vital weapon in his armoury.
A reinvention, as a creative, attacking midfielder, had to take place.
Spells at West Ham, Stoke and Norwich City followed, but injuries remained a constant.
Groin, shoulder, back, knee. Sometimes it seemed Chadwick's body, in spite of his mind, was dead set on not being a footballer.
"It's tough, because when you're not in the team, you're still getting paid and the fans want to know why you're not playing - 99.9% of the time you'd do anything to play," he said.
"When you get one injury and then another straight after it gets to you. You start thinking 'what am I doing here? Should I do something else for a living?'
"When you're injury-free though you forget about it and think 'I'm unbreakable now'."
It was not until joining MK Dons in 2008 that the injuries became not so perennial and football started to be fun.
But there was always a nagging thought, a magnetism towards his hometown club. The dream of playing for Cambridge United.

It may have happened earlier had the U's not dropped out of the Football League nine years ago.
Nonetheless, Chadwick, the one-time Old Trafford prospect, fulfilled a football ambition in March when he pulled on the amber shirt after signing on loan.
"I'd thought about it so many times, I just wanted to go there. Maybe if I were a single man I'd have just done it, but I've got a wife and kids to look after," he said.
"It was a surreal experience. I put the shirt on, it was an extra large so I looked like a 12-year-old kid when I went out on the pitch. It was emotional. I've never felt like that on a pitch.
"My first goal, in front of the Newmarket Road End. I've never felt like that before - it was like being a kid again."
Nine games and two goals into his Abbey career, the Conference Premier has been embarrassingly easy for Chadwick at times.
But this weekend's shoot-out for a place in the Football League carries nine years of pressure for a club desperate to return to the big time.
And, on top of that, Chadwick will have to stop the 12-year-old version of himself from getting carried away in the moment.
"To see the club promoted, be any part of it, would be a dream come true," he said.
"It will be a great day and a tense day. I just hope and pray we can get the result we need."