Linfield fined £1,200 by IFA over sectarian songs
Last updated on .From the section Football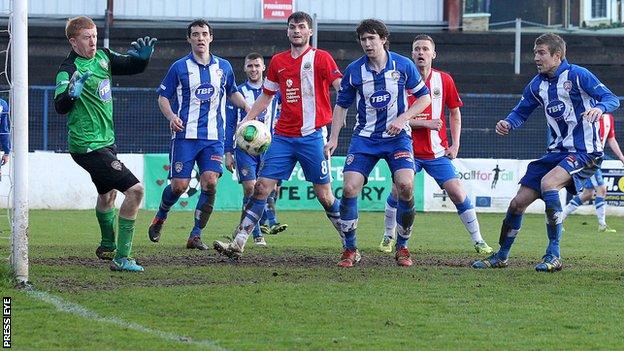 Irish Premiership club Linfield have been fined £1,200 by the Irish Football Association over the singing of sectarian songs by supporters.
The IFA's disciplinary committee ruled that Linfield fans had been guilty of breaching the code of conduct during a league game at Coleraine in March.
Last month Linfield successfully challenged a £3,250 fine in relation to the singing of sectarian songs.
They have not said yet whether they will appeal against the latest fine.
In April, the IFA's own Appeals Board found that the disciplinary committee had not followed proper procedures in punishing Linfield over sectarian chanting during the County Antrim Shield semi-final against Cliftonville.
That meant the original decision to fine the Belfast club was quashed.
In response to that, Linfield stressed they were wholly opposed to sectarianism, bigotry and discrimination.
A statement posted on the club's website read: "Any instance of any such singing, chanting or other offensive action from those professing to support our proud club will not be tolerated and we will take every action open to us to ensure offenders are punished to the full extent of the law."