Port Vale: Micky Adams needs to take his time - Mark Grew
Last updated on .From the section Football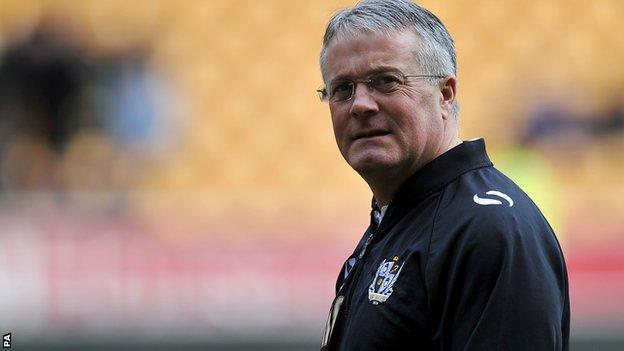 Port Vale assistant manager Mark Grew says he is still "in the dark" over whether manager Micky Adams is to remain with the League One club.
Adams, 52, is yet to decide on Vale's offer of a one-year rolling contract.
"I'm waiting to see what Micky's going to do. I'm in the dark as much as anyone," Grew told BBC Radio Stoke.
"But he deserves a break. He's had a lot of pressure on him over the last couple of years. It was wearing him down towards the end of the season."
Since returning to Vale Park in May 2011 for his second stint as Vale boss, following his short, ill-fated stint with boyhood heroes Sheffield United, Adams has been through the emotional mill.
He came through the stresses and strains of administration in his first season back, won promotion in his second despite the distraction of a long-drawn-out takeover, then achieved a top-10 finish last term, all to the backdrop of recuperating from a hip operation and the rigours of persistent speculation about his future.
"He's done a fantastic job here, no question," added Grew, whose own contract, and that of coach Rob Page, has also run down. "He's made tremendous progress.
"When he came back he signed a three-year deal, which has wound down now.
"He's taking his time. But when he decides to say what he's going to do we'll go from there.
"He looked a tired man at times last season. He just needs some peace and quiet. A bit of family time.
"As he's admitted himself, he's not the nicest to work with during the season.
"But I've worked with some people who you wouldn't give the time of day.
"We've all got our moods. We're all different animals between three o'clock and five to five on a Saturday afternoon. You do things and say things that you wouldn't do if you weren't playing football.
"But you get to know his ways. Deep down, he's a good man. To work with someone you believe in and trust has got to be right."