Cardiff earn more TV cash than champions Man Utd did in 2013
Last updated on .From the section Premier League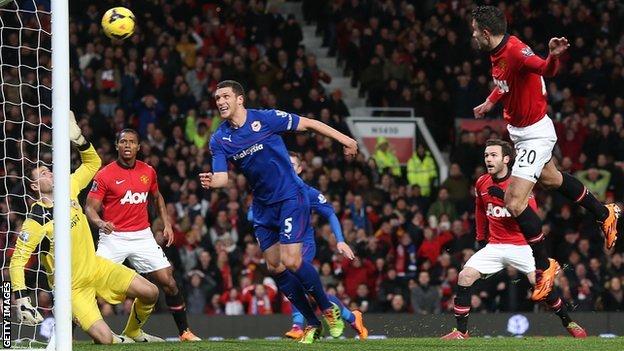 Bottom club Cardiff City earned more television cash in the 2013-14 season than Manchester United did for winning the Premier League a year earlier.
United earned £89.1m in 2013-14, but the £60.8m they picked up as champions 12 months prior was beaten by Cardiff, who received £62.1m.
Champions Manchester City earned £96.6m behind top-earners Liverpool (£97.5m).
Liverpool picked up 1.57 times more than bottom earners Cardiff but the ratio is the smallest in any of Europe's top leagues - Premier League television revenue is distributed in a more competitive manner than in other major leagues on the continent.
TV revenue for Premier League clubs 2013-14

Club according to Premier League finish

Live games broadcast (2013-14)*

Broadcast revenue (£m)

Difference from 2012-13 (£m)

Manchester City

25

96.6

38.5

Liverpool

28

97.5

42.7

Chelsea

25

94.1

39.1

Arsenal

25

92.9

35.8

Everton

16

85.0

33.2

Tottenham

24

89.7

33.8

Man Utd

25

89.2

28.4

Southampton

10

76.9

33.1

Stoke

7

75.7

31.1

Newcastle

14

77.4

32.2

Crystal Palace

10

73.2

N/A

Swansea

13

74.1

26.6

West Ham

14

73.7

25.0

Sunderland

13

71.8

28.2

Aston Villa

16

72.7

27.7

Hull

9

67.0

N/A

West Brom

9

65.8

17.5

Norwich

9

64.5

18.6

Fulham

8

63.3

18

Cardiff

8

62.1

N/A

* Each club receives payments based on a minimum of 10 live matches being broadcast, even if they are on television fewer than 10 times.
The Reds were televised 28 times in 2013-14 - prompting a £42.7m rise in year-on-year television revenue.
In all, Premier League clubs were paid £1.6bn from broadcasting revenue for the season, an increase from £972m in the 2012-13 campaign.
Half of all domestic broadcast revenue is split evenly among the league's clubs, with a quarter of the money paid according to a team's league position, and the final 25% depending on how often a team is televised.
Overseas income amounted to a payment of £26.3m to each club.
Cardiff were the league's lowest earners, but their earnings emphasise the scale of the Premier League's current £3.018bn deal over three seasons.
The Welsh club earned £22.4m more than Queens Park Rangers did when they occupied bottom spot 12 months earlier.
Chelsea witnessed a £39.1m rise in year-on-year TV revenue to £94.1m, while Arsenal received £92.9m.