St Mirren: Tommy Craig aims to bolster Buddies squad
Last updated on .From the section Football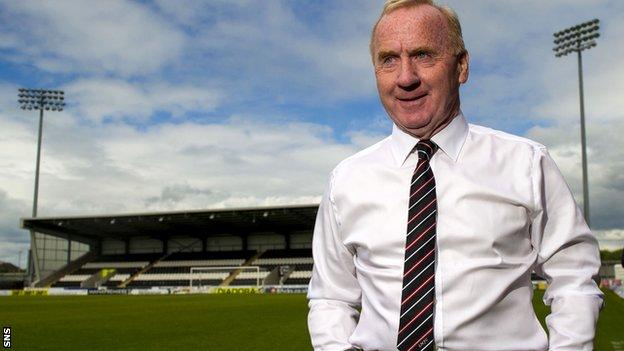 New St Mirren manager Tommy Craig is planning a major recruitment drive to bring in up to eight new players.
After succeeding Danny Lennon, Craig, 63, predicted his first few days in his new role at the Scottish Premiership outfit would be hectic.
"The first priority, and it'll happen over the next 48 hours or so, is to look at the players who are leaving and those who will be retained," he said.
"Also the recruitment of players as we only have eight under contract."
Craig had been working as assistant to Lennon, who was told his contract would not be renewed on Monday.
"It's going to be a tense, difficult, busy couple of days," he added. "You're looking at somewhere between six and eight players will probably have to come in, but I'll get down to the nitty gritty of that in due course."
Buddies players Jim Goodwin and Gary Teale will act as player-coaches under Craig, who admitted his appointment came as a shock.
And he was also keen to pay tribute to Lennon, who led the club to League Cup final success last season.
"It came as a bit of a surprise," added Craig. "When Danny left the club I thought there was a chance I'd be following him out the door, but I was quickly spoken to by the board, who were quite keen for me to stay on and they offered me the post, which I gratefully accepted.
"I have a lot of gratitude to Danny Lennon, he brought me to St Mirren and now I have this opportunity to take his good work on. He's laid the foundations for next season and I would like to think I can build on what he has left behind.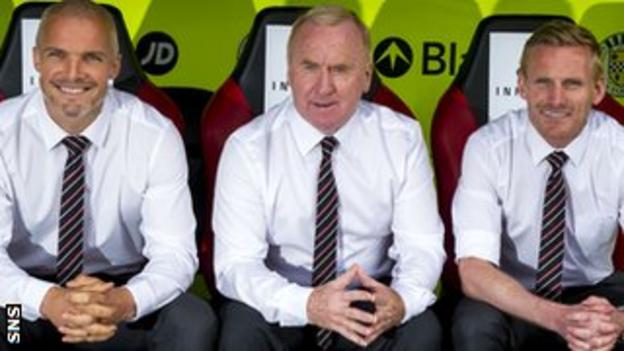 "I have spoken to Danny. He wishes me well, the friendship remains in tact, there's no falling out, and he hopes the club goes from strength to strength.
"Gary Teale and Jim Goodwin will assist me on a daily basis, on some days they'll be players and on others they will be coaches. Their long term view has to be geared towards coaching, but they still have a contribution to make on the pitch.
"We have no specific targets, to finish eighth again is a tremendous credit to Danny. If we can go that bit further forward, that is the aim, but I've got stress there is a lot of work to be done on the recruitment side."
Craig has also worked as a number two at Hibernian, Celtic and Aberdeen.
"I've never had an hang-ups about never having had the title, but I do admit that being named manager Tommy Craig is different and it's been a long time coming. I just hope I can serve the club well," he added.