FA Cup final 2014: Arsenal v Hull City - why Gunners dare not lose

By Phil McNulty
Chief football writer
Last updated on .From the section Football1135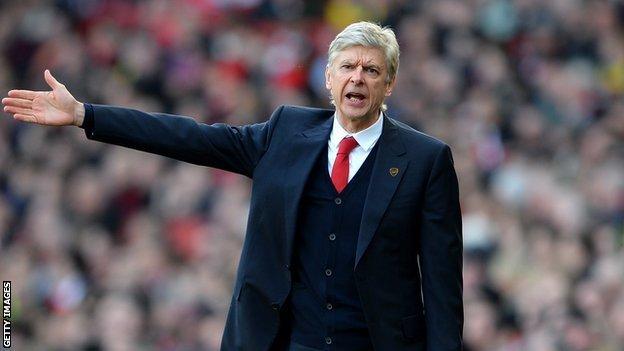 When Arsenal face Hull City in Saturday's FA Cup final at Wembley, it will be four days short of nine years since manager Arsene Wenger last sampled the joy of lifting a trophy.
Wenger once described reaching the Champions League as the fifth trophy on offer to clubs at the start of the season - and it is one they succeeded in claiming for the 17th year in a row after fighting off the challenge of Roberto Martinez's Everton.
In reality, however, a club of Arsenal's stature and history cannot seriously be sustained by annual qualification for a competition they may never win as a substitute for tangible success.
Arsenal's tradition states that they must be seen to be winning trophies and not simply celebrating fourth-placed finishes.
Judged in those terms, the last nine years have been a bitter disappointment for a manager of Wenger's quality and a club of Arsenal's standards.
And on Saturday evening at Wembley, Wenger's Arsenal start as firm favourites to finally end the trophy drought that has been an almost ever-present shadow over one of the game's most respected individuals and a manager who brought such glorious success in the first half of his tenure.
Steve Bruce's astute management means Hull City will pose a serious threat but Wenger knows this is a game he dare not lose.
Should Arsenal leave Wembley without the FA Cup, the questions will come again about whether he can ever regain the sure touch of a decade ago, and whether he has lost the abilities that came as second nature after he arrived at Highbury in September 1996.
Wenger has shown every indication of extending his stay as Arsenal manager, dismissing rumoured interest from former club Monaco. But how would such disappointment sit with both him and a passionate fan base desperate for trophies rather than the consolation of a top-four place in the Premier League?
If Arsenal win, however, Wenger has every right to paint the season as a successful one.

He could also use a long-overdue triumph as evidence that he still has that power and would be able to support his never-ending supply of optimism and faith in his methods and players by pointing to the FA Cup, a piece of silverware that should never be devalued.
It would also surely give Wenger renewed enthusiasm that he is on the right lines. This is why Saturday represents one of the most important games in his Arsenal career.
As Wenger reflects on Arsenal's season, he is right to state mitigating circumstance with the loss of Theo Walcott to a serious knee injury and long absences for Aaron Ramsey, whose return provided vital impetus in the closing weeks of the season, Jack Wilshere and Alex Oxlade-Chamberlain.
But there was also the mystifying decision not to invest in a striker following the serious pursuit of Gonzalo Higuain and Luis Suarez last summer. If it was such a priority then, why was it not rekindled in January when the need was even more acute?
To only bring in on-loan (not to mention injured) Swedish veteran Kim Kallstrom in the second transfer window, with Arsenal right in the hunt for the title at that time, was an obvious error.
Wenger, studying champions Manchester City and Liverpool racking up more than 100 league goals, made the observation that Arsenal must improve offensively - and for that he must go for top-class targets and be prepared to pay the price they cost.
He believes Arsenal are "close".
But with City, Liverpool, Chelsea and Manchester United certain to embark on significant recruitment this summer, Wenger must match them if this season is not to be seen in retrospect as a painful lost opportunity to reclaim the title.
Wenger said: "It will be busy but the main thing for us will be to keep the stability because we feel we are close. We want to add something that makes us even stronger but, number wise, it will not be massive."
What Wenger must add first, and what may yet shape any debate about his future and his standing among fans who by and large revere and respect what he has done for Arsenal, is win the FA Cup.

Bruce's street wisdom will no doubt see him play on the pressures that will be applied to Arsenal.
If Hull win it will be a moment in history - if they lose there will be disappointment but also great credit.
If Arsenal win it will be well received by those (and they include plenty in the media who are wrongly accused of having an anti-Wenger agenda) who admire this popular and gifted man who has brought so much to the British game and the Premier League.
If Arsenal lose he will, as he knows, face fierce criticism.
If Arsenal win it can mark the start of a new era of success for Wenger. If Arsenal lose the drought goes on and many will wonder whether he will ever bring trophies back to the club.