St Johnstone boss Tommy Wright on his career and the Cup final

By Tom English
BBC Scotland
Last updated on .From the section Football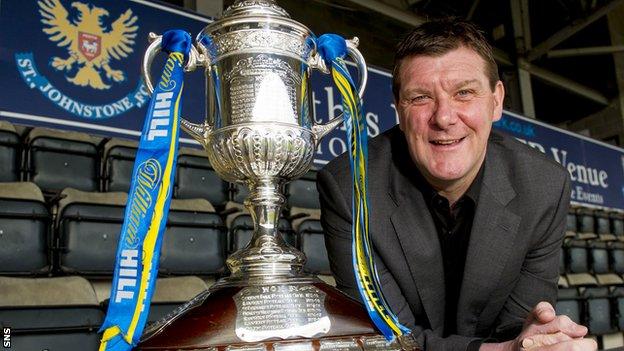 In the foyer of McDiarmid Park the souvenir jerseys and t-shirts and scarves are arranged in neat bundles at reception. Selling like hot cakes, it seems.
The fans come and go and most take some merchandise with them, each item adorned with a date - 17 May. It could be the greatest date.
Tommy Wright sits down in the corner of the restaurant and talks about the positivity in the club, the sense of excitement ahead of the Scottish Cup final.
The 50-year-old takes us back to the semi-final and that come-from-behind victory against Aberdeen, the team that humbled them in the semi-final of the League Cup. A Stevie May equaliser and then a Stevie May winner. What joy must have coursed through the manager's body in those moments.
Yes and no, he says, with a smile.
"The final whistle went and this might sound strange but there was a few seconds there where I had a real empty feeling," Wright said. "I had a moment of, I don't know, sadness, maybe.
"Me and my wife Anne lost our son, Andrew, 20 years ago. He was five. Eight weeks premature and then born with severe disabilities. He couldn't talk but he could, if you know what I mean. With his eyes. With his smile.
"Eventually it got too much for him. He was such a fighter. Twenty years ago, but you don't forget. People who have lost loved ones will tell you that images pop into your head at the strangest times. And that was one of them. The final whistle. And then Andrew."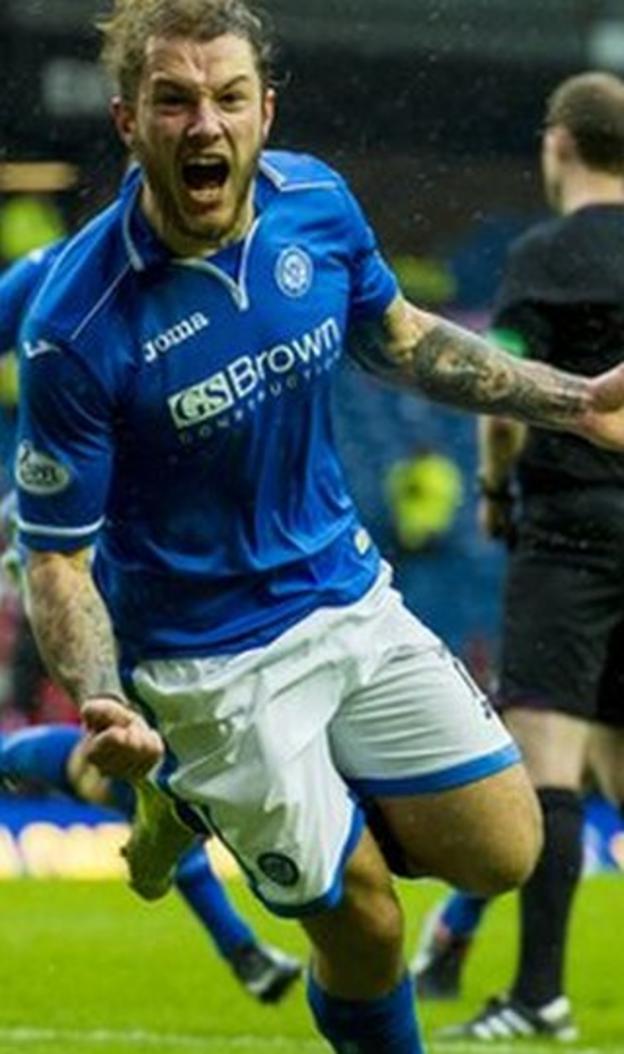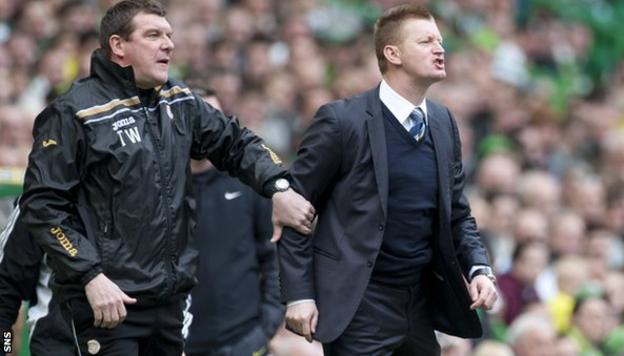 A few hours in the company of the deeply impressive St Johnstone manager takes you on a journey from tragedy to hilarity.
He has stories from his footballing past, as a goalkeeper in England, that make you laugh out loud, stories of former managers and their foibles, stories about Ossie Ardiles, one of his bosses at Newcastle, that make you wonder what planet the Argentine lived on sometimes.
"This is a good one," says Wright. "You'll like this. Ossie's my manager but he's not picking me. He was the type of manager who stuck by his first 11, which was great, if you were one of the 11.
"Pavel Srnicek was first-choice goalkeeper. Eventually Pav got injured and I came in. We lost 1-0 at Middlesbrough but I played really well.
"Ossie says he wants to give me a new contract. I says, 'Okay, but I want you to tell me why you haven't been giving me a game'. He said he'd seen me playing for Northern Ireland a while back and he wasn't impressed. I'd had a poor match, he said. He told me the game, the date, the venue, but he'd got the wrong guy. I said 'Ossie, that was Allen McKnight, not me.' He said, 'Really?'
"Ossie was priceless. So laid-back. No structure. Just turn up and play, play, play."
The journey to Perth began in Ballyclare, County Antrim. In the beginning, Wright wasn't a footballer at all, he was a runner.
From the age of 12 he was pounding the roads of his hometown at a rate of 80-100 miles a week. He was given an athletics scholarship to a college in North Carolina, but he never went.
He was out running one morning when he stopped after four miles and gave up. He still doesn't know why. Maybe it was the fear of going to America. Maybe not. But that was the end of the running and the dawn of football.
He signed for Newcastle in 1988, remembers the era when both ends of St James' Park were open and when the crowds averaged about 14,000 a game.
"Then Kevin Keegan arrived as manager and put 20,000 on the gate straight away. And by the way, he resigned after his first game and they had to pull him back. Terry McDermott (his assistant) had to get in the car and chase him down the road to Hexham and get him into the lay-by.
"Kevin wanted to sign Brian Kilcline and the board wouldn't let him. So he said he was off. The board soon relented. I had a love-hate relationship with Kevin. When we lost a game he got in a bit of a huff.
"So when we lose I try not to be down. You pick up bits and pieces from all the managers you played under. Billy Bingham, for instance, made a team like Northern Ireland feel 10ft tall when we went out to play. He made you feel good about yourself. That's so important."
There was a legacy to all those miles spent on the hard roads of Ballyclare. In 15 years as a professional goalkeeper in England he was injured for seven-and-a-half-seasons and had 10 operations on his right knee alone.
The worst spell was at Nottingham Forest, where he never kicked a ball for more than two years. Frank Clark was his manager. Clark, strong but compassionate, is the kind of manager Wright wants to be.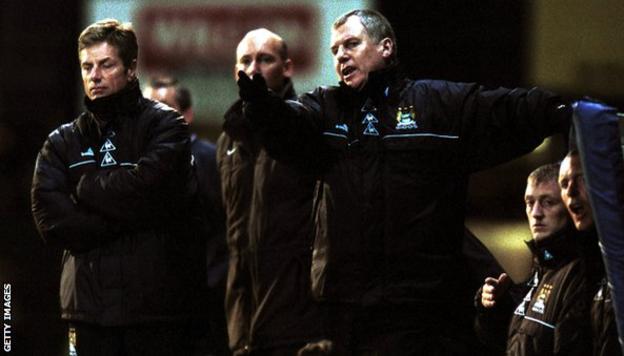 "Frank would come in and he knew immediately when I was really down. Andrew died during that two years, so I was down for quite a bit of it. He'd say 'Off you go, Tommy. Take a wee break for two weeks. Book a holiday on the club credit card'. He didn't have to do it. There was a warmth and sincerity about Frank."
Clark left for Manchester City and took Wright with him. Later, it was Joe Royle in the hot-seat.
"Joe was another great man-manager but Man City was a tough place to be at that time," said Wright.
"Joe brought somebody in because everybody thought the ground was cursed. Somebody came in - a witch-doctor or whatever - and urinated in the corners and that was supposed to cure all ills. Maine Road was a depressing place to play.
"We used to be taken away to a school hall to warm up because there was so much negativity around the ground. It was almost as if there was this massive black cloud hanging over Maine Road and it wouldn't go away. If ever a club deserved a fairy godmother it was City."
There is, of course, more than a touch of the fairytale about what St Johnstone are experiencing now. After eight Scottish Cup semi-final losses they have reached the end-game against a Dundee United team they have beaten three times in succession, on an aggregate score of 6-0.
Wright's team have won 47% of their games in all competitions this season, compared to 36% last term when they finished third in the SPL. You have to go back 15 years to find a time when St Johnstone won as many games while operating in the top flight.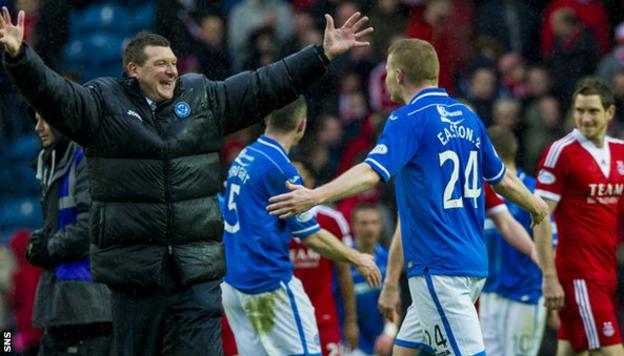 Last season he was assistant to Steve Lomas, but the pair have not stayed in touch, which is a source of regret for Wright.
"It's not my doing. He hasn't spoken to me since I told him I wasn't going to join him at Millwall. I'll always be grateful to him for giving me the opportunity here, but I felt the club he was going to wasn't right for him. I'm disappointed that he feels he can't speak to me but that happens in football. The Millwall thing just didn't stack up for me."
He was proved right. Lomas did not last long at the club.
Wright sings the praises of his chairman, Steve Brown, and his key lieutenants, Callum Davidson and Alex Cleland. One of the lessons he learned along the way? Always surround yourself with good people.
And good players do not hurt either. May has been the marquee act. "Stevie would have gone out on loan again, there's no doubt about that. I wanted him here and I told him that. He said 'If you put me in your team then I'll stay in it' and how right he was.
"I watched him when he was on loan at Hamilton and he had bright yellow boots and the ponytail and he was getting dog's abuse at Raith. There's a perception of how he is; brash and loud. But he's the quietest spoken lad.
"He was shooting from everywhere and he was getting pelters. He almost had an air shot as well and it didn't bother him. It was almost as if he thrived on the stick he was getting.
"The experience he got in the Championship was invaluable. He came back to us as a confident lad. And stronger. He's always had a terrific attitude to work. We'll do our damndest to keep him, but we know the reality of our situation. We'll see what happens, but the great thing is that Stevie is in no rush to leave. That's the truth. He's a great kid."
Wright talks about the long-time servants of the club and how happy he is for them that they will now get to play in a final. He mentions the youth and how exciting they are and how good they can be. He talks of David Wotherspoon, who he brought in from Hibs as a beleaguered soul ground down by life at Easter Road.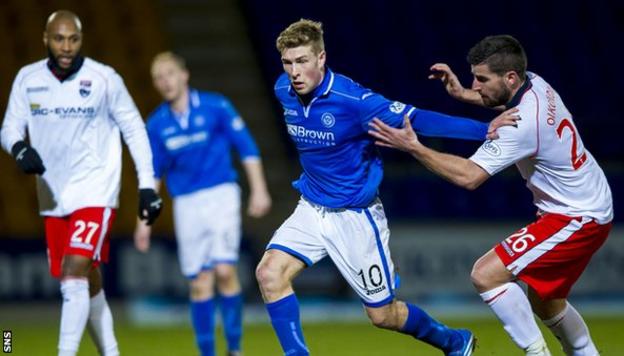 "David's been an outstanding signing for us. A creative force who just needed to be loved again. He needed an arm around his shoulder.
"Do you know that he has won 11 Scottish Cup ties in a row? With us and Hibs. Eleven. And he hasn't played in a final yet. He was left out of the squad both times with Hibs. Rest assured, he'll not be left out of my squad."
Wright says his team are equipped for whatever happens on Saturday. If it's a battle, they can battle. If it's free-flowing, they can do that, too. Coming from behind to beat Aberdeen in the semi-final was a measure of their spirit, he says. They won't be overcome by the pressure. They'll embrace it. He's certain of it.
"Listen, we'd love to win it by fantastic football but after 130 years we'll take any kind of win. If it comes off Craig Thomson's back-side and goes in the net we'll take it. I tell the lads that they can't change history but they can create it. They've come a long way, but it's not enough. It can't be enough. They have to climb one last hurdle."
For immortality.