Jack Wilshere: Arsenal midfielder gets advice from Paul Scholes
Last updated on .From the section Arsenal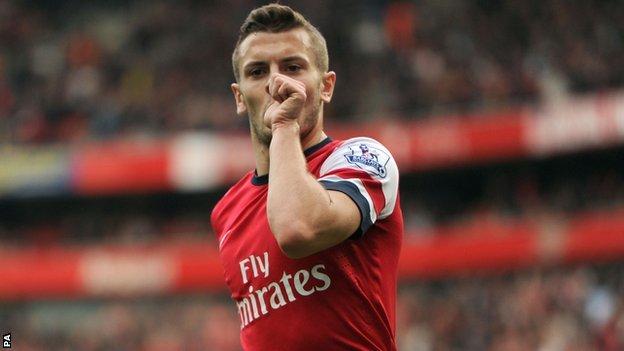 Arsenal midfielder Jack Wilshere has sought advice on how to improve his game from Paul Scholes in the wake of the former Manchester United man criticising his lack of progress.
"He was right in a certain way," said Wilshere, who made his England debut at 18. "We had quite a good chat.
"He explained it a bit better and told me what he thought I should work on."
Wilshere made 24 league appearances for Arsenal this season as the Gunners finished in the Champions League qualification spots for the 17th consecutive year.
Arsene Wenger's side looked likely to launch a title challenge, but heavy defeats by Liverpool and Chelsea hampered their campaign.
A 2-2 draw with Swansea prompted Scholes to be critical of both Arsenal and Wilshere while working as a pundit for Sky Sports, views which Wenger strongly disagreed with.
Wilshere, who missed 17 months through injury from June 2011, says the comments meant more coming from Scholes, who he feels is "the best English midfielder of all time".
"When I first burst onto the scene there was all this noise and then I got injured," added Wilshere, who says he spoke to his family and contacted Gary Neville to get Scholes's phone number.
"There comes a time when you stop being a kid and I think that's what Scholes is referring to.
"People say 'he's young, he's got all this potential'. You have to start putting that potential in [to practice]."
Wenger, who made Wilshere Arsenal's youngest ever league debutant aged 16 years and 256 days, said his "exceptional player" would "prove Scholes wrong".
But since the criticism in late March Wilshere has only played once after fracturing a foot on international duty against Denmark, meaning he ended the season with three goals and four assists in 24 league appearances.
"I have had bad luck with injuries but I can't keep saying I've been injured a lot," added Wilshere, who is expected to feature when Arsenal meet Hull City in Saturday's FA Cup final at Wembley.
"This season I have improved a lot, scored a few more than I have in the past and got a few more assists.
"You can keep the ball and you can look good but it's those stats that matter. That's what I have to build on."