World Cup 2014: Lallana, Lambert & Shaw on England selection
Last updated on .From the section 2014 Fifa World Cup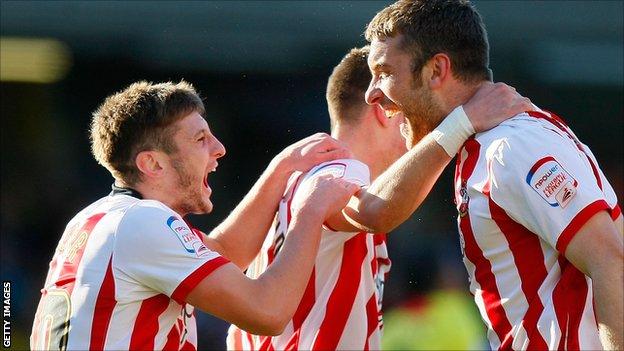 As a child Rickie Lambert watched videos of Brazil's 1970 triumph every Saturday morning. Now he is the one going to Brazil to star in his very own World Cup movie.
Only 12 months ago Lambert, Adam Lallana and Luke Shaw had not a single England cap between them. In the space of a year they have not only earned international recognition but also forced themselves into Roy Hodgson's squad for the summer samba in South America.
It is a rapid rise to prominence for the trio who have formed a integral part of Southampton's most successful ever Premier League season - an eighth-placed finish.
In Lambert's case the scale of the achievement is not lost on the striker who made his England debut on 14 August against Scotland.
"It still hasn't sunk in that I'm going to a World Cup," Lambert told BBC Radio Solent.
"I grew up watching a video called Brazil 70, that is what I used to watch every Saturday morning. Brazil represents football.
"If I wasn't going to the World Cup I would be watching it on TV. The fact I am going is frightening, I cannot wait."
Lambert, who joined Saints from Bristol Rovers in 2009, has earned his place courtesy of two successful seasons in the Premier League. In two years of top-flight football, the 32-year-old has netted 28 goals.
Not only has Lambert helped take Southampton from League One to the top half of the Premier League, he also made an immediate impact at international level, scoring on his debut as well as against Moldova a few weeks later.
"It's unbelievable for the club and it is remarkable how far it has come in five years," he said. "It has been the best five years of my career and this has topped it off."
Shaw's call-up was perhaps the most surprising, given he was picked ahead of Ashley Cole.
He was 14 during the last World Cup in South Africa and his reaction sums up how far he has come in such a short space of time.
"Four years ago, I was sat at home watching it on my sofa," Shaw told the Saints website. "It is going to be so weird."

Shaw was selected ahead of 107-cap Ashley Cole, a perfect reward for a fine campaign for the player who was also named in the Professional Footballers' Association team of the year.
He will provide back-up for Everton defender Leighton Baines, with Hodgson saying of his selection: "He has a fantastic future in front of him and many people might suggest he deserves a chance to be in the England squad."
The 18-year-old admitted that, when he heard about Cole's retirement from international football on Sunday and did not receive a phone call, he presumed he had also been left out.
"I thought everyone was getting a phone call on Sunday night," he said. "I was speaking with Ads (Lallana) and Lambo (Lambert) asking if they had got one and once it went past 10pm none of us had had the call so we thought we were among the seven not going.
"When the squad came out the next afternoon me and my family sat there thinking 'I'm 18 and I'm going to a World Cup'."
Shaw, who made his international debut against Denmark in February, has made 38 appearances for Southampton this season and his performances have seen him linked with a £27m move to Manchester United.
And Shaw admits his achievements over the past 12 months still have not really sunk in.
"I seriously can't believe it still," he said.
"Time flies. A year ago I made my Under-21 debut and now I'm going to a World Cup. Things can happen so fast."
Lallana's performances for Southampton this season saw him named in the PFA team of the year. His England debut came in November against Chile and has three caps in total.
Southampton's captain is another player at St Mary's who is attracting attention from elsewhere, with Premier League runners-up Liverpool interested in acquiring his services.
At the age of 26, the midfielder is another who has made the breakthrough at international level relatively late, and he admitted to being overwhelmed by the news, which came via text message from the Football Association's secretary on Monday morning. He, like Shaw, also expected a Sunday night call, which never came.
"I'm ecstatic, it's so special," Lallana, who came through Southampton's academy, told BBC Radio Solent.
"I thought we would be getting a phone call on Sunday night. He might have phoned a few then but we weren't on the list, I'm delighted for Luke, Lambo and the club. I think it is thoroughly deserved."