Jersey FA president would back an island side in an English league
Last updated on .From the section Football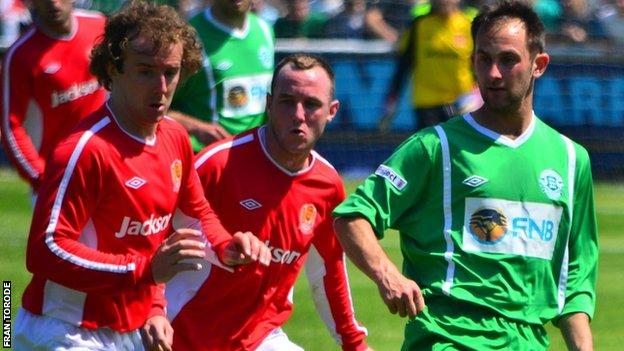 Jersey FA president Phil Austin says he would 'love' for someone to back a Jersey club side in an English league.
The island side were in their annual Muratti vase clash last week, with all of Guernsey's team having played in England with Guernsey FC.
"I'd love someone to try and do that, I think it'd be fantastic," Austin told BBC Radio Jersey's Sportscene.
But Austin says it is not the remit of the Jersey FA to field such a team.
"The JFA has responsibility for all aspects of football at all levels," he explained.
"Guernsey FC wasn't set up by the Guernsey FA, it was set up by a number of individuals who broke out on their own and set up a new club and went out and got funding.
"That option is available to anyone in Jersey, either an existing club can apply to enter an English league or someone can set up a new club.
"Speaking for the Jersey FA, we'd be very happy to talk to anyone who had plans for that, but we have no authority to do that."
and entered the Combined Counties League, winning two successive promotions before coming this season.
In that time Guernsey have beaten Jersey in every Muratti the two islands have played at senior level.
Jersey cannot follow Gibraltar down the route of joining Uefa or Fifa as the rules over applications have changed - since 2002 countries must be sovereign states recognised by the United Nations to join Uefa, a rule which was not in place when
Jersey have twice had major reviews on the future of football in the island, with the first working party chaired by Austin recommending joining Uefa back in 2000, as did a second in 2006.
"The doors open to us in 1999 are no longer available," said Austin.
"If Jersey was going to do something it would have to be along the Guernsey FC model."
But Austin says founding a new team which takes the best players from the island's 18-strong club system might affect the game negatively more than positively.
"When you speak to Guernsey a lot of people say they're not happy with Guernsey FC, they feel it's weakened the club structure," he said.
"It's definitely improved the quality of the top end but they'll say at what price?
"The JFA has responsibility for all aspects of football at all levels."
But Austin says that the cost of a team playing a full English league programme could be prohibitive.
"We know ourselves that trying to get sponsorship into football is not easy.
"I understand it costs Guernsey somewhere in the region of £350,000 a year top run Guernsey FC, so a club here or a new club would have to go out and find that sort of money, which would be very difficult.
"Guernsey have gone out and done it and I admire them, but let me make it very clear, we'd be very happy for people to talk about it, but we have no authority to put a side in an English league, that is not the role of the JFA."
You can hear the full interview with Phil Austin on a BBC Radio Jersey Sportscene special at 1800 GMT on Friday 16 May.