Darren Jackson on Dundee United's Cup final preparations

By Richard Wilson
BBC Scotland
Last updated on .From the section Football30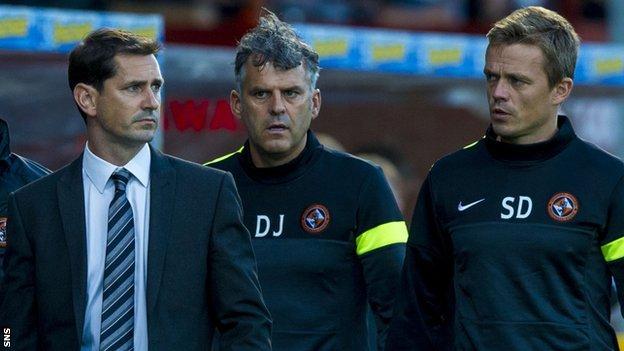 Routine has to scarper when a cup final approaches. Disruption reaches into every aspect of the build-up when there is the prospect of a grand occasion ahead.
At Dundee United's base in St Andrew's, the Scottish Cup arrived for a photocall at the same time as a supporter began introducing a friend who had travelled over from Italy to the coaching staff.
He had to patiently explain that it was in the hope of bringing good luck, since he did the same before the team won the 2010 final.
The striker Nadir Ciftci, meanwhile, larked about wearing a tangerine wig while posing for members of a small United supporters' club from a remote area of Fife. "We do try to make it a normal week," said the United coach Darren Jackson wryly.
An accommodation has to be made for the status of the game. Glory is at stake, after all, in the final against St Johnstone at Celtic Park. Managers and coaches weigh up every decision for the impact it will have on the different moods of individual players, but there is an acceptance too that their influence is eventually limited.
"I sometimes think it's like a golfer who's got a putting coach," Jackson said. "Yes, you can teach him and teach him and teach him, but can he stand over that putt on the 18th green to win the Masters?
"He can't. You can talk to them about your experiences, but they're the ones who have to go out on the pitch and have to handle the whole situation.
"You [feel the tension], there's no use saying you don't. You go away to a hotel for a couple of days, you get measured up for your suits, new training gear's coming, new strips, so you can't hide from it.
"You just have to try to handle it. Up until now, the boys have been great and they don't look as though they're showing any nerves or tension."
The final is a reminder to Jackson of the way that careers can follow a haphazard route. He played for Dundee United in the 1991 final against Motherwell, scoring the goal just before full-time that levelled the tie at 3-3.
There is little inclination to dwell on events, though, since extra-time brought a winning goal for Motherwell and a bout of rage that saw Jackson sent off after the final whistle.
He was not alone, since three other United players also harangued the referee and were dismissed, but Jackson had broken his wrist during the game, which he discovered later that night at United's post-game meal.
He retired to bed early, but the sense of an opportunity lost has never wholly departed, even if his career subsequently took him to Hibernian, Celtic and Hearts, amongst other clubs. There is at least now, though, an opportunity to use his experience as a motivational tool for the United players.
"I had a poor game," he said. "I lost, so it doesn't matter if I scored. I was 22 and was thinking that next time... but I never got the chance again. So when the players come off the park, I don't want them to have any regrets."
Convention was never central to Jackson's career. He was a striker, but was often played elsewhere on the pitch because of a general level of technical ability that allowed him to be versatile.
He was at Celtic when the club won the league title in 1998, but his period at the club is more readily associated with the diagnosis of hydrocephalus - a build-up of fluid on the brain - and the swiftness of Jackson's recovery, since he returned to the team nine weeks after surgery.
He played for Scotland at the 1998 World Cup finals, but that is a squad that was admired for its tenacity more than celebrated for its aplomb. Even Jackson's journey into coaching was not customary, since he worked as an agent for 10 years following his retirement from playing.
A friendship with Jackie McNamara and Simon Donnelly, which stemmed from their days together at Celtic, led to a part-time coaching role at Firhill when the pair were in charge at Partick Thistle. There was no hesitation in following them to Tannadice, though, even if working as an agent would provide greater job security.
"It took me, oh, almost about a second... it wasn't a difficult decision at all," he said. "I enjoyed my time [as an agent], I looked after a lot of great boys, but it was a very easy decision.
"It's incredible going out on that training pitch every day and seeing different things. They're a great bunch, they work hard every day and that's all you can ask of them.
"There's two good cops and one bad bad cop [in the management team]... I lose the place now and then. But I'm learning. Jackie and Simon are very calm, they get over their point very well without losing the plot.
"I have lost the plot now and then, but sometimes you need to. I'm learning to be a lot calmer now the older I'm getting. By the time I'm about 80 I should be OK."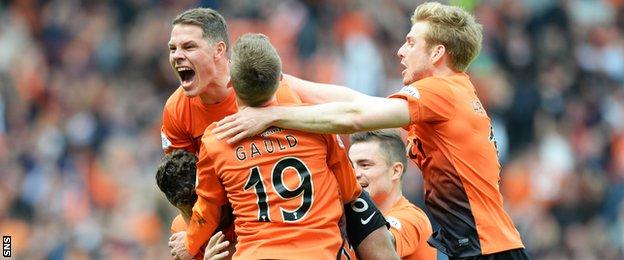 Nobody would mistake the determination in Jackson as simply a cantankerous nature. It was the first-team coach who celebrated most exuberantly when the final whistle sounded in the 3-1 victory over Rangers in the semi-final. Any spikiness is an expression of his desire to succeed, and the dynamic between himself, McNamara and Donnelly has a natural balance.
It is no coincidence that players have developed significantly under their tutelage. McNamara is an astute reader of the game and has a talent for man-management, sharing the same quiet, assured manner, and attributes, as his long-time close friend Donnelly.
There is a natural affinity with Jackson, even if he is a different personality altogether. The chemistry is so effective that Blackpool have already identified McNamara and his coaching team as candidates to revive their fortunes, but both the manager and United rebuffed their interest.
"Tactically he's very good," said Jackson of the United manager. "He's very calm in the way he speaks to his players and the way he goes about things.
"He gets respect because of his career, and that's a big thing, along with the way he gets his point over and the way he handles the players. That's why he stands out for me."
Distinction awaits the winner of the final, but both clubs are enjoying a period of optimism. United, for instance, are now free of bank debt and so can consider retaining the latest batch of young talent for a spell rather than having to contemplate their value in the transfer market.
St Johnstone, too, are a stable, well-run organisation. Jackson and the Perth club's manager Tommy Wright were team-mates at Newcastle, and the latter bought the former's house in Morpeth when Jackson moved north to sign for Dundee United in 1988.
Their friendship survives, but there is no room for sentimentality when a cup final is to be contested. Instead, the focus is on gaining every possible advantage, in the hope that it might be decisive.
"We can't be favourites - St Johnstone have beaten us three times this season," Jackson added.
"I know they're trying to pass the buck over, that we're favourites because we finished above them in the league. But in a cup final, it's who handles the occasion better.
"You might need a little bit of luck on the day, but it's down to who performs."