Asmir Begovic: World Cup can reunite Bosnia's 'golden generation'

By Steve Wilson
BBC Match of the Day commentator
Last updated on .From the section 2014 Fifa World Cup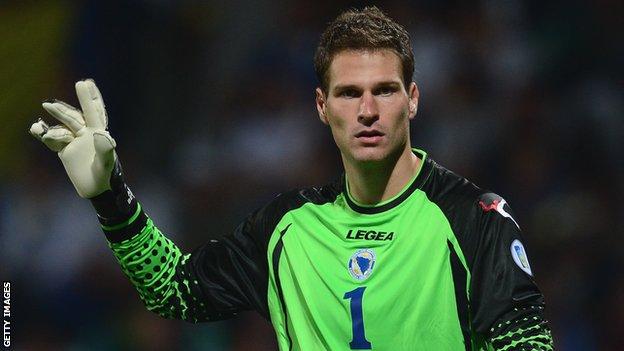 Stoke goalkeeper Asmir Begovic fled his homeland of Bosnia as a small child, his family moving to Germany to escape the war that devastated the country in the early 1990s.
He was not alone. More than half the Bosnia-Hercegovina squad that will play in the country's first World Cup finals this summer were born or raised abroad, children of some of the estimated one million inhabitants who escaped the conflict.
More than 100,000 who stayed were killed in a war fought on ethnic and religious grounds.
Begovic - and Bosnia - have come a long way. And now, some 20 or so years on, the squad hope to help the nation continue to rebuild with a strong display in Brazil.
"I don't happen to have many memories of my childhood. We left when I was four so it's hard to recall much about my life there, but leaving was for the best," Begovic told BBC Sport.
"Of course I've tried to educate myself about the conflict and spoken to my family a lot to get a sense of what they went through and to try to understand what happened.
"They decided to get out just as the conflict was starting. It was a very hard time for them - to leave everything behind and to start a new life. Unless you actually lived through it you can probably never really know what that must have been like."
Begovic's journey has taken him from Trebinje in Hercegovina to Germany, to Canada, to Stoke and, soon, to Brazil.
Politics and geography seem to take turns to wreak havoc on Bosnia. In May, Sarajevo's City Hall, famous for its part in the assassination of Archduke Franz Ferdinand which triggered the chain of events that led to the First World War, was reopened more than 20 years after its destruction in the Bosnian war. Optimism that this might symbolise a better future was quickly tempered by the country's worst flooding in over a century.
Maybe the emergence of a football team to be truly proud of will herald a new chapter in this country's fractured history.
That's certainly the hope, says Mirza Subasic, a sports reporter for the Sportzdk website.
"Our team representing us at the World Cup is the biggest news for everyone in Bosnia in a generation," he said. "The only reason anyone knows us is because of the war or maybe the Winter Olympics in Sarajevo in 1984.
"This team has united us and brought us some light. Bosnian Serbs, Bosnian Croats and Bosniaks are all together to support the team and to say something positive about our beautiful little country from some small part of Europe. For us to be in a World Cup is spectacular."
Stoke keeper Begovic, 26, insists the players are just as united.
"We are all immensely proud of our nation and wherever we were actually living we were all raised as Bosnians - Bosnian is the language of our dressing room," he said.
"It's an intriguing story because we have come together from all around the world - I guess what you might call a golden generation, raised in different environments but with a common country and a common goal.
"Our country has wanted this so much and we lost in play-offs against Portugal for both the World Cup 2010 and Euro 2012, so it was a huge relief to finally do it."
That 'golden generation' includes Manchester City's Edin Dzeko - "one of the world's best strikers", according to Begovic - and Vedad Ibisevic of Stuttgart, who he says is "not far behind Dzeko". The pair scored 18 goals between them in qualifying.
In midfield is Roma's Miralem Pjanic and at left-back Schalke's Sead Kolasinac who is on Manchester United's radar as they look to replace Patrice Evra. Begovic describes Kolasinac as "a very, very good full-back who loves to get forward".
In Brazil, Bosnia-Hercegovina will take on Argentina, Nigeria and Iran in Group F. Starting their campaign against Lionel Messi in the Maracana is a thought that gets Begovic misty-eyed.
"My outlook is this: the group couldn't be any better for us. I know a lot of my team-mates and we have worked our whole lives to go to a World Cup, and to play our opening game at the Maracana against Argentina - that's what it's all about," he says.
"It's going to be a very special occasion for everyone on the team and everyone in the country. It's a tough group - Nigeria have a very experienced squad at this level - but we're looking forward to the challenge. Our strength is definitely being positive and going out to score goals. We can create chances and we have the players to take them."
Last October, 100,000 people waited into the middle of the night to greet the team in Sarajevo when they returned from Lithuania having sealed World Cup qualification with a win in Kaunas, but expectations soon change.
A 2-0 loss to Egypt in a friendly played in Innsbruck in March saw the team, and their coach Safet Susic, heavily criticised in the Bosnian press.
The support for the team in Innsbruck was astonishing. I went expecting a small crowd of curious Austrian locals, only to be confronted by a mass of about 15,000 Bosnians honking horns, lighting flares, chanting and pretty much drinking the town dry in a mood of infectious excitement.
Begovic says somehow those fans will get to Brazil too and make their presence felt.
"It's amazing, hard to describe," he says. "The war meant that the population was scattered all over the world, so it doesn't matter where we go it always feels like a home game.
"They travel in huge numbers to give us incredible backing. Even in America, where we've played three friendlies now, thousands of Bosnians have been in the stadiums. Our fans are pretty hard-core and very, very passionate.
"We're determined to make them feel proud."