Cardiff City: Mehmet Dalman not resigning as chairman
Last updated on .From the section Football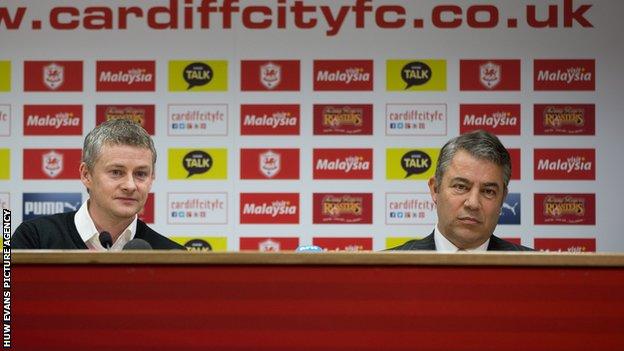 Mehmet Dalman has dismissed reports that he is considering stepping down as Cardiff City chairman.
Dalman says he remains committed to the Bluebirds and their efforts to return to the Premier League following their relegation after just one season.
"It's fair to say that's [resigning] total nonsense," Dalman said.
"I've no idea where the mystery is coming from but it's just not true.
"I feel an enormous amount of responsibility and I'm quite proud of the club, and I'm committed to the cause so why would I want to do that [resign].
"The club is in a position where I think we all need to get behind the club and get ourselves back into the Premier League."
Dalman says that they are already deep in preparations for next season's Championship campaign and he is helping manager Ole Gunnar Solskjaer in his pursuit of players.
Cardiff have had a £3m bid accepted for Bournemouth's Lewis Grabban and secured the signature of another striker - Javi Guerra from Spanish club Real Valladolid.
"Players are Ole's domain and I'm there to assist him, and we have a very busy schedule at the moment so we'll continue to push ahead with that," Dalman said.
"There's quite a few that we're talking to but these things always take longer than people think.
"We don't want to rush it, we want to get these right - we've got to look at the way we hired people in the past, learn from those lessons and make prudent decisions."