Joey Jones: Wales' first European Cup winner
By Aled Williams
BBC Wales Sport
Last updated on .From the section Football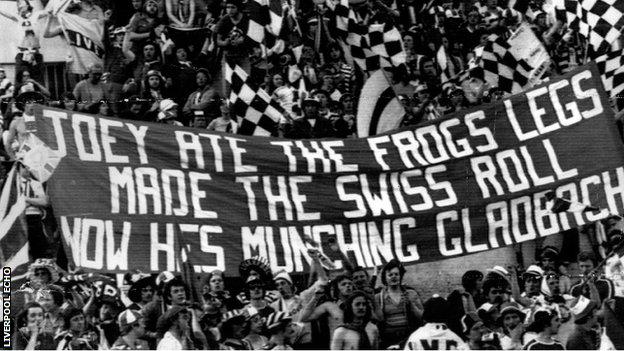 Gareth Bale, the world's most expensive player, is set to become the fifth Welshman to play in a European Cup final when Real Madrid face city rivals Atletico Madrid at the Estadio da Luz in Lisbon on Saturday.
Terry Yorath was the first Welshman to appear in a European Cup final in 1975 when Leeds United lost 2-0 to Bayern Munich in Paris.
Then in 1977, Yorath's international team-mate Joey Jones reached the European Cup final with Liverpool, who had beaten Northern Ireland's Crusaders, Trabzonspor, Saint Etienne and Zurich to reach the final at Rome's Olympic Stadium.
Jones, who had joined from Wrexham for £110,000 in July 1975, was part of a Liverpool team chasing a unique treble having already secured the First Division Championship before facing Manchester United in the FA Cup final.
But Liverpool's treble dreams were shattered at Wembley as they lost 2-1 to United only four days before the European Cup final against Borussia Moenchengladbach, as now Wrexham youth coach Jones recalls.
FA Cup final disappointment
"We thought we were probably the better team on the day," Jones remembers of Liverpool's defeat to Manchester United.
"I was disappointed for about two hours because we went straight back to Liverpool on the train, had a couple of drinks and by the time we got back, everybody was ready and raring to go.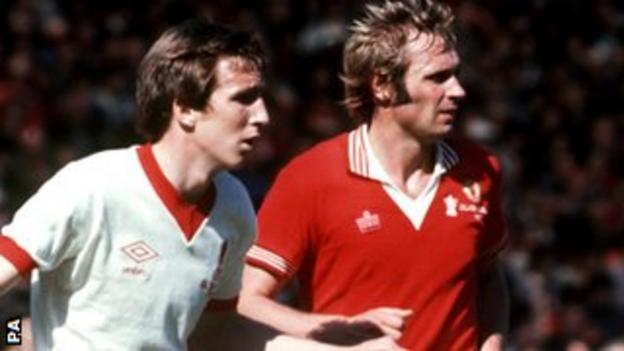 "Liverpool wouldn't let you dwell on anything, whether you won, lost or drew.
"The backroom staff were years ahead of their time. People now talk about sports psychologists and sports science - Liverpool were actually doing it without knowing they were doing it when you look back now.
"The way they treated people and got the best out of people, they were masters at it.
"We went home and were back in on the Monday, trained before we travelled to Rome."
Fans' fervour
Despite the disappointment of losing at Wembley, an estimated 30,000 Liverpool fans travelled to Rome for what was the club's debut appearance in the European Cup final.
"Some of them left straight after the game at Wembley and in some cases hitchhiking." Jones said.
"Some had told their wives they had gone out in Liverpool just to buy a loaf of bread or a bottle of milk, gone to the FA Cup final and then carried on to Rome.
"Some slept on the racks where you put your luggage on the trains and I'd imagine some of them swam across the channel! That's how fanatical they were.
"If you spoke to the supporters that went out there they would all have different stories."
Cup final nerves
"I was probably more nervous before the FA Cup final than I was before the European Cup final," Jones said.
"I didn't know the importance of the European Cup final as much when I was growing up.
In Rome, Liverpool were up against a Borussia Moenchengladbach who had retained the German Bundesliga and were seen by many as favourites to win the European Cup.
Moenchengladbach's team, captained by West German World Cup winner Berti Vogts, included Denmark midfielder Allan Simonsen, Rainer Bonhof and future double Champions League-winning manager Jupp Heynckes.
The match
"We were playing against a top team.
"At that time they had the current European footballer of the year in Allan Simonsen playing for them.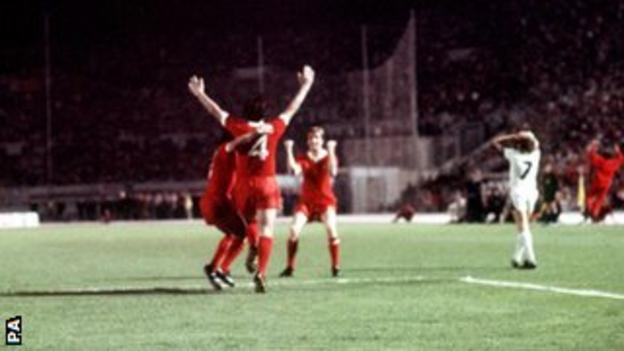 "It was [Kevin] Keegan's last game and the Germans would have known every member of the Liverpool team bar me.
"They were probably saying 'who's that scrawny lad at left-back?' But they knew all the others because they were household names."
Terry McDermott gave Liverpool the lead but Simonsen equalised for the German side. Goals from veteran Tommy Smith and a Phil Neal penalty saw the English champions celebrating a 3-1 victory and crowned champions of Europe.
European Cup winner
"We deserved to win on the day. I was really pleased, not for myself, but for my mum and dad and the family who had sacrificed an awful lot over the years," Jones added.
"To actually go and play in a European Cup final and beat such a good team... was a great feeling.
"And I was pleased for all the fans who had made the journey out there by hook or by crook.
"To see their faces is something that I will never forget.
"To play in an European Cup final has got to be up there with the highest honour you can get. I reckon only the World Cup final is better.
"I loved representing my country so many times and that ranks up there."
Joey banner
Jones was immortalised by a banner Liverpool supporters unfurled at the game which said "Joey Ate The Frogs Legs, Made The Swiss Roll, Now He's Munching Gladbach."
"Well it would only be for trying to tackle people - it certainly wasn't for my silky skills because I never had any," Jones jokes about the banner.
"It was made by a couple of fans who I really respected and I think as much of that banner as I do of the medal.
"To make a banner about myself, when there were such great players in Liverpool football club, made me feel 10 feet tall.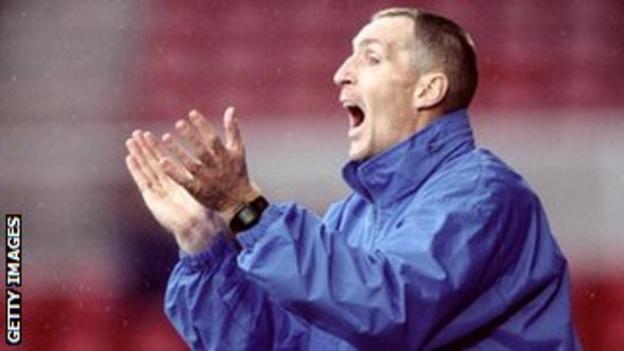 "I had it for well over 20 years and the only place I let it go back to was the museum at Liverpool football club."
Jones was an unused substitute a year later when Liverpool retained the European Cup with a 1-0 victory over Bruges at Wembley before returning to Wrexham during the summer of 1978.
Liverpool would win the trophy in 1981, with a 1-0 victory against Real Madrid, and again in 1984. Ian Rush was a member of the 1984 team to beat Roma 4-2 on penalties.
Rush also played in the 1985 1-0 final defeat against Juventus, a match overshadowed by the death of 39 fans before kick-off at the Heysel Stadium in Brussels.
The European Cup was known as the Champions League by the time Ryan Giggs won with Manchester United in a dramatic 2-1 victory against Bayern Munich in Barcelona in 1999 before adding a second winners medal after scoring in the 6-5 penalty shoot-out win over Chelsea in 2008. Giggs was also a beaten finalist in 2009 and 2011.
'Good luck Bale'
Real Madrid's Cardiff-born winger Gareth Bale is poised to become the fifth Welshman to play in European club football's biggest showpiece.
"You've got to make the most of it because those chances don't come around every week, do they?" Jones said.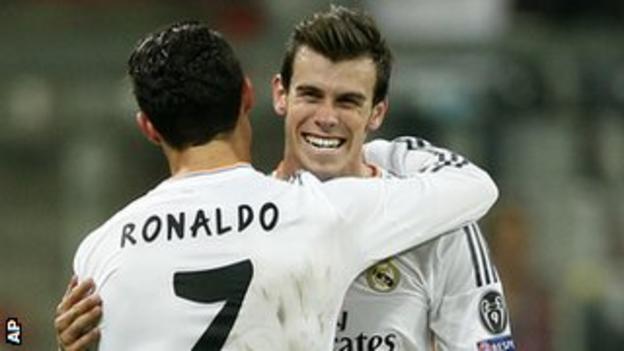 "You've got to remember Gareth Bale is not only an excellent player himself but he's a member of a very, very good Real Madrid team.
"It could be the first of many for Gareth Bale. Good luck to Gareth, I hope he gets his winner's medal.
"I don't watch an awful lot of Spanish football but in the games I have seen, he looks as if he's been there for years never mind months.
"He's showed what a world-class player he is and they must be really pleased with him.
"To play in the same team as Ronaldo and other great players, what an experience."