Fernando Ricksen: 'I'm not the kind of person to give up'

By Tom English
BBC Scotland
Last updated on .From the section Rangers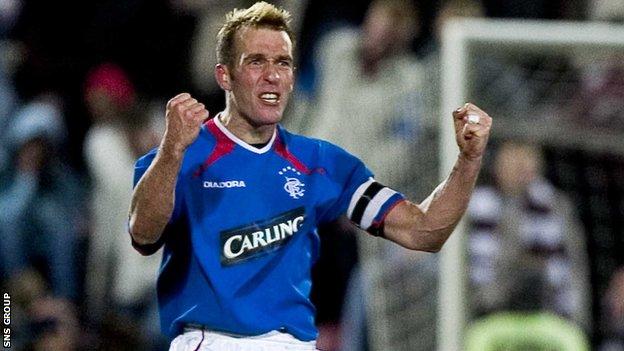 Reading Fernando Ricksen's life story, updated and translated into English for the first time is a thoroughly surreal experience.
There is the guy in the book and there is the guy in the room of a Glasgow hotel on Friday morning. The same man, but different.
The hero of the autobiography is a drinker, a carouser, a hell-raiser to beat all hell-raisers. He's belligerent, unpredictable and partial to cocaine. He has the self-control of a drunk in a brewery and the self-awareness of a bull in a china shop. He's your worst nightmare. The neighbour from hell.
The other Fernando Ricksen is none of those things. Can't be and doesn't want to be. He is quiet and he's got no choice about that either. He is, at the age of 37, the victim of motor neurone disease, a hateful affliction and a death sentence.
He doesn't know how long he has left in this world but he knows that medical science has found nothing that can reverse his condition. Yet.
So much of his book is about football, about the titles he won with Fortuna Sittard and AZ Alkmaar, about the six trophy-laden seasons he spent at Rangers, about the four years in Russia with Zenit St Petersburg and the continuing stockpiling of titles and silverware.
That's not really what he wants to talk about, though. When he's asked about the travails of his old club just a few miles from where we're sitting he bats the questions away.
Does he have anything to say about the current board and Dave King and the supporters' rebellion? No, he says. He doesn't really know what's going on at Ibrox these days. "I'm fighting another battle, not that one."
Last autumn Ricksen noticed that his speech wasn't what it used to be. Mostly, he noticed the difference in the morning-time, but then it spread to the evening and then to parts of the day in between.
"I went to the doctor and he did his tests," he says. "When I went back to see him he came out with it straight away. 'You have MND'. It was as simple as that. He said that slowly but surely my muscles are not going to work and it starts with my mouth and then my legs and my arms. In the beginning it was hard to accept.
"I thought he could have said it a little more nicely but there's hardly a nice way to say something like that. I'd heard of the disease but I didn't know what it was. I knew it had something to do with the muscles but exactly what it was, I hadn't a clue. It wasn't something I was interested in before I got it. Now I know all about it. I experience it every day."
To look at Ricksen, you'd struggle to know that there was anything seriously wrong with him. The brain is unaffected. Ricksen is as sharp as a razor and will remain that way. The way of things with MND is that the body shuts down over time, but the brain remains as bright as a button. It could be a year or two years, or five or 10.
But there is an inevitability about it. It's a killer that cannot be stopped.
When Joost van der Westhuizen, the great Springbok scrum-half and World Cup winner of 1995, visited Scotland last autumn he spoke about his own life with the disease.
Van der Westhuizen summoned up a line from the movie, 'The Shawshank Redemption', in which Andy Dufresne, played by Tim Robbins, sums up his options after being unjustly sentenced to life imprisonment - "Get busy living or get busy dying".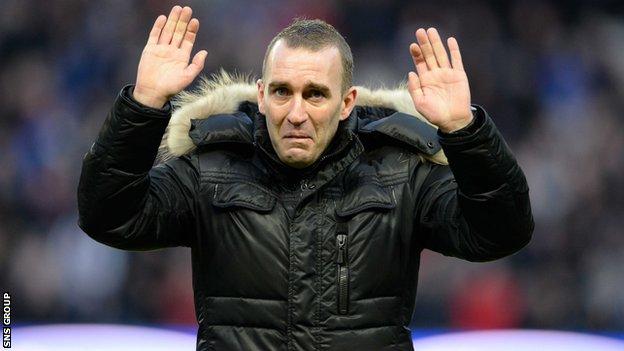 Ricksen has gone down the same road as Van der Westhuizen: get busy living. He's still mobile, still walking about as if nothing ever happened, still living a life less normal.
The speech is slurred, that's the most obvious manifestation of what is happening to him. It takes a while to get his gist and it frustrates the hell out of him. Even when you tell him that his words are coming across well he doesn't completely buy it.
"I know what I want to say and in my head I can hear myself saying it perfectly," he explains. "But then when I try to get the words out, they don't come out the way I want.
"But what you say about the rugby player is absolutely right. If you know me and know my life you know that I'm not the kind of person to give up. I'm going to fight this for as long as I can. I'm fighting for myself and my family and for all the other MND patients.
"A lot of people have it and some are at a more advanced stage than me. It's emotional to see them but it inspires me and it tells me not to waste any more time on the stupid things in life. The way I look at life is different than before I was diagnosed. Little things you start to appreciate. You get energy from things you never saw before or paid enough attention to."
Nothing is as important as his two-year-old daughter, Isabella.
"I never wanted children of my own," he says. "But now I'm so happy that she's there. To play with her. Doing everything with her. I didn't see myself being a father. At this moment I am happier than I have ever been. I'm very, very happy.
"I have more fun than before. Now, every day I'm enjoying my life because I don't know how long I may have."
On his travels in the Netherlands and Scotland and beyond his supporters might say 'Why you?' The answer is 'Why not?' They ask if there was anything he did in his life that might have brought it on. The drink, the drugs...
"To be honest, I never thought about how I got it," he continues. "Why? I've got it. I don't need to know I got it. I need to know how I can live with it. Looking back on things I should have done differently I can't change anything.
"I just live in the here now and I'm so grateful for all the support, all the messages from famous athletes and ordinary people, from people in Scotland, from Rangers fans and Celtic fans.
"I'm humbled by this and I get emotional. The title of my book is Fighting Spirit and that's what I've got. At the moment, my health is stable. That's all I can ask for."
After 452 appearances across 20 years as a professional footballer, after 12 caps for Holland and 13 titles for four different clubs in three different countries, Ricksen is a happy man. You wonder how that could possibly be, but he assures you he is.
There is tragedy and bravery and a spirit that's hard to fathom.
Ricksen achieved a lot in his football life, but all those medals and all those trophies are as nothing compared to his courage in dealing with this disease. That's the extraordinary thing. The thing that's truly impressive.