Ronaldo, Pogba, Simeone - our European awards winners
Last updated on .From the section European Football384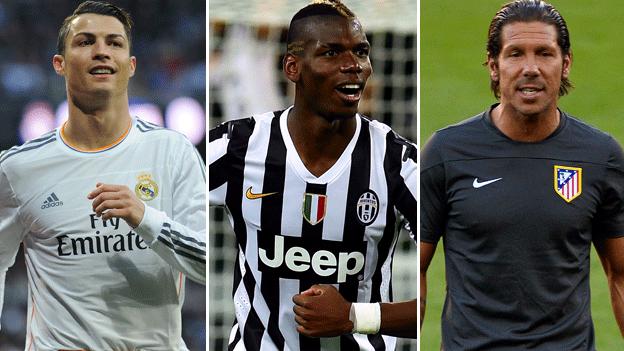 Cristiano Ronaldo? Zlatan Ibrahimovic? Diego Costa? Any of these stellar names would be deserving of being crowned as Europe's player of the 2013-14 season.
And that's without even mentioning Barcelona's four-time Ballon d'Or winner Lionel Messi.
It is a debate which could rage across the continent after an exciting season in Europe's four major leagues - Spain's La Liga, Germany's Bundesliga, Italy's Serie A and France's Ligue 1.
The drama has been captured by BBC Sport in our debut season of providing full coverage, through live text commentaries, match reports and news stories on our dedicated European football page.
So to mark the conclusion of the season, European football expert Andy Brassell is taking on the role of master of ceremonies as he hands out imaginary awards to his Player of the Year, Young Player of the Year and Coach of the Year, and names his Best XI of the season.
Player of the season - Cristiano Ronaldo
The result of the Champions League final on his return to Lisbon will decide whether Real Madrid's season has been good or near-perfect. What is certain is that Cristiano Ronaldo could have done no more to make it the latter.

It is no news that the 29-year-old is at the peak of his powers, and we have come to take his goal-per-game - or better - ratio for granted (it's 50 in 46 club appearances this season to date). He has become Portugal's all-time record scorer and breached the 250-goal mark for Real Madrid. Yet this season Ronaldo has created more, and emerged as a real talisman, even when injured.
During his enforced spells out of action, the Portugal skipper has been Los Merengues' cheerleader on the touchline, showing how much of a team leader he is. Ronaldo has also helped Gareth Bale to quickly settle into life at the Bernabeu.
To cap it all was his sensational November hat-trick in Portugal's World Cup play-off in Sweden, sweeping Paulo Bento's side to Brazil almost single-handedly. It was a performance of jaw-dropping skill, determination and will. With Lisbon and Brazil to come, this really could be Ronaldo's year.
Close contenders

Paris St-Germain striker Zlatan Ibrahimovic has hit 40 goals in 44 matches across all competitions (10 in 7 Champions League matches), and snared a ninth domestic league title as Laurent Blanc's men became French champions for the second successive season. At 32, he has also created many goals and laid the foundations of a strong partnership with Edinson Cavani. At PSG he has, like Ronaldo, become a leader of men, as well as individually outstanding.

It is hard to pick one out of Bayern's galaxy of stars, such is their collective strength. Yet Philipp Lahm is truly special. Widely recognised as one of the world's best full-backs, the captain morphed seamlessly into a holding midfielder at Pep Guardiola's behest this season. He became the Catalan's on-pitch conduit to guide Bayern to the Bundesliga and German Cup double.
Young player of the season - Paul Pogba

Manchester United must be rueing letting Pogba slip through their fingers. Many thought the 21-year-old would struggle for minutes with the Serie A champions as he had at Old Trafford, but his choice has been spectacularly vindicated.
Pogba is now an indisputable starter in Antonio Conte's midfield, a big achievement in the company of Andrea Pirlo, Arturo Vidal and Claudio Marchisio. He creates and scores important goals (September's derby winner against Torino springs to mind) and drives his side forward. Now working hard on the defensive side of his game, he makes his share of tackles too.
The midfielder will be essential for Didier Deschamps' France in Brazil this summer, too. It's unusual for a youngster with only eight senior caps to be such a central figure - but any regular watchers of Pogba will know it makes perfect sense.
Close contenders

Monaco midfielder James Rodriguez arrived from Porto with a huge price tag, but has adapted seamlessly. The left-footer has sometimes been considered an inverted winger in the Arjen Robben mould, but has revelled as a number 10 at the tip of Claudio Ranieri's midfield diamond, providing 12 Ligue 1 assists for the runners-up. He will be key for Colombia in the World Cup.

It's easy to see why Atletico Madrid's Koke is coveted by some of Europe's biggest clubs. The 22-year-old midfielder has played all across the Spanish champions' midfield this season, and racked up an impressive 13 assists in La Liga alone. Many of these have come from his excellent set-pieces. He also scored the vital Champions League quarter-final winner against Barcelona.
Coach of the season - Diego Simeone
Who else could it be? Atletico Madrid boss Simeone has done a sensational job since arriving back at the Vicente Calderon a few days before Christmas in 2011.
With restricted finances at his disposal, the former Atletico midfielder has kept going past what appear to be the limits of possibility. After leading Atletico to their first Spanish title since 1996, he now stands at the brink of a historic Liga/Champions League double.
Simeone began this campaign having already won a Copa del Rey (over Jose Mourinho's Real at the Bernabeu), the Europa League and UEFA Super Cup. After being forced to sell Radamel Falcao last summer, he has continued to pull Los Colchoneros upwards against all the odds.
The 44-year-old is a demanding character, and his players have responded. He has created a side that is defensively disciplined, mentally tough and thrilling on the counter-attack.
With Atletico's money situation as it is, plenty of his stars could have jumped ship in winter. They stayed because Simeone made them believe in Atletico's ability to achieve. That is his greatest tribute.
Close contenders

Rudi Garcia wasn't Roma's first choice, but the 50-year-old has performed brilliantly. Despite the pre-season sales of Erik Lamela, Marquinhos and Dani Osvaldo, he has returned the Giallorossi to the Champions League after finishing second in Serie A - playing great football which has got the best out of club cornerstones Daniele de Rossi and Francesco Totti, as well as erstwhile underachievers like Gervinho.

Paris St-Germain boss Laurent Blanc wasn't first choice either, and almost got the job by default. Yet he developed this champion team into an altogether more attractive side, dominating possession and scoring freely. The club's crestfallen reaction to narrow Champions League elimination to Chelsea is testament to the ambition that he has helped foster. Still, a two-trophy haul of Ligue 1 and the Coupe de la Ligue isn't bad.
Team of the year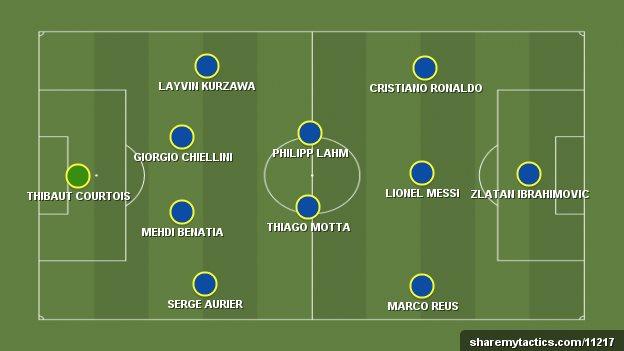 Goalkeeper
Last season, Atletico Madrid's Thibaut Courtois became the youngest-ever winner of the Zamora award at 21, for La Liga's outstanding goalkeeper. The Belgium international has built on that well. Now in his third season on loan from Chelsea, there is a growing clamour for Courtois to take over from Petr Cech at Stamford Bridge.
Defence
Looking at Toulouse defender Serge Aurier's sheer power, it's hard to believe he's just 21.
He's not just brawn though; with six goals and six assists this season, he's one of Europe's most creative defenders - and versatile too, playing full-back, wing-back or centre-back. Arsenal are keen to sign him when he returns form Ivory Coast's World Cup campaign.
Having just completed his ninth season at Juventus, Giorgio Chiellini is as vital to the Bianconeri as he ever was. Perfect for use on the left side of Antonio Conte's back three, the 29-year-old is a real leader; uncompromising but not impetuous, and increasingly canny as the years go by.
Roma's Mehdi Benatia has taken a roundabout route to the top, having come through Marseille's academy and rejected the chance to join Chelsea in 2005. Now 27, he only joined from Udinese in the summer but has arguably been Serie A's best defender, elegant and decisive in equal measure.

Monaco's Layvin Kurzawa has been a smash hit in his first top-flight season. He relies on technique and agility to defend, having made his debut in youth football as a striker. Accordingly, he weighs in with his share of goals, scored from a variety of situations. At 21, he is surely Patrice Evra's eventual successor for France.
Midfield
It is difficult to argue that there is a more intelligent player in the modern game than Bayern skipper Philipp Lahm. New coach Guardiola needed a player that could intuitively drop between his central defenders when the full-backs advanced, and anchor midfield. With his sensible passing and positional sense, Lahm has been perfect in the role.
Talking of metronomic passing, Thiago Motta's relentlessly consistent season has been a major factor in PSG's growth. The Italy midfielder put years of injury frustration behind him to provide the control for the French champions to complement Blaise Matuidi's energy and Marco Verratti's invention. Motta is discreet, but absolutely indispensible.
Attacking midfield
This was the season that Barcelona superstar Lionel Messi's extraordinary workload finally caught up with him, leading to a two-month injury lay-off. Yet the Argentine's half-paced season would have been the campaign of a lifetime for most. He ended up with 28 La Liga goals and 10 assists from just 28 starts.

Borussia Dortmund are sorry to be losing Robert Lewandowski - but rather him than Marco Reus. The 24-year-old is their creative hub. He scored 23 times in all competitions, creating another 15, and his combination of speed, technique and improvisation will be as key for Germany this summer as it will again for Jurgen Klopp next season.
Cristiano Ronaldo is the easiest pick there is for this XI. On top of his now-perpetually staggering statistics, Ronaldo has broken another important record this season. His total of 16 goals in the Champions League is already a record for a single campaign - and it isn't over yet, of course.
Centre-forward
Despite his mastery of Ligue 1, PSG's Zlatan Ibrahimovic rarely threatened Josip Skoblar's 43-year-old record for the most goals in a Ligue 1 season (44, for Marseille).
Yet the Sweden striker is the perfect number nine and number ten rolled into one, having created 11 league goals on top of his own tally.