Hearts' Callum Paterson ends season on award high
Last updated on .From the section Football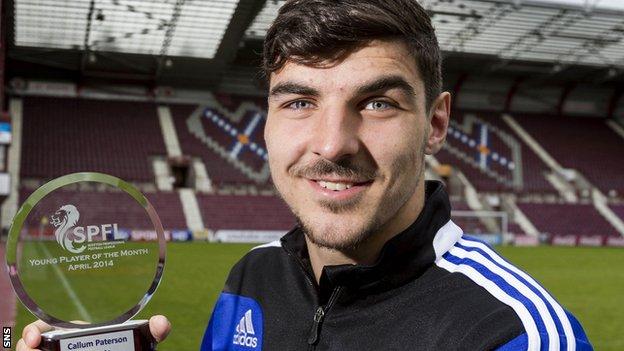 Being named SPFL young player of the month for April ensured that utility man Callum Paterson's "weird" season with Hearts ended on a high.
The club suffered relegation, however, they were boosted by a takeover that will take them out of administration.
But manager Gary Locke and several players have lost their jobs.
"It has been a bit of a weird month - scoring a few goals, ending the season on a massive high and to be brought down by the news," said Paterson.
"It has happened to keep the club alive and unfortunately it had to happen at the end of the season.
"I think everyone was worried at one stage that the club might go under, but thankfully we've been saved."
Paterson scored four goals in Hearts' final four games of the season, despite moving to right-back after being used as a striker earlier in the season.
"I've developed massively," he said of his season. "I've been put back to right back and it's helped me bring my game on a lot.
"I much prefer playing there than I do up front, so thankfully I've been given the opportunity and I think I've shown myself that I can play there towards the end of the season.
"I was happy to do a job for Gary Locke and for myself and the team. I wasn't very good, but I did a job, I ran about and was a bit of a presence, but I prefer playing right-back and I think I've scored more goals playing there as well."
Paterson had sympathy for Locke, who was named Premiership manager of the month but left the club as owner Ann Budge had lined up Craig Levein as director of football, while Robbie Neilson was promoted from his youth role to head coach.
"He did a fantastic job and everyone knows that, but the cuts had to be made and there's no doubt he'll go straight back into a job," Paterson said.
"Robbie's been my coach for the under-20s and I am massively looking forward to him being coach next season."
Paterson was surprised by the exits of players Jamie Hamill, Ryan Stevenson and Jamie MacDonald, but said: "It has happened to keep the club alive and unfortunately it has happened to my team-mates.
"I know for a fact they'll go on to bigger and better things."
Paterson, who has a year of his current contract still to run, thought it likely he would be playing for Hearts in the Championship next season.
"The aim for everyone in the world is to play in the Barclay's Premier League and, if opportunities arise, they have to be taken, but as of now and for the foreseeable future, I will be at Hearts."