Richard Scudamore 'should consider position' - Rabbatts
Last updated on .From the section Football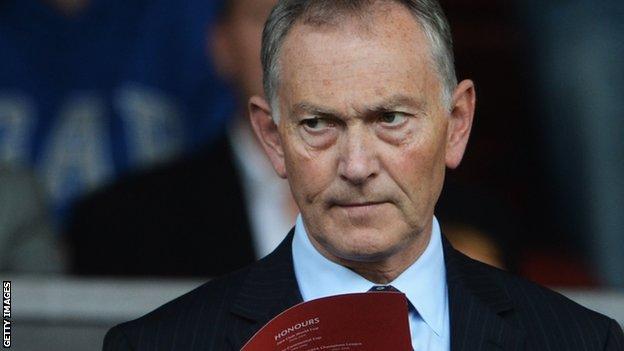 Richard Scudamore has been urged to give "serious consideration" to his position as Premier League chief executive after sending sexist emails.
Heather Rabbatts, a member of the Football Association board, has criticised Scudamore over the emails.
In a statement on Saturday, she also accused the Premier League of having "a closed culture of sexism".
Meanwhile, FA chairman Greg Dyke has told BBC Sport he thought the emails were "pretty horrible".
Scudamore has admitted the emails were "an error of judgement", after they were exposed in a national newspaper.
"No one can doubt the tremendous achievements of the Premier League in creating one of the world's great footballing competitions," said Rabbatts.
"But with that success and the massive public interest it generates comes the obligation to behave responsibly and have in place proper lines of accountability and good governance.
"Sadly recent events appear to show these things are currently lacking in the administration of the Premier League, and indeed there is growing evidence of a closed culture of sexism, symbolised in the email exchanges which have been made public."
The Premier League's audit and remuneration committee, headed by Chelsea chairman Bruce Buck, will meet on Monday to consider disciplinary action against Scudamore.
The FA's inclusion advisory board, chaired by Rabbatts, will then meet on Tuesday to consider a response.
Speaking ahead of Saturday's FA Cup final between Arsenal and Hull City at Wembley, Dyke reiterated his stance that the emails were "unacceptable".
He added: 'The process has to be done by the Premier League because he's not an employee of ours, he's an employee of the Premier League.
"But they were pretty horrible remarks that didn't need to be said, but were said in a private email."
The controversy was made public when sexist comments in private emails to friends were given to the Sunday Mirror by Scudamore's former personal assistant.
Scudamore, 54, was appointed to his role in 1999 and Barclays, the Premier League sponsors, have already expressed their disappointment in the emails.
"It is increasingly clear that steps are needed as a matter of urgency to review governance at the Premier League with a view to improving accountability and tackling head on a culture that demeans women and seems to discourage their involvement in the game's administration," said Rabbatts.
"These challenges go beyond the current situation of chief executive Richard Scudamore, however if the League are to move forward in a positive way then he and they should give serious consideration to his position in the coming days."
Rabbatts said it was important for the women's game that changes were made.
She added: "I personally hope that progress can be made on all of these fronts so that we can feel confident that the leaders of football are accountable for their actions and support a culture that genuinely welcomes the participation of women and girls in our national game."
Scudamore has also attracted criticism from Everton women's goalkeeper Rachel Brown-Finnis, who told BBC Sport that the emails were an "insult to all women".
But Scudamore has received some support from Mark Palios, the former chief executive of the Football Association.
Palios said: "The important thing is Richard has apologised and recognised it was unfortunate.
"I don't think it changes the good work he does on a day-to-day basis."
Current general secretary Alex Horne insists the FA are committed to equality.
"We need to move on frankly because the worst thing is that it's continuing to run and it doesn't represent, in my opinion, from my position at the FA, an environment we want to show to women coming into the game," he said.