Stevie May: St Johnstone striker sees no reason to leave
Last updated on .From the section Football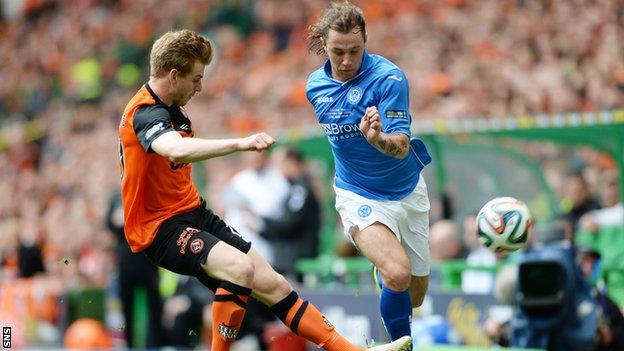 St Johnstone striker Stevie May reiterated his desire to stay with the Perth club after their Scottish Cup final win over Dundee United.
A goals haul of 27 this season has brought him to the attention of clubs in the market for a new marksman.
"There's no reason for me wanting to go anywhere else," May told BBC Scotland following the 2-0 defeat of United.
"I'm happy here and I'm playing football, winning trophies.
"I can't obviously say I'm 100% sure what's going to happen because even that's out of my hands slightly."
Much of the build-up to the final had centred around May's goalscoring prowess and the fact his surname and squad number, 17, replicated the date of the match.
But it was two other 'Steves' who scored the goals that secured the first major trophy of St Johnstone's 130-year history.
Steven Anderson headed the Perth side ahead before the break and Steven MacLean forced home their second late on.
"Regardless of who scored or how we won it, it was all about getting that win and lifting the trophy and we've managed to do so," May said.
"We were just excited for the occasion and the chance of winning a trophy and the biggest trophy realistically we could win and we've managed to do so.
"I'm happy for the boys, they've been unbelievable for the whole season so it's a nice way to top it off."
May did find the net early in the second period but the goal was ruled out for handball.
The striker's initial header was blocked on the line by goalkeeper Radoslaw Cierzniak before May punched the ball over the line.
"I thought it had crossed the line but I wasn't sure," he explained.
"Then it was just a reaction thing when I punched it over.
"But it's irrelevant now because at the end of the day, we got the result."