St Johnstone win Scottish Cup: Unsung heroes get their reward

By Tom English
BBC Scotland at Celtic Park
Last updated on .From the section Football47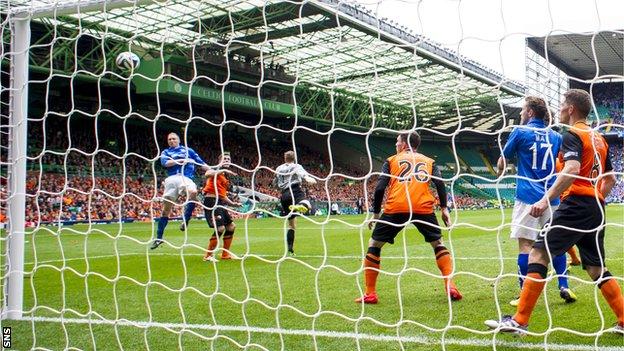 We arrived at the Scottish Cup final in thrall to one of St Johnstone's Steves and departed in admiration for another. From Stevie May, the young buck, to Steven Anderson, the elder rock.
It was fitting that the man who set St Johnstone on their way on this tumultuous day was one of their greatest servants, a player steeped in the history of the club, a history he has now helped rewrite. Anderson represents St Johnstone in microcosm. Unglamorous, perhaps. But unyielding.
And as honest as the day is long.
There was so much talk in the build-up about destiny and fate. May 17 and all that. Written in the stars, it was said. And no wonder. Stevie May has been a revelation and it was easy to buy into the narrative of him scoring the winner, possibly with a piece of brilliance, potentially in the last seconds of an epic final. The Scottish footballing gods seemed to be hinting at it, if you were the type to believe in such things. So many expected the fairytale.
And one duly arrived, but we had the wrong guy all along. Anderson is the greatest Cinderella story. A stalwart of 10 years at McDiarmid Park. A veteran of so many losing semi-finals and so much agony.
Last week Tommy Wright spoke about how seismic it was that St Johnstone had come from behind to beat Aberdeen in the penultimate stage of the Scottish Cup semi-final. He said he'd have feared for the club had they failed again. He was delighted but more than that, he was relieved. Relieved, he said, because of "people like Steven Anderson. Stand-up people. Good guys."
When Anderson nutted in the opening goal it was the result of Dundee United's Radoslaw Cierzniak's error of judgement in dealing with a corner floated into his air space, but it was no coincidence that Anderson was lying in wait when the goalkeeper missed his cue. St Johnstone had studied Cierzniak. They knew he had it in his locker to come for crosses and occasionally miss them.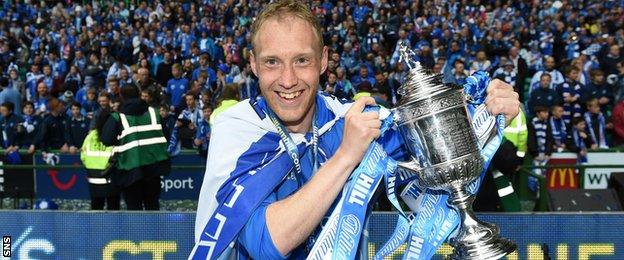 This is the game behind the game: Wright and his assistants, Callum Davidson and Alex Cleland, studying DVDs in darkened rooms. The painstaking research in the construction of a gameplan.
And when the goal went in, the scorer's story became deeply relevant. Unsung for so long, Anderson was now the main man. His manager's words came to mind. So, too, did the injury he suffered in the autumn. An awkward fall in a match with Partick Thistle. A dislocated thumb. A world of pain. And an operation.
The injury happened on 28 September and he did not kick a ball again until 29 December. When he came back he suddenly started scoring goals. One against Raith Rovers in the Scottish Cup, the winner against Kilmarnock in the Premiership, the opener against Dundee United in March and the opener against Dundee United on a May day that will never be forgotten.
In his last 14 games, the centre-half has scored four times, a veritable goal-rush. Last season he played 33 matches and never scored. The season before, he played 34 matches and scored just once. Four in 14 in a span of just over two months compared to four in 230 games in a span of eight years before this season. If you want to talk about fairytales then the legend of the centre-half recast as a goal-scorer is not a bad place to begin.
This was a Scottish Cup final triumph emblematic of all that is right with this St Johnstone team. It was hewn from hard work and composure under pressure. There was nothing flash about it. No cosmic genius and no individual performance that really stood out above all others.
United did not bring their best stuff to Celtic Park, that's true. They can play better and everybody knows it. Even still, they created chances but had no luck.
Ryan Dow's first-half shot looked a goal until it came rebounding back off Alan Mannus' left-hand post. Nadir Ciftci's second-half free-kick could scarcely have been closer. So often we have seen moments like that end up with the ball slapping down off the underside of the crossbar and finding the net via a bounce off a prone goalkeeper's body.
Not so, this time. So good fortune favoured the Saints at times. But that does not quite cover it.
Earlier in the season, United stuck four past St Johnstone in the league. It was a humbling experience for Wright and one he set about ensuring would not happen again. They have met four times since and the aggregate score is 8-0 to Wright's side. Teams get lucky, but nobody gets that lucky over six hours of football.
Wright executed a great feat of management this season. He took over from Steve Lomas and made things better. Before kick-off in the cup final he did an interview with BBC Radio Scotland and he sounded suspiciously calm. In these moments of laughter before the biggest game of his footballing life you wondered if he was for real. How could he be so at ease?
When asked where his chilled demeanour came from he replied that he had nothing to worry about. It was not cockiness. He just meant that he trusted his players to handle the occasion and deliver a performance. He was right.
This was a victory for the team, for the collective. Every one of them stood up and delivered, the whole proving greater than the sum of the parts. That's what Wright said in the preamble. He talked about Dundee United's potential match-winners, their undoubted quality in forward positions, but reckoned the bond his players had would win out.
There are many feelgood yarns in all of this. Steven MacLean is one to rival Anderson's. He, too, lost three months of this season through injury. He, too, played wonderfully and scored. David Wotherspoon is another. Taken in from Hibs as a beleaguered footballer and recast as a winner. Michael O'Halloran another.
You could go through the team. The leadership of Dave Mackay and Frazer Wright, the doggedness of Chris Millar and James Dunne, the confidence of May who chanced his arm from distance numerous times and never got within five yards of hitting the target.
And yet May kept coming back for more. Physically and mentally he's a hardy boy in a team of strong-willed men. In Perth, their names are eternal. When you bring an end to 130 trophy-less years then that's your reward. In one sense at least, you get to live forever.