Richard Scudamore: Premier League response to Rabbatts
Last updated on .From the section Football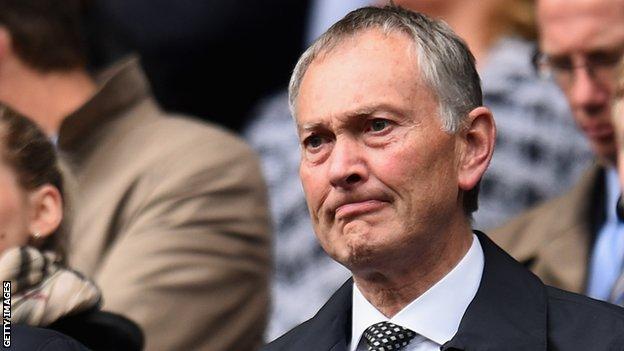 The Premier League has defended its working environment as criticism mounts following the sexist emails sent by chief executive Richard Scudamore.
A Premier League statement denied Rabbatts' claims.
It read: "The Premier League continues to be fully committed to treating all staff fairly and on merit, regardless of gender."
Pressure has been increasing on Scudamore ahead of a hearing by the league's audit and remuneration committee on Monday, chaired by Chelsea chairman Bruce Buck.
Rabbatts, who will chair a meeting of the FA's Inclusion Advisory Board on Tuesday, has said 54-year-old Scudamore should "consider his position".
In response to Rabbatts' claims of a "closed culture of sexism", the Premier League statement read: "We do not recognise this characterisation of the working environment at the Premier League, nor do we believe that it can be supported by the facts.
"The chief executive has already apologised for any offence caused and a proper review of all the evidence is now under way within the Premier League's established and rigorous procedures.
"This process is not yet concluded and it is therefore not possible to offer comments in detail at this stage. However, we will make a further statement in due course."
England and Everton goalkeeper Rachel Brown-Finnis told BBC Radio 5 live on Sunday that the Premier League should follow its own policies, and take action against Scudamore.
She said if that meant sacking him, "that's the course of action that should be taken".
Moya Dodd, the first woman appointed to Fifa's executive committee, told 5 live's Sportsweek: "I was surprised and disappointed at those emails and I think that disappointment is shared by many women in the football world.
"However, if we spend our energy getting outraged every time somebody sends a sexist email we'd all be exhausted.
"It's more important to educate people rather than berate every person who has ever displayed sexism."
Former Paralympic gold medallist Baroness Tanni-Grey Thompson told Sportsweek that the Premier League could do more to support the women's game.
"If the Premier League all had clubs that supported women's football that would be a huge step forward," she said.
"I'd like to see some real commitment in women's football to actually supporting the game through the Premier League's clubs. Manchester City are doing some amazing work but most of the Premier League clubs aren't."
Meanwhile, the woman who publicly revealed the emails sent by Scudamore said she was "humiliated, belittled and disgusted" when reading the messages.
Rani Abraham, who worked as a temporary personal assistant for Scudamore between September and November 2013, told the Sunday Mirror: "This is not the sort of thing that goes on in offices these days."
Barclays, the Premier League sponsors, has already expressed its disappointment in the emails.
FA chairman Greg Dyke said they were "unacceptable" and "pretty horrible" but said the FA would not take action because they were private messages.
Mark Palios, the former chief executive of the FA, said: "The important thing is Richard has apologised and recognised it was unfortunate. I don't think it changes the good work he does on a day-to-day basis."
Scudamore, who was appointed chief executive in 1999, apologised for his remarks a week ago but has made no public comment since.
The emails referred to women in derogatory terms, contained sexual innuendos, and made jokes about "female irrationality".