Rangers insist fans' group will fail in season ticket stand-off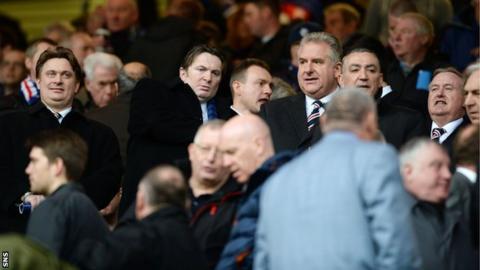 Rangers say a fans' group organising the withholding of season-ticket money "can never achieve its objectives".
The Union of Fans has been campaigning to gain security over Ibrox, and set up the Ibrox 1972 fund for fans to pay season ticket money into.
But the club insist they "will not accept season ticket applications from third parties on behalf of supporters".
And the League One champions stress that they "will not grant security over Ibrox to any organisation".
Rangers and the UoF held talks last week and it was reported that club directors were to consider granting legally-binding undertakings protecting Ibrox and the club's training complex.
But the latest statement to come from Rangers says that this is not the case.
"Representatives of Rangers have met with a number of supporter groups over the past few days and discussed a wide range of topics," read a release on the club website.
"We again made it clear during these meetings that the club will not grant security over Ibrox to any organisation and therefore the 'Ibrox 1972' scheme can never achieve its objectives. In addition, the club will not accept season ticket applications from third parties such as 'Ibrox 1972' on behalf of supporters.
"In some of our discussions with fans, it was indicated that there was a wish for the board to confirm that our statement of intention not to grant security over Ibrox could become a commitment that would last for 12 months.
"This has subsequently been discussed by the board and the board confirms that it will not be seeking to effect a sale and leaseback or grant security over Ibrox during that period of time.
"The board is rebuilding the club by ensuring its financial stability and the integrity of its assets.
"The board is committed to high standards of corporate governance and is comfortable that it has at all times been very clear in providing consistent and unequivocal public comments on this subject."
The Ibrox 1972 fund, which has ex-Rangers captain Richard Gough and former Ibrox board member Dave King as directors, was established for fans who are unhappy with the way the club has been run.
And season ticket sales are thought to be in the low thousands.
However, the club statement continued: "Season ticket sales have continued at a good pace over the last few days and we appreciate the continued support shown by our loyal fans.
"We trust that any supporters who may have been in any doubt about the board's previous statements regarding Ibrox now have an additional level of comfort and any who may have made, or were considering making, a pledge of their season ticket money to 'Ibrox 1972' are clear that there is no prospect of that group achieving its aims."