St Johnstone eye crowd boost after Scottish Cup success
Last updated on .From the section Football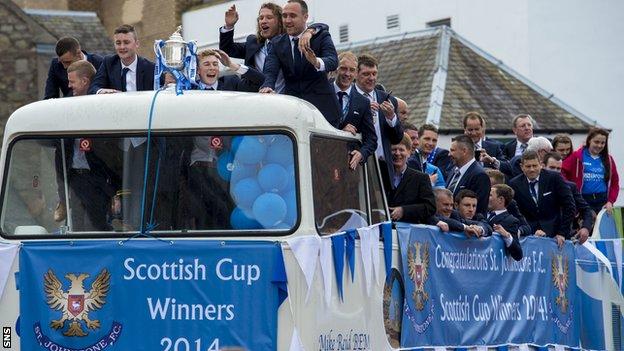 Former St Johnstone chairman Geoff Brown hopes the club's Scottish Cup win will lead to an increase in crowd numbers at McDiarmid Park next season.
"Perth has never been recognised as being a football city and that has to be seen as being correct," Brown said.
"But I would hope this occasion will give it a wee bit of stirring.
"Our first game at home next season is going to be a European tie and we have Dundee coming up, so I hope season tickets would be boosted."
Brown was speaking to BBC Scotland during an open-top bus parade in Perth to celebrate Saints' 2-0 Cup final triumph over Dundee United.
Around 15,000 St Johnstone fans were at Celtic Park for what was the club's first Scottish Cup final in their 130-year history.
And Brown, who stepped down as chairman in 2011 following 25 years at the helm, was thrilled with how far Saints have come, having taken over during a period of financial turmoil.
"Away back in 1986, in the first game we go bottom of the Second Division and we said there's only one way we can go, and that is up," Brown added.
"We're very very pleased that for the last five years we've been going quite well and we're now recognised as a club that can be there.
"Yesterday, Dundee United were favourites but in my eyes I don't believe they should have ever been favourites, and our players proved that, which is great.
"That was probably the largest gathering of Perth people ever, and that's a great achievement."
Brown passed control of the club on to his son Steve, and he was delighted with the huge turnout for the victory parade.
"Its phenomenal, absolutely brilliant to see what it means to Perth with all these people lining the streets," said the current chairman.
"We shed a few tears after the final whistle and I spoke to the players after the game, and it was difficult not to break down. It means so much to my dad, and to Perth; it's an enormous occasion.
"We went under the radar and that probably suits us. I'd like to think we're far more established than we were even five or 10 years ago.
"It's just incredible, I can't put it into words, it's a great feeling and this is what it means to the city, it's fantastic."