Atletico Madrid: Specialists in triumphing in the face of adversity
By Andy West
Spanish football writer
Last updated on .From the section European Football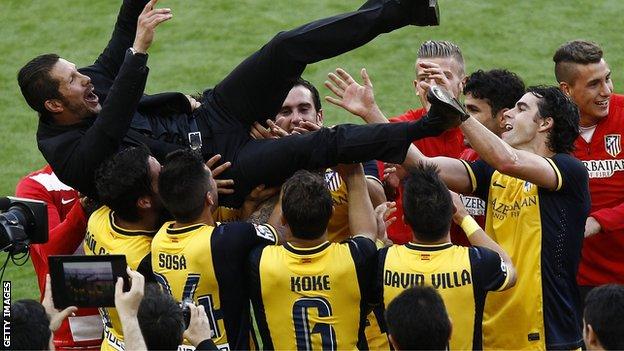 Winning the La Liga title was never going to be easy for Atletico Madrid.
For a team with a relatively small squad and a wage bill comparable to Fulham's, overcoming the renowned superstars and almighty financial power of Barcelona and Real Madrid required an almost superhuman effort.
That was especially the case when Atletico entered the final 45 minutes of their league campaign trailing 1-0 against Barcelona at the Nou Camp in a game they needed to draw, deprived of the services of arguably their two most important attacking players, Diego Costa and Arda Turan, through injury.
With so much conspiring against them - injuries, Barca's world-class talents and nearly 100,000 home fans - surely now Diego Simeone's team would finally run out of steam, falling back into the realm of unlucky losers they were supposed to inhabit?
Not a bit of it.
Nobody who has watched Atletico regularly over the last couple of years will have been remotely surprised to see them roaring back, with Diego Godin's thumping header and a defiant yet confident defensive stand securing a 1-1 draw to bring the title to the Vicente Calderon for the first time since 1996.
Nobody will have been surprised because this Atletico team specialise in triumphing in the face of adversity, finding a way to win just when it seems all hope is lost.
Atletico really should have crossed the finishing line in this season's title race with a far greater degree of comfort.
If their previous two games - a 2-0 loss at Levante and a 1-1 draw at home to Malaga - had yielded anything more than a point, they would have travelled to Barcelona safe in the knowledge that they were already champions, lapping up the traditional guard of honour from the Barca players and enjoying a gentle preparation for next weekend's Champions League final against Real Madrid.
But that's not the way Atletico do things. All their greatest recent successes have been achieved by overcoming the odds - such as last year's Copa del Rey final, where they made the short journey to the far-from-neutral Bernabeu to face Real Madrid, fell a goal behind and then fought back to win after extra-time.
It was the same at Chelsea in last month's Champions League semi-final, where Atletico again conceded the first goal before mounting a stirring comeback to win 3-1. And now they've done it again, clutching the La Liga title from under Barcelona's noses in their own home arena, providing more evidence to suggest that Atletico can only do things the hard way.

Manager Diego Simeone revels in it. The Argentine is fond of describing his team as a working-class side, commenting earlier this year: "We see ourselves reflected in society, in people who have to fight. People identify with us. We're a source of hope."
Simeone's mantra that his team's life is a constant struggle and nothing ever comes without a fight is partly a motivational tool, of course, instilling an us-against-the-world siege mentality and encouraging his players to believe they can overcome any obstacle.
But it also contains more than a ring of truth, because Atletico's success this season really has only been achieved by relentless commitment and selfless teamwork, best embodied in their inspirational captain Gabi.
Simeone's 'socialist football' renounces the cult of the flashy superstar, instead emphasising the importance of collective unity, with every member of the team seeing himself as exactly that: a member of a team first and foremost, an individual only a distant second, prepared to overlook personal glory for the greater good of the group.
The Atletico boss also likes to describe his players as "men", in the specific sense that they are serious, stoic, mentally mature, willing to accept responsibility and capable of retaining their composure even in the most testing of circumstances.
And now, remarkably, against all the odds, those qualities have conspired to make them champions.

Unfortunately for fans hoping that La Liga will no longer be a two-horse race in the years to come, Atletico's success could well prove to be a one-season wonder.
With leading scorer Diego Costa almost certain to leave and other key players - such as goalkeeper Thibaut Courtois - likely to follow through the exit door, Simeone will face an even bigger challenge to retain his team's current status next year, especially with Barca and Real unlikely to both endure such inconsistent campaigns twice in a row.
In the longer-term future, Atletico will also have to face up to the difficulty of holding on to their inspirational manager, with Simeone understandably capturing the attention of the movers and shakers at European football's elite clubs. He is also attracted to the possibility of managing the Argentina national team in the next few years.
However, it would be churlish to dwell for too long on the probability of Atletico's future difficulties at a time like this, especially when they are now aiming for an unprecedented domestic and European double with Saturday's all-Madrid Champions League final against Real in Lisbon.
In the build-up to the game, Atletico's champions will once again, it is certain, be subjected to doubts and scrutiny, especially if Costa's fragile hamstring forces him to miss the game.
At the end of a long and physically draining season which has seen them already exceed all expectations, can they possibly rouse themselves for one final mammoth effort against an enormously motivated Real team who are firmly focused on ending their 12-year wait for their tenth European title?
We'll only know the answer on Saturday night, but all the evidence suggests that backing against Atletico Madrid would be an extremely unwise move.