Richard Scudamore: Premier League chief faced toughest battle

Last updated on .From the section Premier League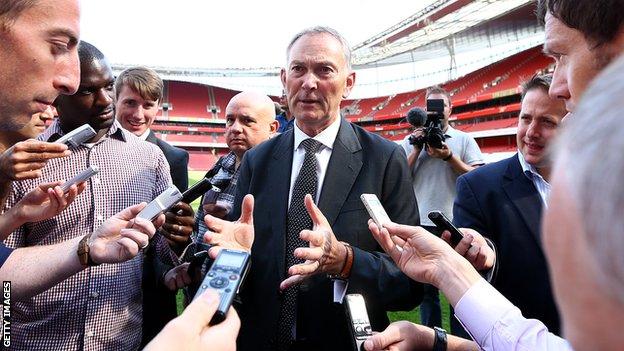 Richard Scudamore faced perhaps the toughest personal challenge of his 15-year reign as chief executive of the Premier League on Monday.
The row over the sexist jokes and bawdy comments made in a private email exchange with a City lawyer friend turned into a scandal.
Scudamore is known to be shaken by the row and is said to have recognised the scale and importance of the crisis immediately, calling all Premier League staff together last Monday to apologise in person.
Those closest to the 54-year-old father of five say he feels as though he has let his staff down and, while he has apologised publicly, he was restricted by what he could say while the disciplinary process continues.
Few could have predicted that an email dug out by a temp who worked at the Premier League for just seven weeks could bring English football's most powerful and influential official to the brink.
Since taking the post in November 1999, the former newspaper executive has overseen exponential financial growth in the Premier League, defying the gloomiest of economic outlooks.
From his smart but simple office in a Georgian terrace in London's West End, Scudamore masterminded the last TV rights deal worth £5.5bn over three years to the 20 Premier League clubs - more than 10 times the £305m first TV deal in 1992.
Those figures alone would say he is arguably the most pre-eminent negotiator in British sport, a man who has forged a reputation as one of the game's most impressive and authoritative figures.
Scudamore was born and raised in Bristol and is a lifelong fan of League One club Bristol City. His father worked as an administrator in the National Health Service, his mother was a nurse.
He left secondary school, where he was head boy, before graduating from the University of Nottingham with a law degree. By the age of 30 he was divisional sales director of Yellow Pages, having been promoted eight times in eight years.
A move into newspapers followed, as Scudamore became sales and marketing director for Thomson Newspapers and then managing director of The Scotsman, Scotland on Sunday and the Edinburgh Evening News.
When Thomson sold its UK newspapers in 1993, Scudamore moved to the United States, where he ran more than 200 newspapers in 40 states.
It was while he was preparing to fly back to the United States from a friend's wedding that he bought the Times newspaper at Heathrow Airport and saw the Football League was advertising for a new chief executive - setting in motion the events that led to his eventual appointment as the man to run the Premier League.
To his supporters, Scudamore is the man who has helped create "one of Britain's great exports to the world", as Prime Minister David Cameron said of the Premier League.
To his detractors, he is a ruthless operator who has ensured the rich get richer - he has been handsomely rewarded for that with his last bonus coming in at £2.8m - but has not spread that wealth to the lower reaches of the game.
Scudamore's job description has been to spread the popularity of the Premier League and to make sure the money keeps rolling into the coffers of the 20 member clubs. His role as chief executive is a balancing act.
He may be in charge of the league but he is certainly not in charge of its members - he is both master and servant. He fields calls from Premier League owners and chairmen on a daily basis.
He calls on the qualities that make him a fully-qualified county-level football referee, that same disciplined and thorough approach.
One of the reasons his position was called into question is that his role is also about maintaining image and reputation.
He is not an easy man to interview, because his mind works so quickly. He comes across as unflappable and is a man well schooled in side-stepping difficult questions, delivering sound-bites when necessary and coming out on top of the many battles he has fought.
It would appear he has done so again, though this victory is one he will wish was never made necessary.