Richard Money: Cambridge United seal 'one of two big promotions'
By Chris Osborne
BBC Sport at Wembley
Last updated on .From the section Cambridge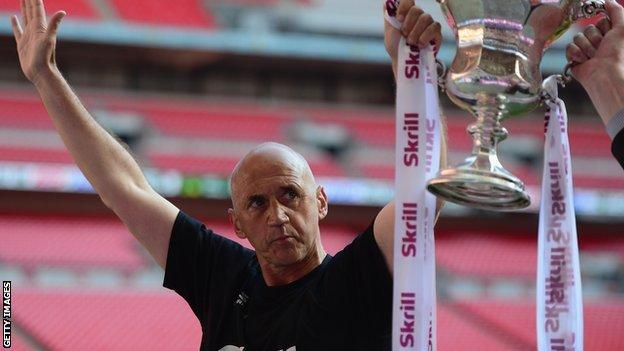 Cambridge United boss Richard Money has said the club have secured one of the most important promotions in England by winning the Conference Premier play-offs.
Money said: "The two big promotions are Championship to Premiership and Conference to Football League.
"It just means so much and then the gateway opens."
Money, who has previously won the League Two title with Walsall, spent two seasons trying to take Luton Town out of non-league between 2009 and 2011.
The Hatters finally achieved that this season by winning the title, while Money has completed the feat with Cambridge in his first season at the Abbey Stadium.
"When I took the Luton job I always felt that if you can get them up, you could go through the leagues very quickly and I think they will," said the former Liverpool defender.
"But getting over the first hurdle is incredibly difficult.
"I think we need to consolidate. It means a lot that we are a Football League club.
"Let's try and hang on to Luton's coat tails as well as we have this year.
"I'm not a big betting man but I'd have a big bet on Luton finishing in the top three next season. For us, it's about making sure we comfortably remain a Football League club and let's see what happens after that."
When Cambridge dropped out of League Two in 2005 it ended a 55-year spell in the Football League and Money believes the U's, who were at Championship level in 1993, have no divine right to remain there.
"People talk about getting back to where we belong and I'm not sure we're back to where we belong," he said.
"Because we spent a long time in non-league before going up the first time around. And not everyone can deserve to be a League club because there's only 92 places.
"But we're very pleased to be back."