David Cameron: Politics would not tolerate sexist emails
Last updated on .From the section Football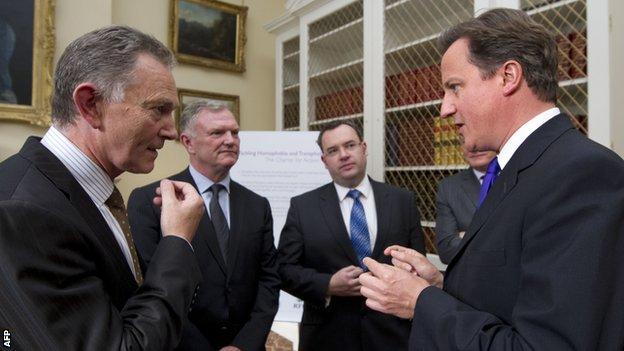 Prime Minister David Cameron said a member of his cabinet would not survive had they admitted to sending sexist emails like Richard Scudamore.
A Premier League audit and remuneration committee is looking into the conduct of chief executive Scudamore, 54.
When asked whether a member of his own team would survive something similar in politics, Cameron said not.
"No, I don't think they would. We have to set and keep high standards in politics," he told BBC Radio 5 live.
"I have tried to enforce that in my own party over a number of years. I haven't seen the specific emails, but people should treat everybody else with respect."
The emails referred to women in derogatory terms, contained sexual innuendos and jokes about "female irrationality".
Scudamore has apologised for his remarks, but there have been calls for him to consider his position at the organisation he has led since 1999.
Football Association board member Heather Rabbatts is among those to have criticised Scudamore, and accused the Premier League of having a "closed culture of sexism".
In response, a Premier League statement read: "We do not recognise this characterisation of the working environment at the Premier League, nor do we believe that it can be supported by the facts.
"The Premier League continues to be fully committed to treating all staff fairly and on merit, regardless of gender."
The FA's Inclusion Advisory Board, chaired by Rabbatts, will meet on Tuesday to look at the issue.
Meanwhile, the woman who publicly revealed the emails sent by Scudamore said she was "humiliated, belittled and disgusted" when reading them.
Rani Abraham, who worked as a temporary personal assistant for Scudamore between September and November 2013, told the Sunday Mirror: "This is not the sort of thing that goes on in offices these days."
On Monday, while appearing on ITV's GMB programme, she called for his resignation.
Scudamore said the emails were "private" correspondence but Abraham claimed they were sent from a Premier League account she had access to as the chief executive's PA.
FA chairman Greg Dyke said the emails were "unacceptable" and "pretty horrible", but said his organisation would not take action because they were private messages.
Barclays, the Premier League sponsor, expressed its disappointment.