Championship play-off: McClaren's Derby v Redknapp's QPR
By Owen Phillips
BBC Sport
Last updated on .From the section Championship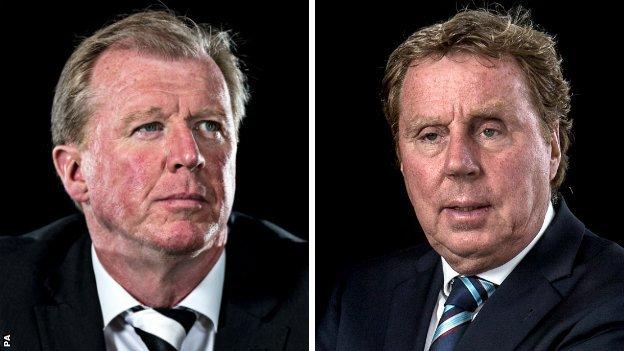 One is a magnificent man manager, the other a classy continental coach known for his methodology and meticulous planning.
Harry Redknapp is the player's manager. He oversees everything, is a shrewd operator in the transfer market, but tends to stay away from the balls, bibs and cones and keeps it simple. Good players in an uncomplicated system that works.
Steve McClaren learned his coaching trade under Jim Smith at Derby County and Sir Alex Ferguson at Manchester United. But during a varied career, he has become synonymous with creative coaching that embraces new ideas and constantly challenges and motivates players.
Two bosses, and seemingly two very different approaches. Or are they?
Despite his old-school reputation, the QPR boss knows the importance of a technically brilliant coach. After all he employed McClaren - his counterpart in Saturday's Championship play-off final.
And McClaren, despite a lengthy career establishing himself as one of the most respected coaches and tacticians in world football, is not averse to getting back to basics.
Paul Simpson, his trusted coach at Derby, told BBC Radio Derby: "In one of our first team meetings we showed the players celebrating a goal and there were a couple over one side and some over the other side and we said we want everyone celebrating together and if they don't they will get shown up in the next team meeting.
"Maybe it is something Steve brought from Manchester United. You watch the best teams to try to learn things and see what you can do different. It's not about individuals.
"We do it is as a bit of fun. We try not to take anything too seriously. We want the players to work hard but enjoy themselves. The way the manager delivers things there is a seriousness but there is also a bit of sarcasm and humour.
"And if you watch us score a goal now, everybody celebrates together and even Rammie the Ram [the club's mascot] gets dragged into it."
The detailed planning sometimes gives way to simple man management and enjoyment.
All will be in evidence at Wembley. The prize is massive, both financially with the game worth around £120m, and in terms of the prestige of playing in the Premier League.

And McClaren's input has been pivotal for both sides this season; he helped set the platform for QPR's fourth-placed finish and took Derby from 14th place to third with a run that saw the Rams lose just six games in 36 in the league.
Former England boss McClaren has said he owes Redknapp a huge debt for giving him a coaching role at Loftus Road, after unsuccessful spells at Nottingham Forest and back in Holland with FC Twente.
And Redknapp has been equally quick to credit McClaren for the part he played while with the R's. If it wasn't for McClaren's involvement - which saw them win seven of their opening nine games in an undefeated start to the league season - it is arguable that the Londoners would not be involved on Saturday.
Shaun Derry, now the Notts County manager, was a player at QPR at the start of the season and knows why McClaren has been so influential.
"Steve arrived on the first day of pre-season and when he arrived Shaun Wright-Phillips just said 'this man is a top, top coach' and he absolutely went on to be in the short time I was there," Derry told BBC Sport. "What a fantastic coach but a real nice guy as well.
"He is inventive, he is creative in terms of his sessions and is unbelievably organised and I think the message he puts across to the lads is that you train with an enjoyment. He really is the full package.
"He is very keen to share his methods as well which sometimes coaches and manager aren't. He openly wants coaches to see him put on sessions, which is fantastic for young managers.
"The sessions he did were very similar to others but it is just his take. He adapts them and the way he puts his point across and explains why is fantastic. There is an explanation, a method and a reason why."
Redknapp goes about things in a different way.
"Harry didn't really get involved in the coaching aspects," Derry said. "But that is not to say he did not watch absolutely every single minute of the session because he did. He scrutinises everything and makes his judgements. He puts his trust into the coaches he has and I like that way as well.
"Harry has had an incredible career and has been at the top for the past two decades or so.
"I like both ways of working. Both managers know the importance of either aspect but they are very different characters."

Milan Mandaric, Portsmouth chairman when Redknapp won the Championship title in 2004-05 and the FA Cup in 2008, said Redknapp was one of the best managers in England.
He believes that while Redknapp's people skills are well-known, he is an all-rounder with a great awareness and adaptability. And Mandaric said he also knew how to manage a chairman.
"We have had our disagreements as everyone knows but he is a lovely guy, great company and we had some wonderful times," Mandaric told BBC Sport.
"What he did at Portsmouth was incredible. The way he selected players was brilliant. He know exactly what the team needed in specific positions and although at first I would question things I soon started to trust him completely.
"He would always ask for more and it was never one more player but two more. I would tease him and say 'when will you stop pestering me?' His talent was getting players, motivating different players in different ways and knowing what the team needed.
"He was hands-on with his coaching; he was always there in his kit at the training ground too but his skill was knowing when to get involved and when to trust his staff."
Julian Dicks, a fearsome left-back who played under Redknapp during two separate spells at West Ham, said his former manager's ability to deal with the full range of players and get the best out of them set him apart from his contemporaries.
Dicks said Redknapp was as meticulous with his player research as McClaren is in his coaching - for all sorts of reasons.
"When Harry signed Paolo Di Canio people thought Harry was nuts," Dicks told BBC Sport. "He came with so much baggage, but he was a good player and he liked Harry and Harry got the best out of him when others hadn't.
"When Harry signed David Speedie he knew what type of character and players we were, so he kept us apart in training. I got on great with David but Harry didn't want to risk putting us on different five-a-side teams.
"I wasn't the easiest of players to manage either and he was great for me. There was another side to him but he would not lambast you in front of people; he would pull you to one side if he needed to.
"In pre-season he knew I hated running with a passion and would always be at the back, so he would be on my case, but he always knew I could do it on a Saturday.
"Players respected Harry; he knew how to treat people and that is so important.
"As a coach he was always involved but he would not over-coach and that worked. He trusted his players. At West Ham he didn't always have the best players but he got the best out of them. He was smart."
In contrast to Redknapp, McClaren's pedigree on the training ground is widely acknowledged. It is something Jimmy Floyd Hasselbaink discovered while playing under McClaren at Middlesbrough and while part of the coaching set-up during McClaren's short, ill-fated reign at Nottingham Forest.
Hasselbaink believes the international experience with England and time abroad in the Netherlands and Germany have been hugely influential in his development.
And he believes winning the title with FC Twente in Hasselbaink's homeland proves his quality beyond doubt.
"He has a big, big reputation there," Hasselbaink told BBC Sport. "It was a huge achievement winning the title. When he did it nobody expected it. Normally it's Ajax, PSV or Feyenoord. They are the ones with the most money and the biggest support. Twente were a smaller club in transition.
"His research is second to none. He is always looking for the next thing, looking to get better and challenge himself - even though he has been in the game so long. He still wants to learn.
"Steve told me to get my badges; he gave me the chance at Forest and took me under his wing and showed me so much."
And Hasselbaink says the footballing fun-factor can never be underestimated.
"His sessions are always different and interesting," Hasselbaink added. "And you play football all the time. Footballers always want to play. He gets the best out of players, he coaches and he makes good players better. He has always done that and he has done that with Derby."
The fact McClaren renews acquaintances with Redknapp this weekend is no surprise to the Derby boss.
"As the season wore on I had a sneaky feeling that the 'football gods' would keep us apart and then put us together again and they have done," McClaren said. "It's a great story."
The last time McClaren was at Wembley as a manager was the infamous night his England career effectively ended with a 3-2 home defeat against Croatia and the failure to qualify for Euro 2008.
He dealt with his England departure with great dignity, but the impact of that night and the images of the 'wally with the brolly' will forever be associated with his England reign.
McClaren has steadily rebuilt his reputation while Redknapp's England career never got off the ground, despite being the strong favourite to succeed Fabio Capello.
Certainly he would have expected grief about an abject England display that night. But the relentless bombardment focused mainly on his sensible decision to avoid getting soaked through.
McClaren has thick skin and a much-needed ability not to take himself too seriously. "Let's hope it's not raining on Saturday," he told the packed news conference at the pre-play-off gathering.
Unlike his last Wembley appearance in the managerial dugout, McClaren can afford to coach with a smile on his face, while QPR's financial position means Redknapp seems like the man under greater pressure to succeed.
A contrasting approach to the coaching journey for sure but there are undoubted similarities, and the aims are very much the same on Saturday.