Rival coaches are appointed for Sierra Leone's U20 side
By Mohamed Fajah Barrie
BBC Sport, Freetown
Last updated on .From the section Football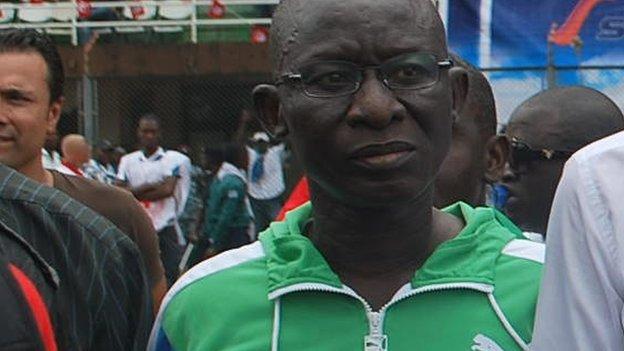 The divisions between the Sierra Leone Football Association and the country's sports ministry are continuing, this time with a row over the national under-20 side.
Each body has named a rival coach for the team ahead of this Saturday's African Under-20 Championship first round second leg tie in Ghana.
The SLFA insist Alimamy Turay is still in charge of the under-20 side despite an announcement by sports minister Paul Kamara (pictured) last week that he had been sacked.
The minister named former Sierra Leone international Atto Mensah as a replacement for Turay, after the 2-0 loss at home last month in the first leg of the tie against Ghana.
"As far as we are concerned coaches Turay and [his assistant Charlie] Wright are still in charge of the team," Abu Bakarr Kamara, a member of the SLFA media committee told BBC Sport.
"We don't recognise the decision taken by the sports minister - football is being administered by the SLFA not the sports ministry."
But the sports ministry are adamant that Ghana-born Mensa will lead the side in Kumasi this weekend.
"If the SLFA attempts to make any arrangement for the team to travel to Ghana, they'll not be allowed to leave the country," deputy sports minister Al Sankoh Al Conteh told BBC Sport.
"We've informed all the relevant authorities in Sierra Leone to stop them."
"Also we have instructed all players to report for training at the National Stadium on Tuesday and any player who fails to show up will be penalised."
Both sets of coaches has organised training sessions on Monday morning at different venues, with the majority attending Turay's group.
This latest incident comes exactly three years after Sierra Leone named two different national team squads for a 2012 Africa Cup of Nations qualifier.
Again with the ministry and the SLFA appointing rival coaches for the Leone Stars.
Kamara was also involved in another argument with the SLFA just last week.
He prevented SLFA executive committee member Morrison Sannoh from travelling with the Leone Stars for their 2015 Africa Cup of Nations tie in Swaziland.