Tim Vickery column: Brazil braced for more World Cup protests
Last updated on .From the section Football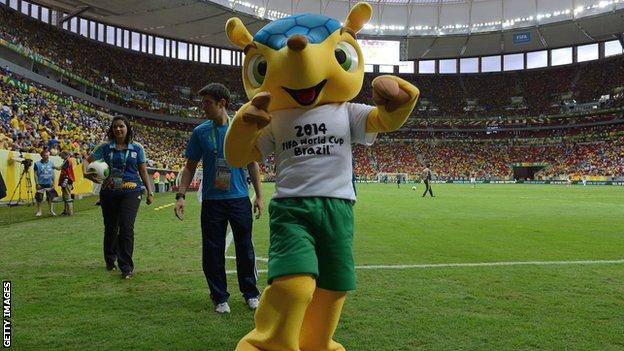 I had last seen Fuleco, the 2014 World Cup mascot, back in December at the hotel in the complex where the tournament draw took place.
He stood some eight feet tall and was very heavy - I know because we borrowed him for a few minutes, carrying him a couple of hundred yards to where we were doing a piece to camera for BBC TV.
I saw him again on Sunday, outside the Maracana stadium before the Brazilian league game between Flamengo and Sao Paulo. He was looking much more animated this time. A brief piece of research revealed that there was a man inside by the looks of it - who was trying to make some money by putting on the costume and posing for photographs.
It is a sign that the World Cup is coming to town. Inside the Maracana the extra space for the world's media has already been constructed. Meanwhile, over in Sao Paulo, the stadium that will stage the opening game received its first full test, with Corinthians playing - and losing as it turned out - to little Figueirense.
Slowly, the streets are starting to take on the normal World Cup appearance. Every four years it is a Brazilian tradition - a fine one in my view - to decorate their streets in honour of the World Cup, with murals on the road and yellow and green streamers glinting in the sun.
This year - so far at least - it is all being done more timidly than usual, and for obvious reasons.
In 2008 a poll by the Datafolha Agency in the widely respected Folha de Sao Paulo newspaper showed 79% support for the World Cup in Brazil. By April of this year another poll by the same agency showed this had fallen to 48%. Many people are more reluctant to associate themselves with a competition that has become a public relations disaster.
The anti-World Cup protests will not go away because there is plenty to protest about. There is the poor organisation - starting with the absurd delay in naming the host cities and the insistence on 12 when Fifa would have been happy with eight, while for years there was no government representation on the local organising committee - a bizarre flaw in a tournament that has implications for public spending. And many people believe that officials have taken the support of the people for granted and made empty promises.
Hosting the competition has cost the country more than it should, and in return is giving back less than it should. The cost of the stadiums is now in the region of £2.4bn, three times more than the figure quoted in 2007. Four of the stadiums - in Manaus, Cuiaiba, Brasilia and Natal - would seem to have little prospect of long-term viability, meaning that there was no chance of private funding being attracted to build them.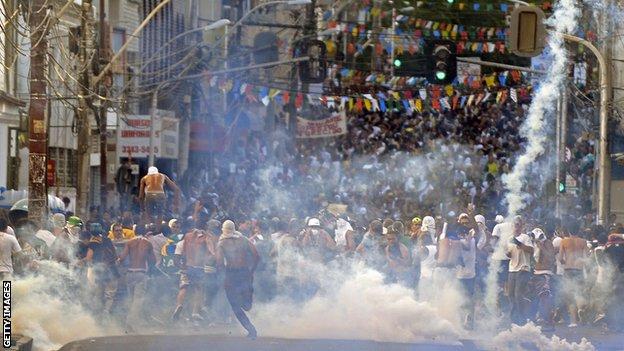 Support of the population was cynically taken for granted, with empty promises that all of the money spent on stadiums would be from private sources. Luis Fernandes, the Ministry of Sports representative who was very belatedly brought on to the local organising committee, has been big enough to recognise that "this speech never corresponded to reality".
The lack of debate in Brazilian society about the competition and its objectives has returned to bite the authorities where it hurts. Certainly, the authorities got a massive shock last year during the Confederations Cup when Brazilians took to the streets in huge numbers to show their displeasure at the amount of public spending on a football tournament.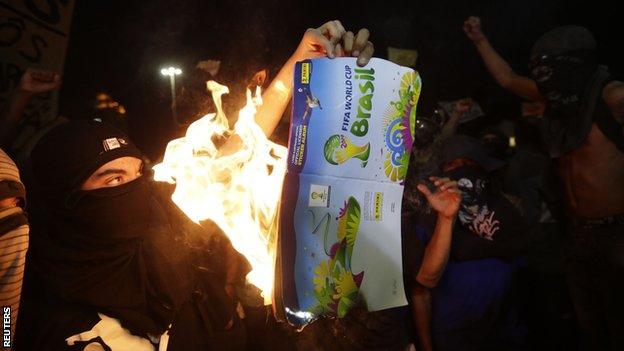 No-one saw it coming, but the protest movement is a reality that now has to be dealt with - especially as this is election year in Brazil, and some will be looking to turn dissatisfaction with the World Cup into votes.
Last Thursday's anti-World Cup demonstrations in a number of major Brazilian cities were fairly small. They can always come up with photogenic moments - the most striking this time was a protestor in a Guy Fawkes mask setting fire to a 2014 sticker album. But the mobilisation was tiny compared to the mass protests during the Confederations Cup.
The precise mood over the next couple of months is not easy to predict. There will certainly be protests. It is not clear, though, whether they will reach beyond the activist core. This could depend on factors such as police behaviour - truculent over-reactions are likely to inflame things; and the nightmare scenario is an early exit for the home team, in which case disappointment at the results could further fuel discontent with the organisation of the tournament.
The great hope of the authorities is that the power of the event will work its magic. This is not just a forlorn desire. The atmosphere in the country through June and July is sure to be very special; over half a million visitors from all over the planet will be traipsing across the country, giving Brazil an unusual cosmopolitan air, and with over 60% of the tickets being snapped up by Brazilians, there is clearly considerable local enthusiasm for the event also, however well hidden.
This coming together of humanity from Algeria to Uruguay, via South Korea and Switzerland, is sure to leave its mark in terms of international friendships forged and memorable experiences to be savoured. It should be a fabulous month.
But even if it all goes right on the night, it would be naive to think of the 2014 World Cup as an organisational triumph. Too many grave mistakes were made along the way. It could be the greatest tournament in the history of World Cups, and still a significant part of Brazilian society will conclude that it cost too much and gave back too little.
Comments in the space provided. Questions on South American football to vickerycolumn@hotmail.com and I'll pick out a couple for next week.
Last week I received a flood of questions about the squads, especially Argentina and Brazil. Here are some of them:
Argentina
Q) How does coach Alejandro Sabella justify leaving Wily Caballero out of the squad? He has taken two goalkeepers in Sergio Romero and Mariano Andujar who have hardly played for their clubs this season whereas Caballero has been outstanding for Malaga. Surely he deserved to at least be on the bench in Brazil?
Gavin Blain
A) This may well have been a tricky decision. A lot of people asked about Julian Speroni of Crystal Palace, but he has never really been on the radar. Caballero, though, came through the Argentina Under-20 ranks, and so is not an unknown to the local public.
I suppose Sabella came to the conclusion that bringing in a new face at this late stage in such a key position was too risky. Instead he has chosen to show total confidence in Romero, his first choice. Only time will tell if this proves to be the bigger risk.
Q) Tevez not in the Argentina squad I just about get, but; Franco Di Santo in?! Is that the best they've got? No room for Javier Pastore or even Erik Lamela, or Lisandro Lopez? Please explain this one for us…
James Tenniswood
A)The absence of Tevez was explained a few weeks back. Di Santo is only in the 30, with a strong chance of not making the 23. The idea, I think, is as a reserve to Higuain as a target man striker. Lamela played himself out of contention.
Pastore is more unlucky. He might be thought of as Messi's reserve, but I think that Sabella has decided that should anything happen to Messi he'll play three at the back and pack the midfield. The striker Lisandro Lopez (as opposed to the defender of the same name, who has been included) has been out for ages - Argentina have plenty of options in his position and he has a reputation of not dealing well with being on the bench.
Brazil
Q) Considering the way Atletico Mineiro have risen from mediocrity to a title contender and having won silverware in the past few seasons since Ronaldinho's arrival, are you surprised that Ronaldinho wasn't called up to Brazil's squad? Having won the 2013 South American footballer of the year and from the performances he's been putting in week in, week out what more did he have to do?
Alun Bowen
A) No-one here was surprised by his absence. The last three Brazil coaches have all come to the same conclusion - he's no longer fit enough to tip the balance at the highest level. He was not even very impressive in the decisive stages of Atletico's Copa Libertadores campaign, and the World Club Cup showed him to be a wonderful free-kick taker who no longer makes much of an impact from open play.
The sad truth is that we are talking about a genius who has spent the last eight years betraying his own talent. Perhaps we should be grateful for what he gave us at his peak, because it was magnificent - but he could have been so much more.
Q) I am disappointed that Philipe Coutinho and Lucas Moura were left out of the Brazil squad. Why do you think that they did not make the cut?
Joshua Flowers
A) I don't think Coutinho was ever really in contention, despite his excellent club form for Liverpool. Brazil have a lot of strength in his position - his last chance probably disappeared last year when Willian was successfully incorporated into the squad.
Lucas Moura lost out to Bernard during last year's Confederations Cup. Scolari was won over by Bernard's capacity to come off the bench and make an impact on either flank. Lucas Moura is still a bit one dimensional - a right-sided dribbler who needs space to shine.
Having said that, Scolari is placing a lot of trust in Bernard - if Brazil are losing with 20 minutes to go, he is the man Brazil's coach is most likely to turn to, which is a huge responsibility.