Richard Scudamore remains Premier League chief executive
Last updated on .From the section Football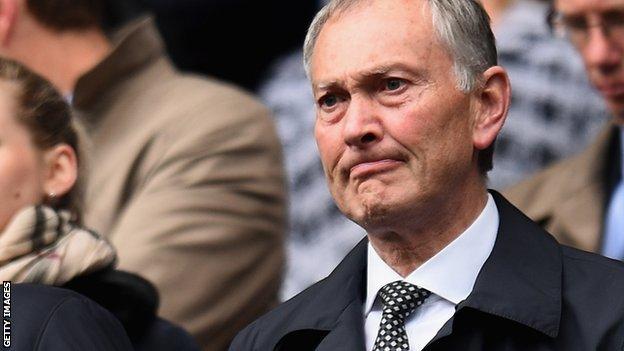 Premier League chief executive Richard Scudamore will keep his job despite sending sexist emails.
There were widespread calls for the 54-year-old to quit the organisation.
But the Premier League said in a statement issued on behalf of its members that "no further disciplinary action is required or justified".
Scudamore said: "These exchanges do not reflect my views towards women in football, the workplace or in general. It's something never to be repeated."
Scudamore, who has led the Premier League since 1999, sent messages which referred to women in derogatory terms, contained sexual innuendos and jokes about "female irrationality".
Prime Minister David Cameron told BBC Radio 5 live that a member of his cabinet would not survive had they admitted to sending sexist emails.
Football Association board member Heather Rabbatts was among those to have criticised Scudamore,
She also accused the Premier League of having a "closed culture of sexism".
But the statement said there was "no climate of disrespect of women in the workplace" at the Premier League and claimed that Scudamore's female colleagues at the organisation made it clear his "conduct and behaviour have been beyond reproach".
All current Premier League clubs were consulted over the matter and they recognised that Scudamore had a "previously unblemished record over 15 years of service" to the organisation.
The Premier League statement added: "These emails were private communications between friends of long-standing and the temporary PA was not exposed to them in the course of her duties but had to search for them in a private email account which she was not authorised to access.
"Examination of a very large quantity of emails and other documents, including those copied without authorisation by the former employee, indicate that there is no evidence of wider discriminatory attitudes or inappropriate language or a general attitude of disrespect to women."
Scudamore acknowledged in his own statement that he has a "tremendous amount of hard work to do" to convince those in the game what he truly believes about equality and discrimination.
West Ham vice-chairman Karren Brady believes the former newspaper executive is not someone who discriminates against women.
"I have known Richard for 20 years and he is categorically not sexist," Brady said. "We have unanimously accepted his apology and contrition at face value."
But Ruth Holdaway, the chief executive of the women's sport and fitness foundation, was critical of the decision to let Scudamore continue without any punishment.
"I am incredibly surprised and quite shocked that no action at all is being taken," she told BBC Radio 5 live.
"The language that was used in the email exchange is disrespectful towards women and I know lots of women, including myself, who are offended by it."
The Premier League claim that it used "external specialist legal advisors specifically appointed for the role" to help carry out of the investigation.
But Kick It Out chairman Lord Herman Ouseley believes the process used was "flawed" and needs to be reviewed for cases in the future.
"It is incumbent on the Premier League to put in place a proper, objective, fair and independent process for dealing with such important matters," he said.