Richard Scudamore: FA takes no action on Premier League chief
Last updated on .From the section Football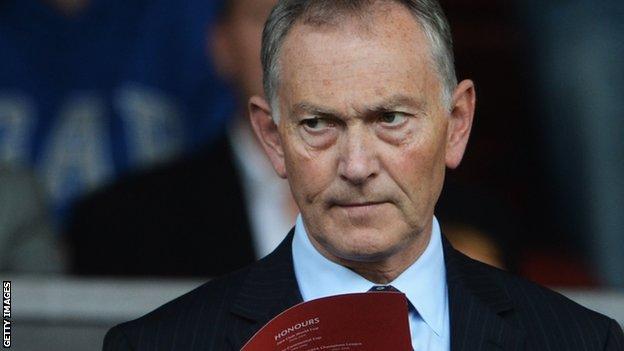 The Football Association says it will take no action against Premier League chief executive Richard Scudamore over leaked sexist emails.
Scudamore sent messages which referred to women in derogatory terms and contained sexual innuendos and jokes.
Their "totally inappropriate" nature was condemned by the FA, which says its policy is not to act over "private communications".
On Monday the Premier League said Scudamore would keep his job.
"The FA does not as a matter of policy consider private communications sent with a legitimate expectation of privacy to amount to professional misconduct," said FA chairman Greg Dyke.
"Last week, the FA made it clear that Mr Scudamore was not an employee of The Football Association and, as such, we had no position in terms of employment policy or taking disciplinary action.
"We were of the view that was a matter for the Premier League and we asked them to keep us informed of the actions they were taking."
Dyke said he had met the Premier League's acting chairman, Peter McCormick, for an explanation into its investigation into the matter, which had seen calls for Scudamore to quit or be sacked.
"He assured me they had followed proper process under their own employment and disciplinary rules and had conducted a thorough investigation," added Dyke.
Football Association board member Heather Rabbatts, who criticised Scudamore and accused the Premier League of having a "closed culture of sexism", also attended the meeting with Dyke and McCormick.
"What became clear and what was reiterated in Richard Scudamore's statement (on Monday) was a full apology and that he felt a real sense of contrition with what had been said, and that was important," said Rabbatts.
"Sexism is still we know a major problem across the entirety of the game and this debate has underlined that.
"It is incumbent on the FA as well as the Premier League about how we tackle that."
Women in Football believes Scudamore, who has led the Premier League since 1999, should face further investigation in the form of an independent inquiry.
He said the emails "do not reflect my views towards women in football, the workplace or in general".
The Premier League said there was "no climate of disrespect of women in the workplace" at the Premier League and claimed that Scudamore's female colleagues at the organisation made it clear his "conduct and behaviour have been beyond reproach".
Scudamore's former personal assistant, Rani Abraham, released the emails to the Sunday Mirror.
She told BBC Radio 5 live on Tuesday: "I'm highly surprised the Premier League has decided to take no sanctions whatsoever against Richard Scudamore.
"I feel very disappointed, I think it sends out a damaging message about how we regard women in football."
Abraham, who says she has been threatened with legal action by the Premier League, added she had not been contacted as part of the organisation's investigation: "They haven't approached me, they haven't heard my side of the story so there has not been a thorough investigation."
All current Premier League clubs were consulted over the matter and they recognised that Scudamore had a "previously unblemished record over 15 years of service" to the organisation.
West Ham vice-chairman Karren Brady believes the former newspaper executive is not someone who discriminates against women.
"I have known Richard for 20 years and he is categorically not sexist," Brady said. "We have unanimously accepted his apology and contrition at face value."