Man City to act swiftly in transfer market - Khaldoon Al Mubarak
Last updated on .From the section Man City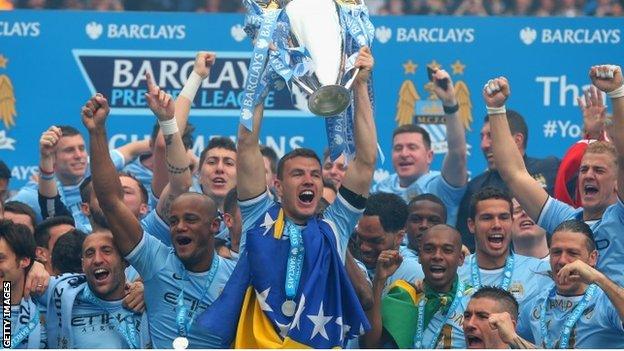 Manchester City chairman Khaldoon Al Mubarak says the Premier League champions will act swiftly in the transfer market despite Uefa sanctions.
City have been fined £49m, £32m of which is suspended, and can only name a 21-man Champions League squad after failing financial fair play rules.
City can also spend just £49m on players this summer, plus any money the receive in transfer fees.
"We know exactly what needs to be done," Al Mubarak said.
City were crowned champions for the second time in three seasons after finishing two points clear of nearest rivals Liverpool.
But since their title success earlier this month, City have been fined and the squad capped after failing Uefa financial fair play rules.
As part of the sanctions, City's wage bill for 2014-15 must stay the same as this season.
But Al Mubarak, in an interview with City TV, insists the club will back Manuel Pellegrini in the transfer market this summer as the 60-year-old Chilean prepares for his second season in charge.
"We know exactly the players that need to go and the players that need to come in, the areas that need to be strengthened and the players that we intend to bring in to fill these areas," added Al Mubarak.
"I can tell our fans to expect, as last year, an efficient and swift execution plan.
"We will have, after the World Cup, a good pre-season and we will go into the season very ready, as we did last year, to compete for four championships."
Pellegrini, who was appointed in the summer of 2013 after Roberto Mancini was sacked, is targeting an era of dominance at the Etihad Stadium after ending the season with the title and the Capital One Cup.
"Big teams cannot be satisfied with one title," said Pellegrini. "This club and players deserve more titles."
Al Mubarak is adamant Man City will not suffer FFP sanctions again.
"This year, we will break even. Next year, we will go into profitability," he said. "We will keep investing in the club, we will keep investing in youth, we will have a sustainable project, in Manchester and across the board in the city football group.
"We have zero debts, We don't pay a penny to service any debts. For me, that is a sustainable model. However, our friends in UEFA seem to believe otherwise. They have their view, we have ours."
Defender Joleon Lescott, whose contract expires in the summer, looks set to leave City after five years at the club.
But Pellegrini is keen to strengthen his squad as City look to win the Champions League for the first time.
"Let's be clear - Europe has always been an integral part of our strategy, an integral part of the success we want to achieve for this club," said Al Mubarak. "We will continue to progress."